These vegan quesabirria tacos are crisp, juicy, meaty and full of savoury flavour! The vegan birria consommé has a slow heat that builds but together with the vegan birria tacos it is just the right amount of spice.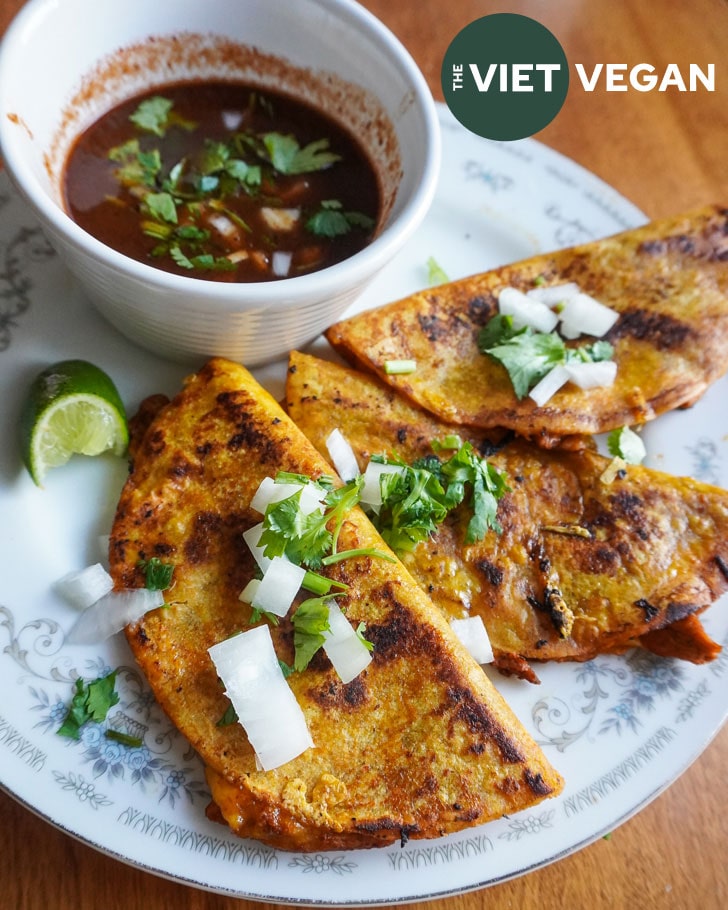 I first was introduced to birria from TikTok last year when it was making the rounds. It just lived in my head rent free until I saw Stella make this, and I thought, hey. I can totally make this vegan!
What is Birria?
Traditionally birria is a shredded goat dish from the Jalisco region of Mexico (which is where Stella's family is from). Dora from Dora's Table explains that it is a dish made for celebrations like weddings, quinceañeras, baptisms, etc.
As birria has gained popularity through the US and TikTok, I've seen people use beef instead of goat. I assume this is because of what's available and familiar. Since the bulk of the flavour is from slow cooking the meat in the stew, we'll be using shiitake mushrooms to build out the base of this vegan version of quesabirria tacos.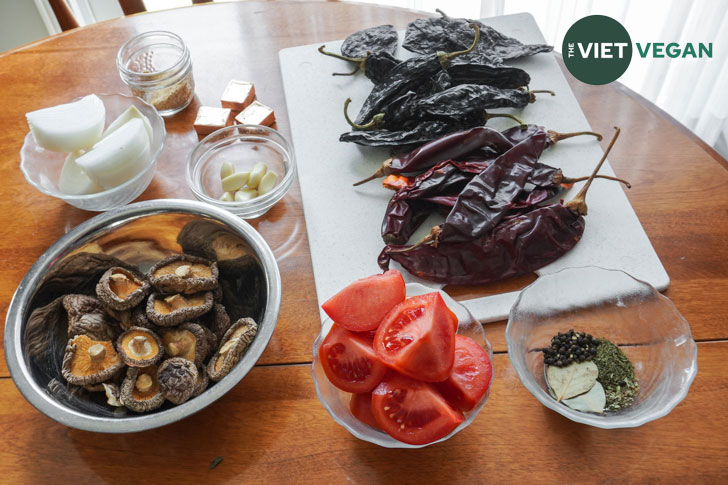 How to make vegan birria
Throughout my experiments with amplifying and building my vegan pho (traditionally beef-based) broth, I've applied a lot of the same techniques to building this vegan birria consommé.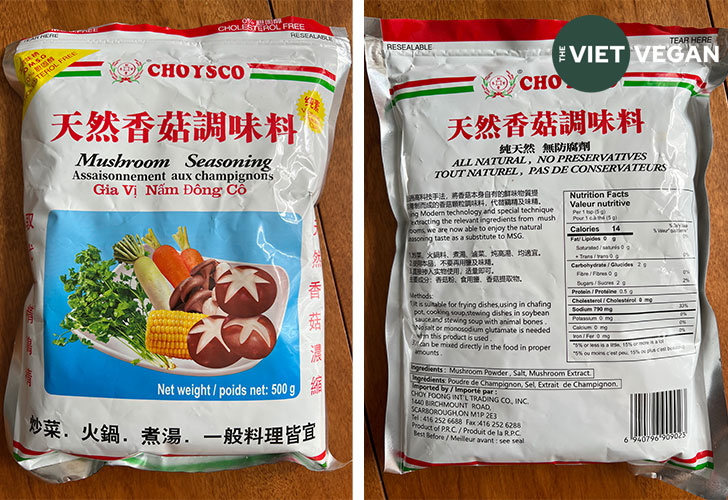 The beginning of the base starts with dried shiitake mushrooms. I find these at the Asian market in abundance. Then we round out the flavour with a handful of other ingredients:
Vegan mushroom broth powder/granules – you can find this at most Asian markets. This is common in Vietnamese cooking (typically chicken base), but I always have this for soups, stir fries, and sauces. This stuff is an amazing shortcut for adding depth and seasoning to any dish!
Vegan Beef Bouillon cubes – I find mine at Bulk Barn, but you can also use the Better than Bouillon No Beef Base as well.
MSG – Monosodium glutamate – a little bit goes a long way but it is a powerful ingredient that adds more savoury flavour without adding as much sodium as you would with salt.
Rock Sugar – Alternatively any sweetener you have on hand! Making broth from animal bones usually ends up slightly sweet, so adding a lump of rock sugar helps mimic that sweetness. It's also a trick I learned from my grandma: adding a bit of sugar adds a layer of complexity to a dish!
Apple Cider Vinegar – Or any other kind of vinegar – The acidity from ACV again adds another layer of complexity to this broth. A little bit helps bring out the savoury flavour and keeps the broth from being "one note".
Where to find chiles for birria?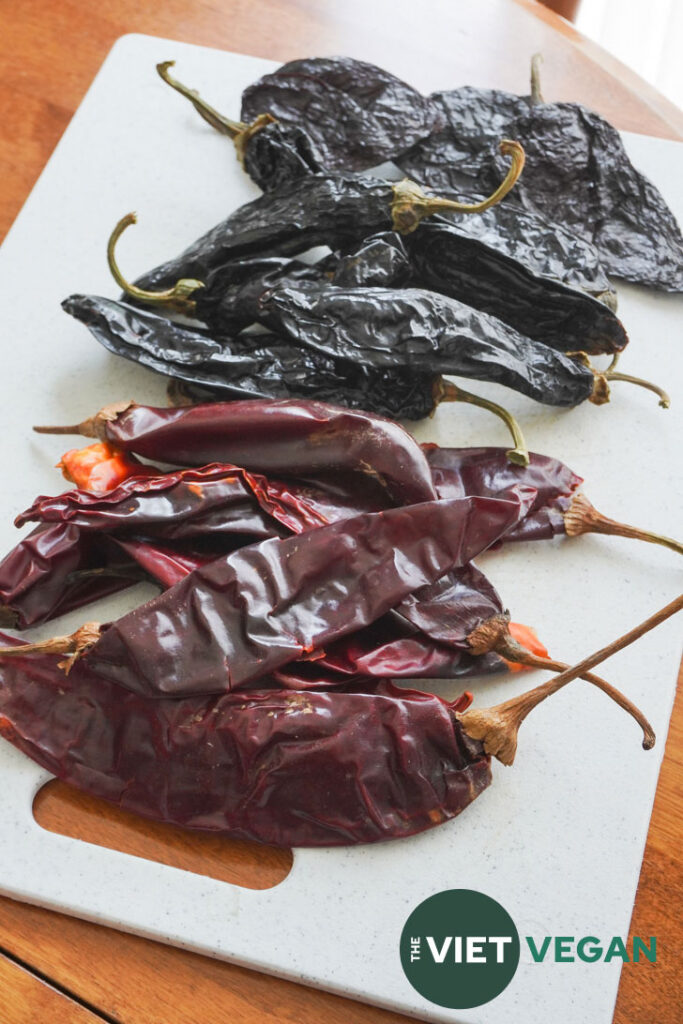 I took for granted how much variety my grocery stores in Hamilton had! So many places had a plethora of traditional Mexican (or Latine) ingredients, and there were several Latine markets scattered around downtown.
We recently moved to Waterloo, and there are some Latine markets but they're about 20 minutes away from me in Kitchener. I bought the peppers and corn tortillas for these at America Latina Grocery. Also, their churros are vegan-friendly. Bean and I had one when we went and it was delicious!
There are a handful of other Latine markets I've been meaning to check out too.
For this version, I used guajillo, pasilla, and ancho chiles to yield a satisfying slow heat that definitely can ramp up but isn't overwhelming. If you like a spicier birria, add 1-2 chile arbol (deseeded) to the mix.
I've also found corn tortilla's at FreshCo but since they're vacuum packed, they stick together a lot more. The fresh tortillas at America Latina Grocery were definitely better.
Vegan meat alternatives for birria
For this recipe, I used a pocket pick for "shreddy" textures that packs protein: soy curls! I get mine in bulk from Coven Market (thankfully they have another location in Kitchener too!)
Soy curls are such a pantry staple for us, but if you can't find them, you can use these instead: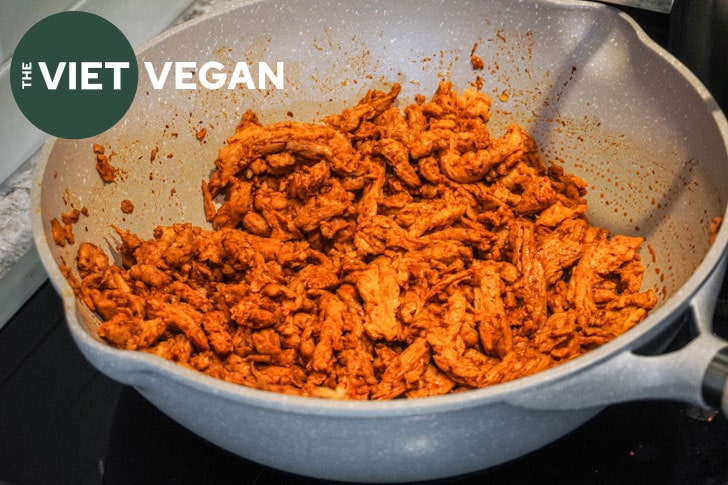 Shredded tofu – I would use something as firm and pressed as possible. Something extra firm or even the pressed smoked tofu would work amazing here. Use a cheese grater to get that shredded texture. You can bake this in the oven with a touch of oil and some of the birria consommé to get a firmer, resistant texture. I would bake for about 25 minutes at 350F (180 C), flipping halfway through to ensure it's evenly baked. Then add more consommé in the pan and cook the tofu in it to rehydrate slightly. This way you get a saucy but chewy birria filling.
Beyond Steak – This stuff would be incredible in the vegan quesabirria! It is more in line with the shredded beef aspect of traditional birria. I would brown this on its own first, then shred and cook with the consommé!
Shredded Young Jackfruit – I don't have a ton of experience preparing this ingredient because I'm mildly allergic to jackfruit. You can blanch the canned young jackfruit, remove the tougher parts, and then cook in the consommé. I can only imagine this would be delicious! My only issue is that they wouldn't be too filling since it's just fibre. I would supplement with some shredded tofu or soy curls so it's more satiating.
Shredded King Oyster (or regular oyster) mushrooms – These mushrooms get a great shredded texture, but have a similar issue to young jackfruit. I suggest supplementing with some Vital Wheat Gluten, tofu, or soy curls for more protein.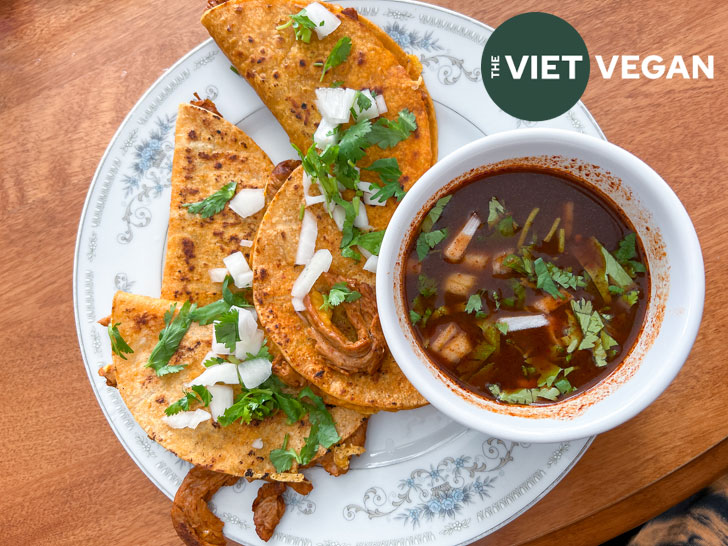 How to serve quesabirria tacos
These vegan birria tacos differ from any other tacos I've made because you dunk the tortillas in the consommé and panfry them with cheese and shredded meaty birria filling. You get a cheesy, juicy taco with a lightly crisped tortilla.
Since this version of vegan birria won't have as much fat in the consommé to crisp the tortillas, I add some vegetable oil to the griddle to help crisp up the tortillas.
Add a squeeze of lime, some white onion and cilantro, and dunk these vegan quesabirria tacos into some warmed consommé for a very satisfying meal.
Here's a quick video tutorial for the recipe, but if you want the full 10 minute long-winded version, it's on my YouTube channel!
Recipe Inspiration
Yield: 2 L of consomme (enough for ~32 tacos and consomme for dipping)
Vegan Birria Tacos (Quesabirria)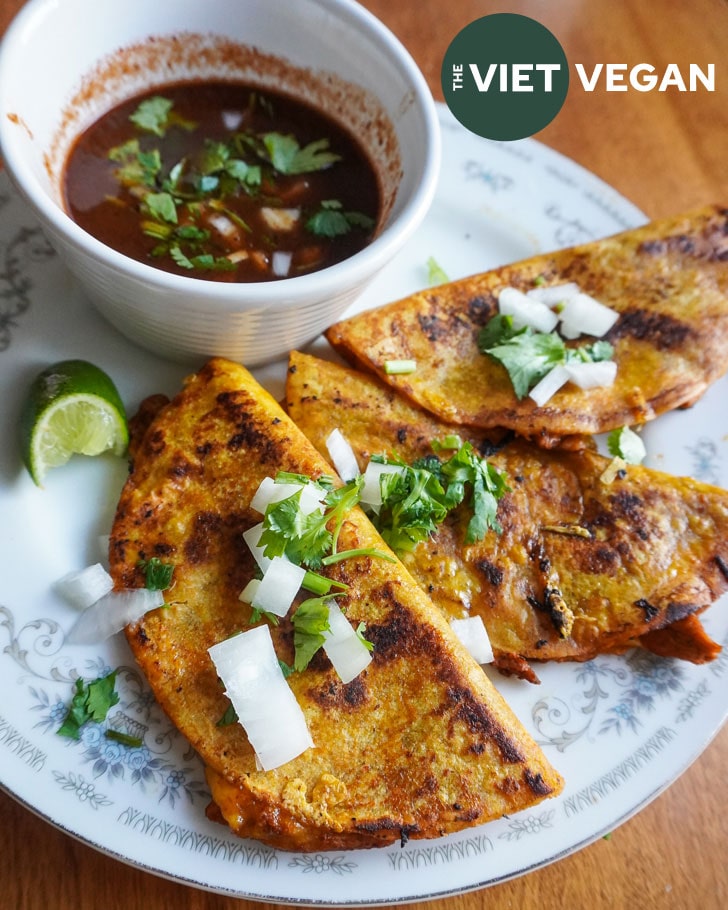 These vegan birria tacos (quesabirria) are crisp and spicy, and absolutely luscious when dunked in the savoury consommé! This recipe is a labour of love but it does make a LOT so you can count this as meal prep for the week ;)
Cook Time
2 hours
30 minutes
Ingredients
Chiles
8 guajillo dried chiles, destemmed and deseeded
4 pasilla dried chiles, destemmed and deseeded
3 ancho dried chiles, destemmed and deseeded
750 mL water
For the consommé
1/4 cup canola (or veg) oil
1 large white onion, peeled and quartered
5 garlic cloves
2 medium tomatoes, destemmed and quartered
2 L (8 cups) water
24 dried shiitake mushrooms
6 tbsp apple cider vinegar
1 inch knob ginger, peeled and sliced into rough coins
1 tsp coriander seed
1 tsp whole black peppercorns
4 whole cloves
2 dried bay leaves
1 tsp ground cumin
1 tsp rubbed dried thyme
1 tsp rubbed dried oregano
3 vegan beef-style bouillon cubes
2 tbsp mushroom broth powder (or can substitute more bouillon cubes)
1/8 tsp MSG (optional but highly recommended)
1 lump (~1-2 tbsp) rock sugar (can sub brown sugar)
For the birria soy curls
1 lb (450 g) dried soy curls
Hot water to rehydrate the soy curls
3 cups of the birria consommé
Salt to taste (I added about 1 tbsp of mushroom broth powder to the soy curls)
To make the quesabirria tacos
Oil for the griddle
32 corn tortillas (whatever colour you prefer)
Consommé to dip the tortillas
2 bags of vegan cheese shreds (mozza or cheddar flavour, whichever you prefer. Mozza is more like queso blanco though)
To serve
1 large white onion, medium fine dice
1 bunch of cilantro, chopped
2-3 limes (1 wedge per 3-4 tacos)
1/2 cup of consommé to dip
Instructions
Chiles
In a medium sized pot, combine your destemmed and deseeded chiles with 750 mL water and bring to a boil.
Once at a boil, lower to a simmer and cover, simmering for 30 minutes. You may need to gently stir or rotate the chiles so they are fully hydrated.
Remove from heat and let cool.
For the consommé
In a large stock pot (that can handle at least 4 L), over medium high heat, sear the quartered white onion, 5 garlic cloves, and 2 medium quartered tomatoes. Some parts will get blackened a bit, that's the goal.
Lower the heat down to medium, then add water, 24 dried shiitake mushrooms, 6 tbsp apple cider vinegar.
In a tea bag/tea strainer/fine mesh bag, add in peeled ginger (I slice into coins), 1 tsp each coriander seed and black peppercorns, 4 cloves, and two dried bay leaves. Bring the broth to a boil then lower to a simmer and cover to cook for at least 30 minutes until the mushrooms have fully softened.
Meanwhile, the chiles should be done boiling and may have cooled enough to go into the blender. In a high powered blender (like a Vitamix or Blendtec), combine the chiles and the boiled chile water, and everything from the pot EXCEPT the mushrooms, the spices from the broth in the tea strainer/tea bag, 3 cubes of vegan beef-style bouillon cubes, 2 tbsp mushroom broth powder, and 1/8 tsp MSG.
Blend until completely pureed and then add back to the pot. If your blender isn't powerful enough, pour through a fine mesh strainer and then discard what you can't blend.
I also add the mushrooms back into the pot, plus 1 lump of rock sugar and cover to keep everything simmering for at least another hour, ideally 2 hours.
Remove mushrooms and gently squeeze out the liquid from the mushrooms. You can thinly slice these to add to your quesabirria tacos but I usually just snack on them because I live with mushroom haters.
Taste for seasoning (add more salt if necessary), and then set aside.
Birria Soy Curls
In a large bowl, rehydrate 1 lb of dried soy curls by covering them with hot water until softened. It should take about 10-15 minutes to fully soften. Drain and squeeze out all the excess water and then add to a large pan/wok over medium heat. You can cook this in batches, or if you pan is large enough, do it all at once.
Add about 3 cups total of the birria consommé (you can add a bit of extra oil for crisping up the soy curls), and salt to taste (I added about 1 tbsp of mushroom broth powder) and cook until they're slightly crisped or caramelized. Remove from heat and set aside.
To make the Quesabirria tacos
Preheat a griddle over medium heat and brush a thin layer of oil over the griddle for crispy tacos.
Dip corn tortillas in the birria consommé and then fry on the griddle. With a griddle, you can make 3-4 tacos at a time.
Add about 1 tbsp of vegan cheese to one half of the tortillas. Then add the birria soy curls, and top with another light sprinkle (1/2 tbsp) of vegan cheese.
Carefully fold the other half of the tortilla over the filling and flip once the other side is crisp. Cook until both sides are crisped, and then transfer to a plate.
Top with diced onion, cilantro, and a squeeze of lime. Serve with about 1/2 cup of consommé to dip with every serving of 3-4 tacos.
Notes
I store the birria consommé in the fridge in a huge juice pitcher or mason jars, and I usually make the soy curls 1/2 lb (225 g) at a time because my wok can't fit that much. But I end up cooking the second 1/2 lb a few days later anyway, so you can decide to cook the entire lb at once, or 1/2 lb at a time.
You can also make birria ramen with the leftover consommé from only cooking 1/2 lb of soy curls. Serve the ramen and consommé with lime, onion and cilantro of course, but we just love quesabirria tacos so much we never have enough consommé leftover to do this.