As The Viet Vegan, I feel like homemade vegan Vietnamese pho is an obligatory recipe on here. So here is my version of vegan pho.
If it weren't for the fact that I've now branded myself as The Viet Vegan, almost nobody would know I was Vietnamese (in real life, anyway). I've had people ask me if I was Chinese, Korean, Laotian, heck, one of my friends thought I was Tibetan. I don't even know what a Tibetan person looks like, although my friend firmly insists that they look like me. My own people don't even recognize that I'm Vietnamese! In Vietnam, I'm this pale, white whale of an Asian. People would often talk about me in Vietnamese as if I couldn't understand them.
It's pretty hurtful, but I don't really know how else I can assert my identity as a Vietnamese Canadian. There are only a few people that I know (to whom I'm not related) who can relate to my upbringing. The loud karaoke long weekends, eating rice porridge when you're sick… Oh, and awkwardly navigating family functions trying to figure out how you're related to about 20 people. THEN figure out how to greet them with the proper honorific.
Is she older than my mom? Or younger? Wait how is she related to me… Oh she's my grandma's cousin, so now she's bumped up a level in honorifics. Right?
Then I mumble the greeting and hope that I got it right.
How to pronounce phở
Whenever people find out that I'm Vietnamese, they immediately ask me if I like pho and if I've made it. Yes I like pho. No I have not made it because it takes forever (traditional beef pho does anyway, this stuff not so much). And then they ask me if they're pronouncing it right. Usually it goes a little something like this:
"Pho! Wait no I know how to pronounce it. /feh/?"
"No, its-""
"/fuh/?"
"Sort of-""
"/fuUuh/, right?"
"Yes, that's it. But it's fine if you just say /foh/ or /fuh/". (Really. It's fine.)
People fawn and gush over pho like it's a magical soup of wonder, which yes, it's delicious. But in Vietnam, pho is just breakfast food. It's like oatmeal. It's delicious, but it's morning food.
The spices for vegan phở
One of the unique things about vegan phở is the wonderful collection of spices all simmered into the rich, tasty broth. I tried the soup before I put in the spices, and it tasted…empty. Not quite finished.
But after simmering in the warming spices of black cardamom, coriander seed, star anise, cinnamon (specifically Vietnamese Cassia bark), clove, and fennel, it filled out the body of the broth with the liquid comfort that is pho.
You can find all of these spices at an Asian market! But if you don't want to buy each individual spice, you can also buy the premade spice packs for pho!
Growing up with phở in Vietnam
When I was younger, I would visit my grandparents in Vietnam for weeks or months at a time. It was such a culture shock from the spacious lands of Canada. My grandparents' house was a townhouse squeezed between hundreds of other houses on either side of an alleyway. Each house was quite narrow, about the width of my living room (14 feet) but long and at least 4 storeys high.
Early in the mornings before school, I would sleepily meander down 3 flights of stairs to the front gate to see a lady walking through the alleyway selling phở. My grandmother would flag her down and we'd grab 6 bowls from the kitchen. I watched as the vendor divided noodles and sliced meat into the bowl, and pour piping hot broth over top. My grandfather came lagging behind with a plate, and the vendor would scoop out greens and sprouts out for us. Little red gems of chilli pepper and a wedge of lime for each bowl sat on the edge of the plate.
After eating breakfast, I'd wash up and get dressed to go to school, fumbling with fountain pens and Vietnamese school customs, but that's another story for another post. But the phở I had in restaurants in Toronto's Chinatown never lived up to the street phở from the lady pushing the cart.
How to make authentic vegan phở
Traditionally, phở made with beef bones, but obviously that will not be the case here. The next best thing is to use two dozen dried shiitake mushrooms, carrot, charred cabbage, daikon, and onion. These will add smokiness and sweetness.. A low and slow simmer gently coaxes out the flavour of the mushrooms to create a flavourful vegan phở broth that rivals the beef version.
Next you build out the vegan pho broth with seasoning. An excellent broth has not only savoury flavour, but also depth. We first build the depth with a base of charred vegetables and mushrooms, but we round it out with rock sugar, vegan bouillon and mushroom broth powder. Add a touch of funk and umami with vegan fish sauce and MSG, and you will have a broth that will have your friends and family drinking it by the bowl.
How to Garnish Phở
But the broth isn't the only thing that makes this soup delicious. Vietnamese people love eating greens. They love a variety of herbs and bean sprouts. I never knew what the herbs were called in English until I found the packages and labels. Thai basil is similar to the basil we are familiar with in Italian cuisine.
It has a bit more of a peppery aftertaste and has almost a minty bite to it. Curiander is related to coriander, and has a familiar taste. In Vietnamese culture, they say it has a positive "cooling" effect on the body, similar to eating basil seeds, cucumber, or chrysanthemum tea. By "cooling" (the direct translation from Vietnamese), they mean anti-bloating and anti-inflammatory.
Recipe Notes
A big thank you to my mom for helping me with this recipe! This is essentially her recipe, just whittled down from "a bunch of this" and "some of that" into this recipe here. Hoisin sauce and sriracha will help boost flavour to the soup when you serve. And don't forget a handful of greens, bean sprouts, and a squeeze of lime!
I've also made an Instant Pot version of vegan pho. It's faster but will make a smaller amount of broth. I have a youtube video of this recipe as well!
EDITED: This recipe has since been updated as of May 5, 2023. I'll make a new video eventually to reflect the changes, but in the meantime, the recipe below is the new improved version of this vegan pho!
Yield: 4-6 servings
Homemade Vegan Vietnamese Pho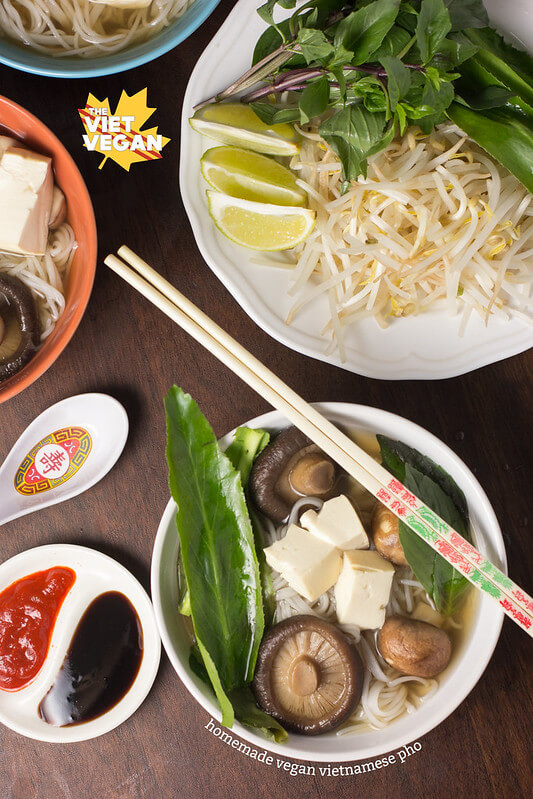 Ingredients
24 dried shiitake or flower mushrooms
4 medium onions
1 large daikon, peeled and cut as coins, 1" thick
3 inches of ginger, washed well, halved and pounded with a pestle or heavy object to release the juices
1 large or 2 medium carrots, peeled and cut into 2-3 inch sized chunks
1 head of cabbage, quartered
1 apple or pear, cored and halved (I used gala, but any that keeps its shape well after cooking is good)
16 cups of water (4 L)
1 pint king oyster mushrooms, sliced into 2 inch slivers
2 tbsp olive oil
Spices (see photo above)
5-6 pieces of star anise
1 tbsp coriander seed
1 tsp whole fennel seeds
5-6 pods of black cardamom
2 sticks of cassia bark (you can use cinnamon sticks if you can't find cassia bark)
1 tsp whole cloves
To season* (see notes below)
3 tbsp mushroom broth powder (OR 1-2 tbsp salt, to taste)
2 tbsp vegan fish sauce
3 large chunks yellow rock sugar (or 2-3 tbsp of sweetener of your choice)
1/4 tsp MSG
2 cubes of vegan beef bouillon (I get mine from Bulk Barn)
1 package pho noodles, boiled
1 400g package soft tofu, drained and cut into 1" segments OR fried tofu, sliced (whichever you prefer really)
Sliced cha lua chay (Vegan Vietnamese sausage, you can find this in some Asian food markets in the frozen section)
To serve:
Culantro leaves (ngo gai)
Thai basil leaves (rau qua)
Cilantro leaves (ngo) chopped
Green onion, finely diced (or white, thinly sliced)
Bean sprouts, washed well
Lime, cut into wedges
Hoisin sauce, to taste
Sriracha, to taste
Instructions
Make the broth
Cut off the tops and bottoms of onions and peel the onions. Peel and cut daikon.
In a large pan over medium heat, dry sear the onions, peeled ginger, quartered cabbage, and daikon to get a caramelized browned edge. If you have a grill or BBQ, it would taste better to do this on there instead of the dry sear on a pan. They'll burn/char and that's okay, that's how you get a good depth of flavour. This will take 10-15 minutes. Alternatively you can broil everything in the oven, flipping until both sides gets some char. This will also take about 15 minutes.
Meanwhile in another non-stick pan, cook the slivered king oyster mushrooms with 1 tsp of mushroom broth powder until browned and caramelized.
To a large stock pot with at least 4 L of water, add the caramelized king oyster mushrooms (and dried shiitake mushrooms), charred daikon, onion, cabbage, carrot, apple and ginger and water and bring to a boil. Lower to a simmer and cover. Let simmer for at least an hour. Ideally up to 5-6 hours for more depth. After about 45 min-1 hour, remove the onion and apple since they will completely dissolve if you cook it longer.
Toast the spices
Meanwhile, in a dry skillet, toast the spices (star anise, coriander seed, fennel, cardamom, cassia bark and cloves) for about 2-3 minutes until fragrant. Remove from heat.
About 15 minutes before serving, combine the toasted spices into a mesh bag, tea strainer/bag, or a sieve. Lower into the pot and simmer for 10 minutes, careful not to lose the spices into the broth. Don't leave the spices too long or it will become bitter.
Remove the spices.
Prepare to serve
Add the slices of tofu/fried tofu and Vietnamese sausage if using to heat them through. Add a tsp of vegetable oil to the broth if you're not adding fried tofu. The small about of oil adds a richness to the broth.
Meanwhile, cook the pho noodles until al dente (so when you add the steamy broth, they're perfectly chewy and delicious!), drain and segment into servings. It's easier to do this when they're freshly cooked, otherwise they'll drain into one big clump and be hard to divide.
Remove everything but the mushrooms from the pot. Start seasoning the broth with mushroom broth powder (or salt), vegan fish sauce, yellow rock sugar, MSG, and vegan beef bouillon cubes. Start out a little of each ingredient at a time until you have the full-bodied broth you like.
Pour broth over pho noodles, garnishing the tofu, sliced mushrooms (from the broth), vegan Vietnamese sausage, culantro leaves, Thai basil, bean sprouts, cilantro, green onion and a squeeze of lime. Add hoisin sauce and sriracha to taste!
Notes
When I first published this recipe, I didn't have access to many of the vegan broth enhancers that are available now. After years of remaking and tweaking this recipe, I've improved the broth with mushroom broth powder, vegan fish sauce, rock sugar, MSG, and vegan beef bouillon. The biggest game changers for this recipe were the addition of vegan fish sauce and sugar. The vegan fish sauce adds a really big layer of depth, and the sugar rounds out the salt.
You can decide what amounts of each ingredient work well for you, it will depend on how salty you like your broth, but this soup really does require a full-bodied broth to bring the noodles and toppings together. Don't skimp on the salt AND sugar. Worst case, you can add water if it's too salty.