Satisfying, savoury, tangy and fresh; these vegan carne asada tacos are so delicious and simple to put together! PLUS they're naturally gluten-free!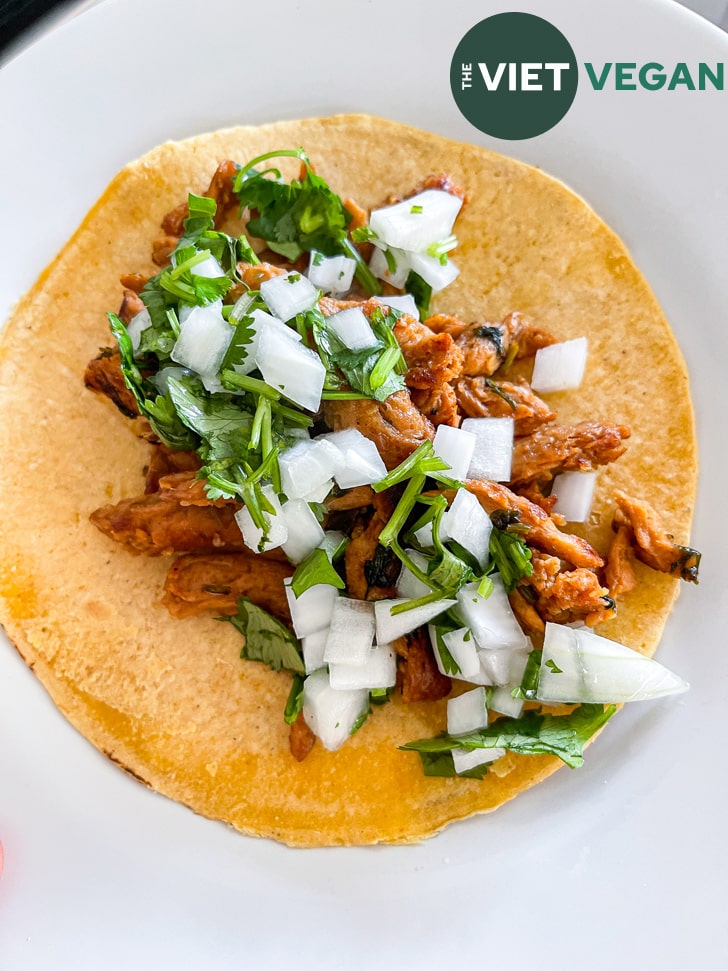 We're back with another poorly photographed recipe because I have a baby haha. I've been prioritizing good food and recipes over well photographed food because all my equipment is harder to put together. So phone photos it is! You might have seen my street taco phase from my Instagram stories.
I'm not sure what it was about the beginning of April, but I went HEAVY on a street taco phase. I was playing around with a regular ground "beef" one, a carne asada version, and fish tacos. I veganized a more authentic version with curtido since I always loved peach salsa on top of fish tacos before. The pickled cabbage slaw is addictive and one of my favourite ways to eat cabbage now!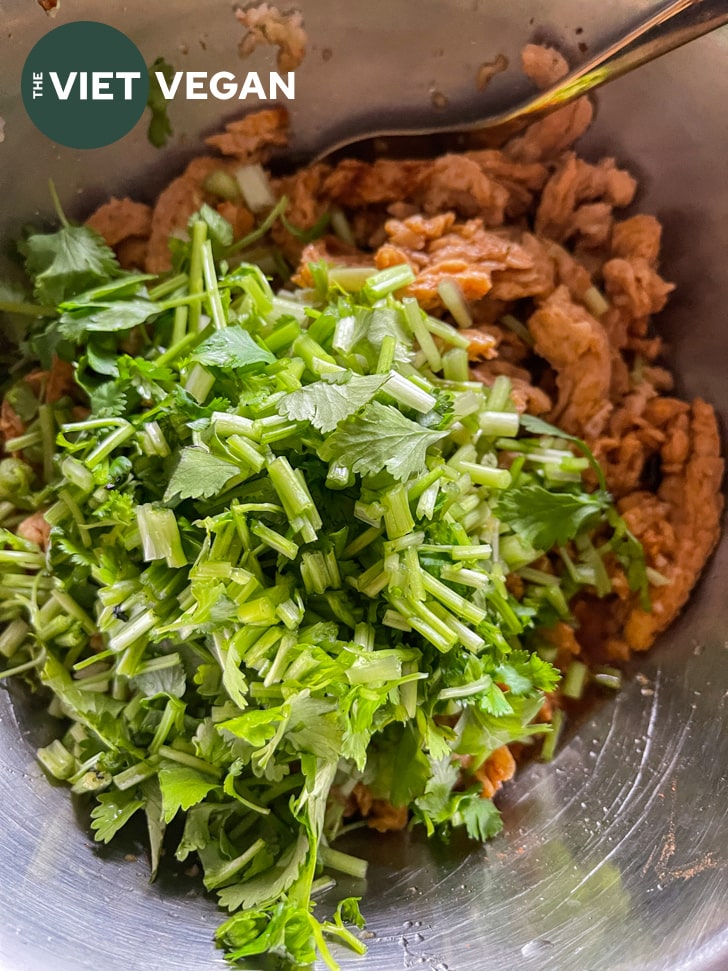 I hadn't ever had carne asada tacos before so I was really curious about what the flavour would be like. Although I had expected the flavour to be a lot more savoury and heavy, but I was delighted to find that carne asada is savoury but really tangy and refreshing. I guess I shouldn't be surprised, because in my experience, Mexican food tends to be savoury, satisfying, and balanced with acidity.
And not to be confused with Tex-Mex, which I find can be a lot heavier and not quite as balanced in terms of flavour and freshness. This is also probably because of the generous amounts of yellow cheese.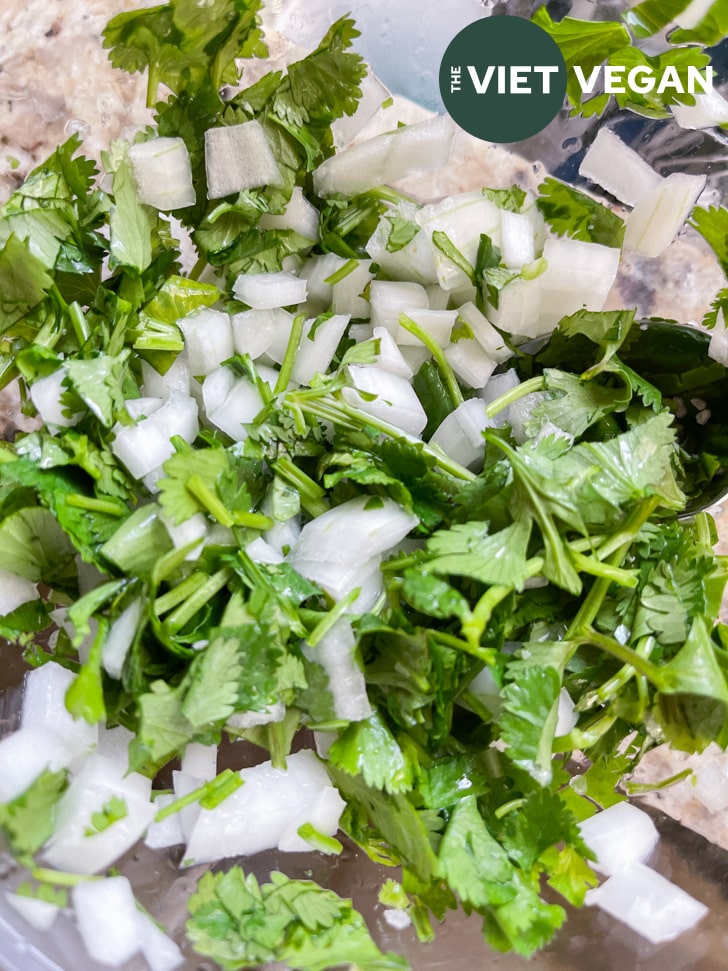 I've been eating a ridiculous amount of homemade street tacos lately! So these vegan carne asada tacos have been in regular rotation! It's really simple to put together.
What you'll need for vegan carne asada
corn tortillas
soy curls
tamari or soy sauce
orange juice
lime juice
garlic
white onion
cilantro
The spices and chipotles in adobo are optional, but those are the main components of the marinade! When I see traditional recipes by Mexican creators for carne asada like this one, I often don't even see all the different spices and garlic.
You can try making this with seitan, fried tofu, or vegan chicken, but we always have soy curls in our freezer. Full of protein, freshness, and a bit of fibre (although more wouldn't hurt haha).
I've been feeling FOMO about missing Vegan Street Fair a few years now since COVID put a pin in our travel plans. But making these vegan carne asada tacos at home have hit the spot. If I can't travel IRL, then I'll travel with my taste buds :)
Yield: 8-10 street tacos
Vegan Carne Asada Tacos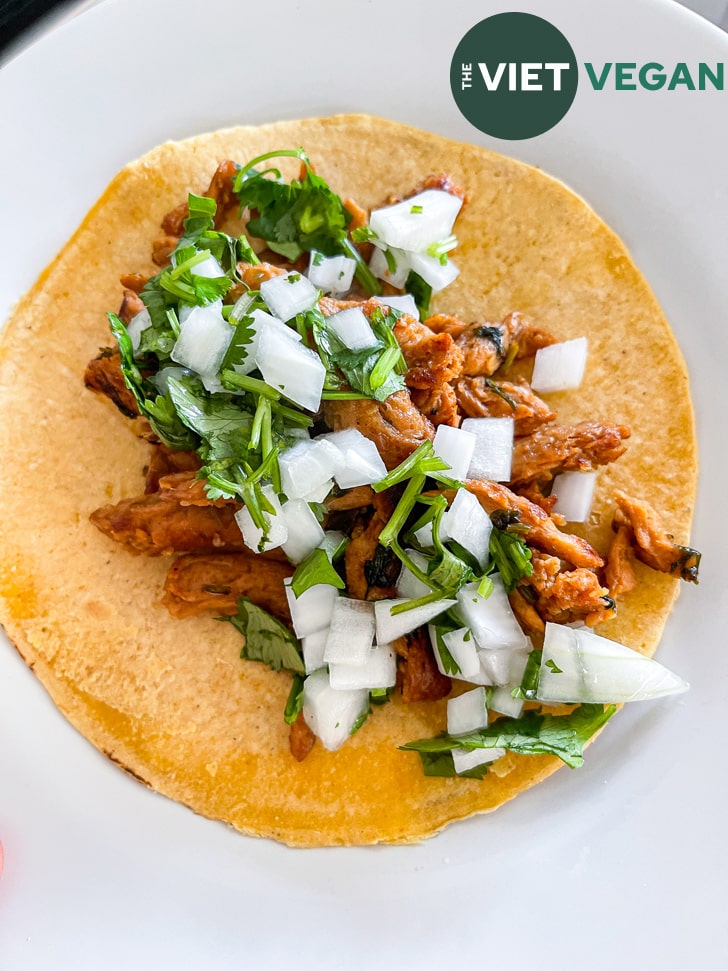 Ingredients
150 g soy curls (slightly over half a bag)
Hot water to rehydrate
1 tsp mushroom broth powder
Marinade
1/4 cup lime juice
1/4 cup orange juice
1/4 cup tamari
3 tbsp oil (I used canola)
1/2 cup cilantro stems, roughly chopped
6 cloves garlic, minced
1 tsp chili powder
1/2 tsp cumin
Optional: 1 tbsp adobo sauce from a can of chipotles in adobo
Relish
1/2 cup cilantro tops, chopped (leaf and stem)
1/4 white onion (~1/2 cup), diced
1 wedge lime, juiced (about 1-2 tbsp)
Pinch of salt
Tacos
8-10 corn tortillas (I liked white or yellow)
Instructions
Soy Curl Carne Asada
Prepare the soy curls by rehydrating with hot water (I use boiling water and then cool slightly with cold tap water) and mushroom broth powder. Let rehydrate, then drain and squeeze out excess water.
In a large bowl, prepare marinade by combining lime juice, orange juice, tamari, vegetable oil, cilantro stems (I use the stems of the cilantro leaves for the relish), garlic, chili powder, cumin, and adobo sauce (if using).
Add the rehydrated soy curls and mix well into the marinade to absorb. Let sit while you prepare the relish.
Relish
For the relish, combine cilantro tops, white onion, lime juice, and salt. Mix lightly to combine, and put in fridge.
To Assemble:
To cook the soy curls, preheat a pan to medium heat, and then add the soy curls and marinade. You can reserve some of the marinade liquid (~2-3 tbsp) to add to the end to maintain some moisture, but this is optional. Cook the soy curls as desired, we like them to have a bit of browning, but you need to cook out a lot of the moisture before this happens (which is why I retain some of the marinade). Once the soy curls have browned, I add the remaining marinade, stir to heat through, and then turn off the heat.
On a griddle or large pan, heat the corn tortillas until heated through and they begin to brown slightly on each side. Remove from heat, and immediately fill with the carne asada soy curls and top with relish.
Enjoy immediately! This recipe makes about 8 well stuffed tacos, or 10 more conservatively-filled tacos.