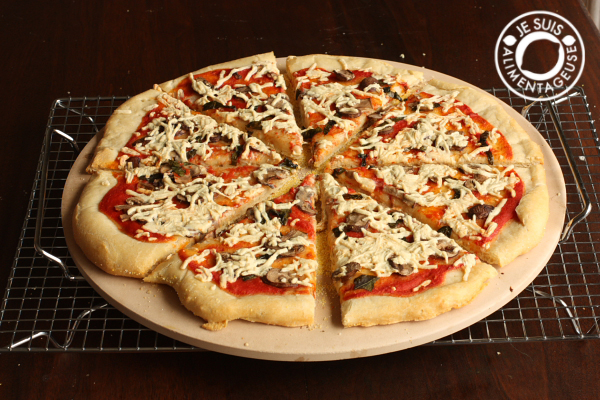 I made this vegan pizza just before my last paper and it was ultimately one of the things that kept me going as I got my academia on. But it's been a week since that deadline, a week to reflect what I'm going to do after I graduate in the spring, and a week for me to get my pizza cravings back on. It's nearing the end of yet another year, and it's time for real talk, friends (followed by the secret to a crispy crust). By real talk, I mean me freaking out about life.
All through high school, I breezed through my academics. It wasn't that it was easy. I'm sure at the time I found it plenty challenging, but I don't particularly remember pulling any all-nighters because there was a certain mathematic concept I didn't quite grasp. I loved school. I still love school. The routine of coming to class, seeing familiar faces class after class, year after year. The crispness of new books and notebooks at the start of each semester. Cleaning out my locker (er…now I guess my car), getting rid of random loose leaf notes and lunch containers to start the new class fresh.
I'm sure you've all been there (some enjoying it more than others).
School has always been my life. Always preparing for what I'm going to do. Who I'm going to be.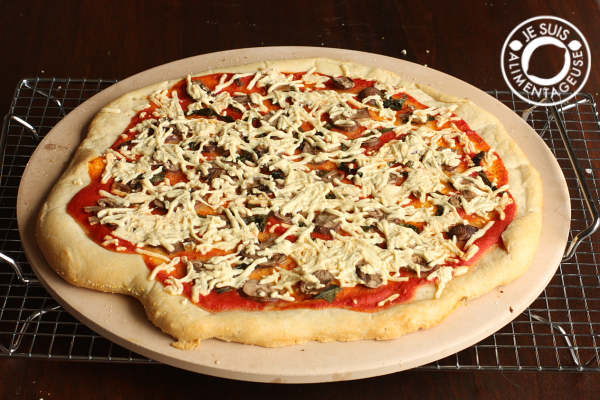 Ooh. Aaaah. Take a break from my existential crisis and admire this vegan pizza.
Okay back to real talk.
Well I'm 23 now.
I have my high school diploma. I have my undergraduate degree. I'm one semester away from my master's.
Now what?
I can't help but feel just as lost as I was when I graduated high school and university. Unsure of what I could do with my skill set, with so many things that I aspire to do and love.
I thought that finishing my master's would bring me closer to that goal. And it seems as though it has—in a sense.
Je suis alimentageuse has taken off even more than I ever imagined. JSA is starting to get more and more comments (KEEP 'EM COMING! I LOVE EM!) and it's truly humbling even the private messages and comments from friends and family who have told me how different recipes and topics covered on my blog have been helpful to them.
All of my life, food has taught me so much about life, people, relationships, work, ethics, even politics. It is so gratifying to see my knowledge of food helping others as it once helped me.
But I can't help but feel a little lost. The blogging world is so big with so many other bloggers out there. There are many blogs out there that putter along, barely registering a blip on the radar, and the big fish out there (likw my friends Dorothy from Crazy for Crust and Ashton from Something Swanky, and wicked huge fish like Todd and Diane from White on Rice Couple) render me in awe of their success. There are so many photographers and food writers out there that I admire, whom I aspire to be.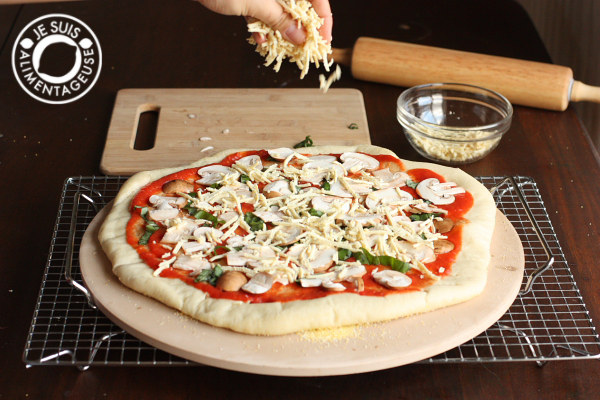 And then of course, comes my academia. As much as I say that academia may not be the right path for me. I still love it. I love reading, learning, listening to lectures and discovering new theories and perspectives. It may sound boring to some, but the nitty gritty of analyzing translations and discourse actually excites me. I'm weird, I know.
But all in all, that makes me feel the most lost of all is that I don't know where to start. I've made such great connections and experienced such great opportunities that I want to dabble in everything. I'm scared to take a leap into a career that will dictate how my life will turn out. Will I have benefits? A salary? Will I be able to support myself, let alone a family? Will I be able to have these things without selling my soul to some capitalist company that destroys small forests and animal shelters or something equally as horrible? (This is actually a fear of mine. Don't laugh. Okay you can laugh a bit but seriously. I CARE! Haha.)
People keep telling me that I'm young. I'll figure stuff out. But the clock is ticking. My student loans are collecting interest. I already live paycheque to paycheque, and it's terrifying.
So excuse me while I sit in my corner, rocking catatonically, trying to decide what/who/where I want to be for the rest of my life. I'll explain the secret to great pizza crust right now (which now seems so trivial, but for the people who don't care about me and just want the answer to this bloody secret, I'll tell you!)
The secret is…
A preheated pizza stone and lots of cornmeal! I guess that makes it secretS, plural, and not just -a- secret.
But you cannot have one without the other. A regular pizza pan with cornmeal may make the crust crispier than it would without, but to get that magical crunch when you bite into a slice o' pizza pie, you need both. The pizza stone absorbs any moisture from the baking dough, ensuring a nice, crispy base for your pizza, and the cornmeal ensures that the pizza dough doesn't stick to the stone! (Trust me, been there, done, that, it was a nightmare to clean.)
And if you ever have some sort of personal crisis, this crust, topped with San Marzano tomatoes, veggies of your choice and a sprinkle of Daiya mozza shreds, is the answer to your call for comfort.
Pizza dough recipe adapted from Veggieful.com
Yield: 2 pizzas
Vegan Pizza and the Secret to a Crispy Crust!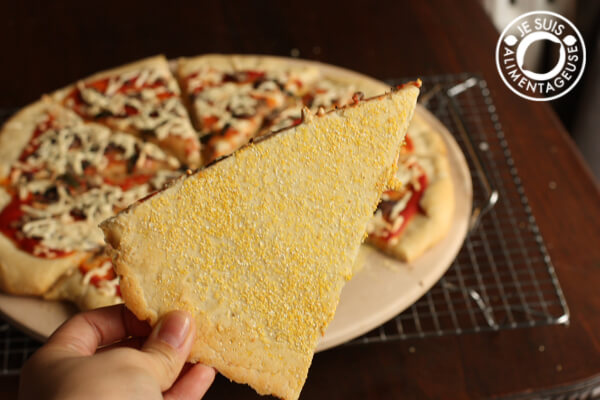 Ingredients
For the dough
2 1/4 tsp dry active yeast
1 3/4 cups warm water (not too hot or it'll kill the yeast)
2 tsp olive oil + more for the bowl and rolling
3 3/4 cups all purpose flour
1 tsp garlic powder
1 tsp salt
For the pizza
1/2 cup corn meal (1/4 cup per pizza)
3/4 cup tomato sauce/puréed whole tomatoes (6 Tbsp per pizza)
1 cup vegan cheese shreds (like Daiya)*
4-5 basil leaves, torn
3 Portobello mushrooms, sliced
1 cup kale, washed, torn, and drained
Instructions
To start the dough, mix together the active yeast, warm water and olive oil and let the mixture sit until the yeast becomes active. Once it starts to bloom and the mixture looks "creamy", if you're using a stand mixer, use the dough hook and add the flour, 1/2 cup at a time until the dough is sticky and comes together and the flour streaks are gone. The dough will still be a little sticky, but not so sticky that it sticks to every surface. In a well-oiled bowl, flip the dough so it's coated in a thin layer of oil, cover with plastic film and let rise until doubled in volume (1-3 hours).
Preheat the oven to 350F.
Once risen, gently punch the dough down and divide into two balls. Store the other dough ball in tightly wrapped plastic film in the fridge if you don't plan on using it right away.
Roll out the crust (make sure you oil your fingers and rolling pin to prevent sticking), and evenly sprinkle 1/4 cup cornmeal in between the preheated pizza stone**/baking pan. Transfer the rolled out crust to the cornmeal-covered pizza stone. Use a fork or pizza roller to punch holes into the crust, then pre-bake for 10 minutes.
Remove from oven and add toppings, then bake again until the edges of the crust are golden (about 15 minutes). Slice and serve! If you have any leftovers, reheat in the toaster oven then microwave for about 20 seconds to get the cheese all melty again =P
Notes
*1/2 cup of cheese per pizza may not sound like enough, but it is. See Daiya's website for more specific info =)
**For an extra crispy crust, preheat your pizza stone with your oven before you bake it.