Creamy, rich, vegan ramen is definitely possible,
and super easy to make at home!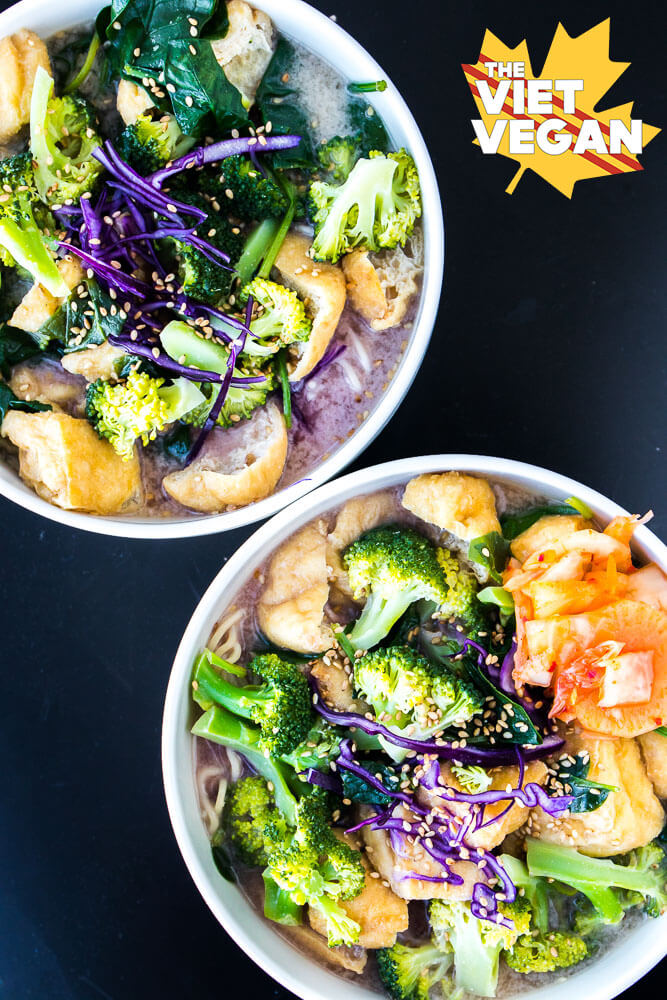 Ramen has always been something I adored, although I had only ever tried it once I was vegetarian. Any of the vegan ramen places I tried would make a miso-based ramen, but it didn't live up to the rich, fatty ramen noodles that embodied true, Japanese comfort food. While this is nowhere near a traditional Japanese recipe, this is my take on a comforting, gluten-free, yet rich bowl of noodles.
Now onto my brain-dump: I've always prided myself is being open-minded. At least I try to. I try to admit when I'm wrong. I hope I can be humble and open to learning. I do my best to learn from my mistakes. My mistake was being a judgmental b*tch =P
I used to be incredibly judgmental. I used to fat-shame, I criticized people on their hair and their makeup or just their person in general. I'm not proud of it, and anytime those judgments passed my lips, I felt this feeling of guilt gnaw deep inside me. I think I've tried to compensate for that guilt by doing everything I can to be a better more compassionate person, but I still look back at myself and cringe.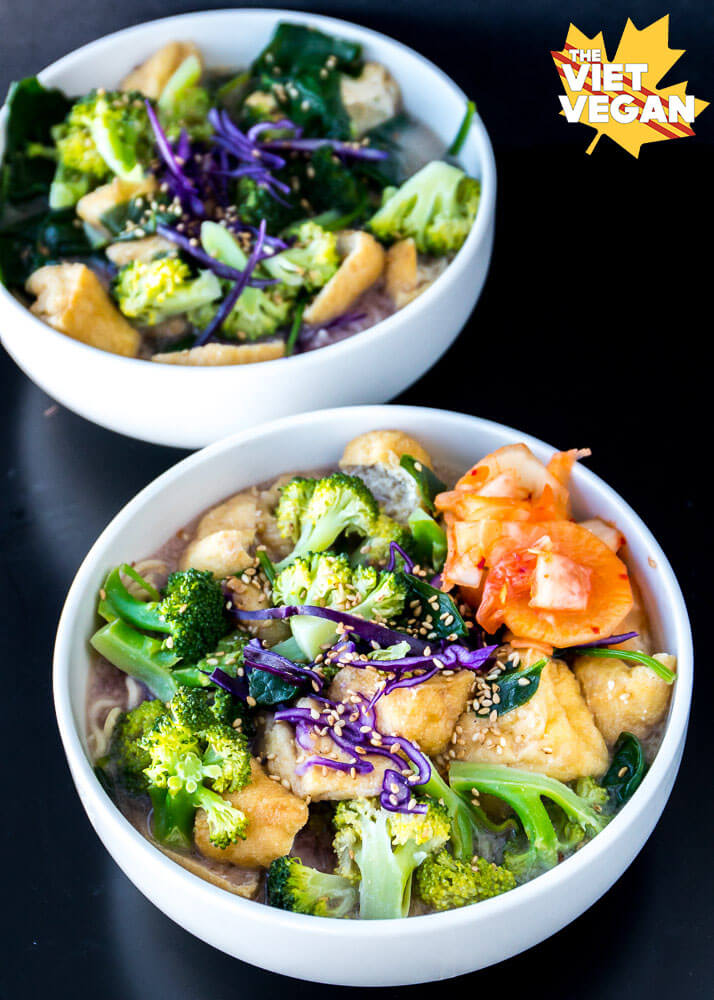 They say that people say horrible things like that because they feel that way on the inside, and while I'd like to say that was true for me, I don't necessarily think that's why I said it. I grew up among judgmental people, and Vietnamese culture in general is quite critical (while I think they're just more blunt, but translating the remarks from Vietnamese into English comes across very harsh).
Maybe I had convinced myself that me pointing those things out were ways of not being that way myself? But that in of itself indicated my skewed perception of body image and acceptance of people. There's no justification of my past, just how I can be better now.
To anyone who knew me before as a super critical, or unpleasant person, I apologize. I have no excuse. I do my best to be a body positive, compassionate and kind person now. I've come to accept my weirdness, my "flaws", and basically stopped caring what other people do with their appearance because frankly it doesn't affect me and it's none of my business anyway.
I like to think that I've grown up, but hey, I'm still young. I've got a lot more to learn.
To see the recipe in video form, watch it here:

Yield: 2 servings
Vegan Ramen (Gluten-Free)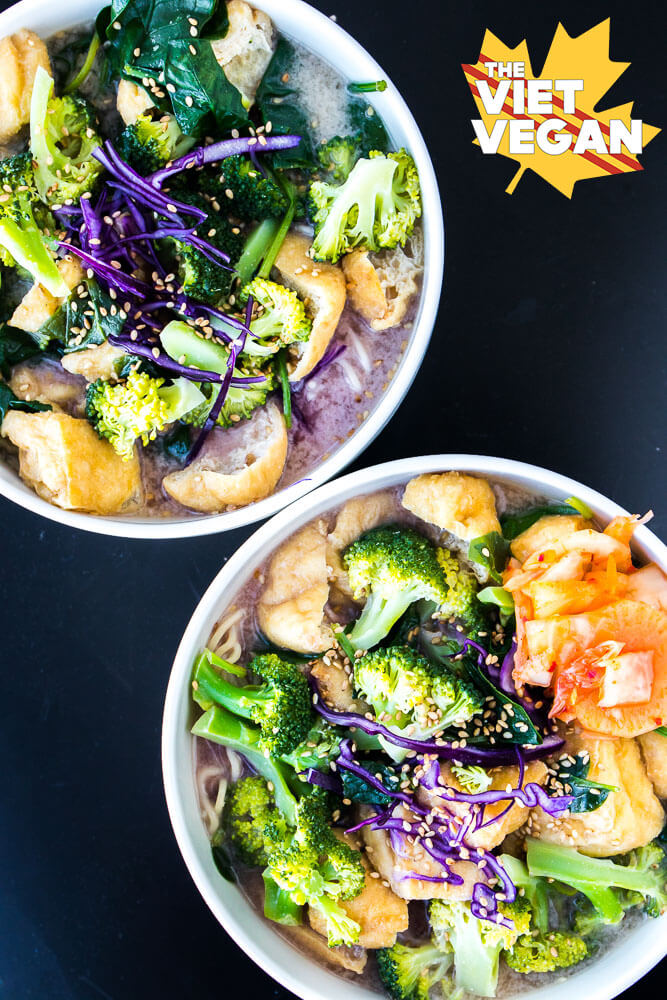 Ingredients
2-3 bricks of vegan ramen noodles (I used gluten-free ones, you can see the brand in the video)
3 tbsp tahini
1/2 lemon, juiced
1 1/2 tbsp tamari (or GF soy sauce)
4 cups vegetable broth (I used water + 1 heaping tbsp mushroom broth)
2 large bulbs of Shanghai bok choy, cut into strips*
1 cup of puffed tofu balls, cut diagonally**
1 cup spinach (you can omit this if you want to focus on the bok choy)
Optional:
Green onion (either as a garnish, or you could use the diced whites at the beginning to flavour the broth)
Kimchi for topping
Thinly sliced red cabbage for garnish
Toasted sesame seeds to garnish
Instructions
Cook the ramen noodles as directed on the package. Divide between two bowls.
In a small bowl, combine tahini, lemon juice, and tamari until smooth and uniform.
In a medium pot, bring 4 cups of broth to a boil. Add whites of green onion if using here.
Add the tahini mixture and mix until incorporated into the broth.
Add your vegetables and tofu to cook through, then taste to adjust seasoning. Feel free to add more salt, pepper, or sesame oil if desired.
Divide soup between two bowls, and add your preferred garnishes!
Enjoy :)
Notes
*I used broccoli in my video because I ran out, but I prefer having the bok choy
**I've also used fried firm tofu tossed in cornstarch before and it tasted just as delicious in this recipe :)