I made this vegan satay with soy curls for monbento boxes as a portable lunch and they were beautiful and delicious! This recipe video is sponsored by monbento!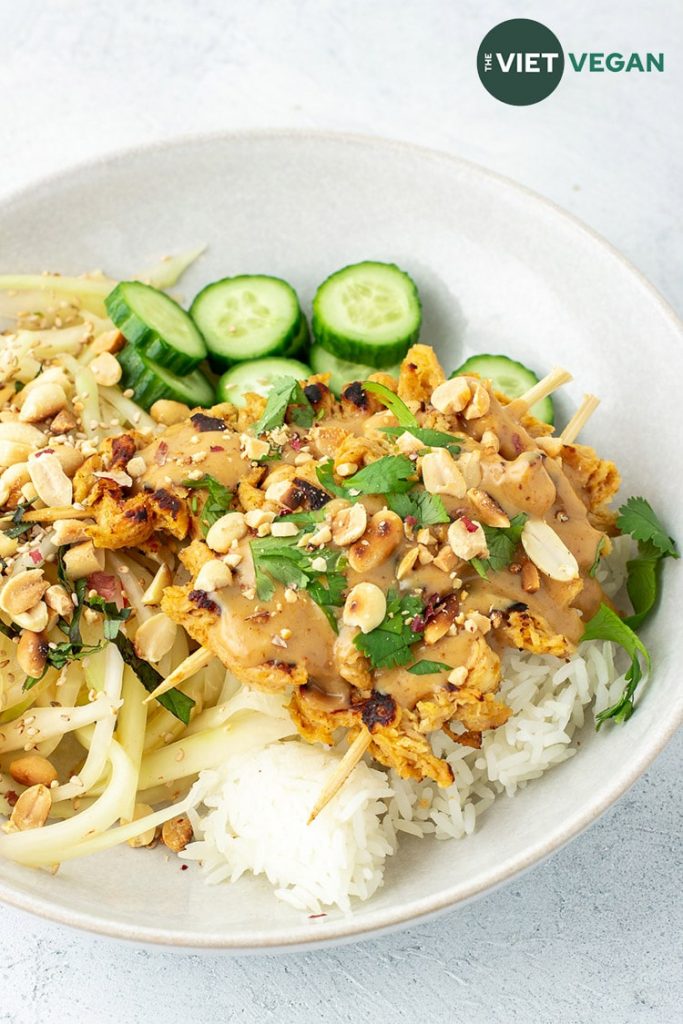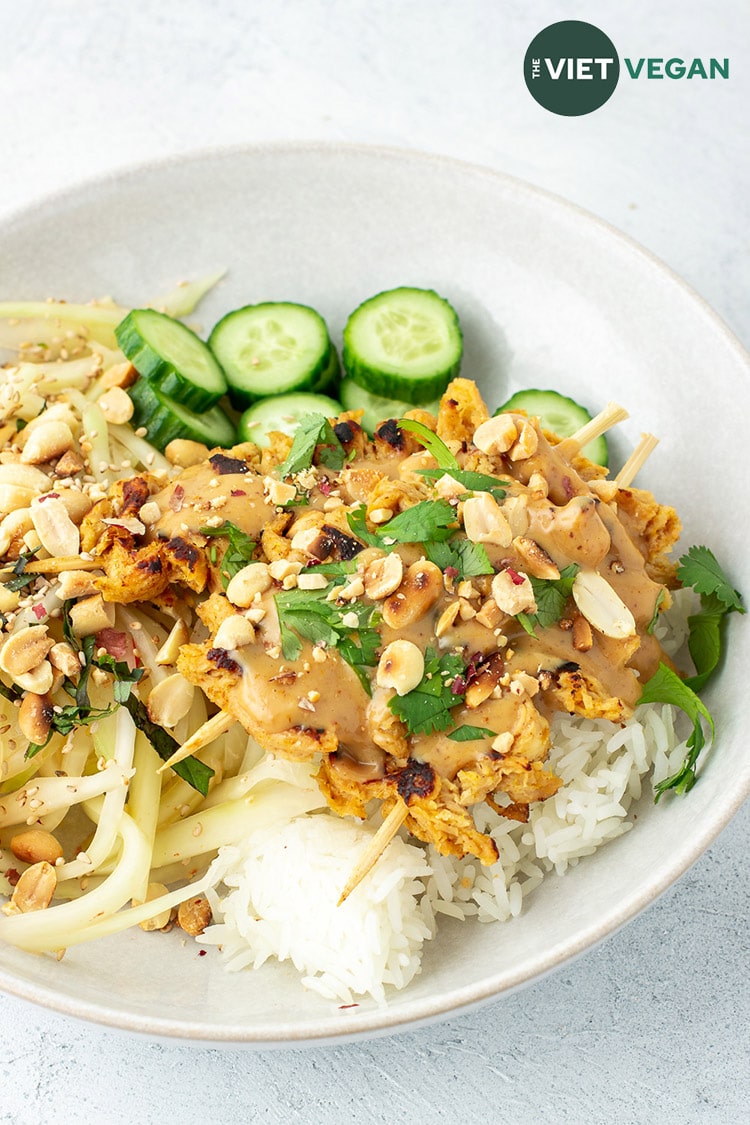 I really miss restaurants y'all. I miss going to restaurants and ordering dishes that are a lot of effort for me to make at home. I miss enjoying the fresh ingredients and traditional foods of other cultures without me having to research a heck ton of processes to try and get the right ingredients, and I miss being able to eat restaurant food without mountains of plastic.
Satay was one of those things I loved ordering at restaurants because it's so fun to eat, easy to share, and most importantly, SO TASTY.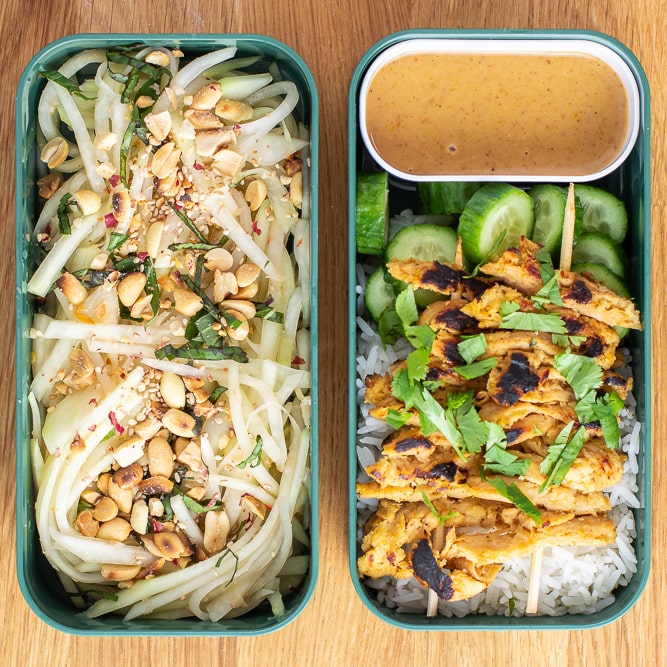 I developed this recipe for a video with monbento and I had so much fun making this beautiful and tasty portable lunch. The sauce compartment is perfect for peanut sauce, and if I trim the skewers, it fits a great amount of food! I've been really enjoying making portable food for hikes and for Eddie's lunches, and the bento boxes I bought last summer have been such a beautiful way to transport food for us and our hiking friends.
While researching online, I found a lot of variety in the satay recipes. Some make their marinade from scratch using fresh galangal, ginger, lemongrass and curry spices, and some use a handful of dried spices or curry paste. I opted for something in between: fresh curry paste but using pre-made curry paste. Best of both worlds in my opinion: more flavour with minimal effort!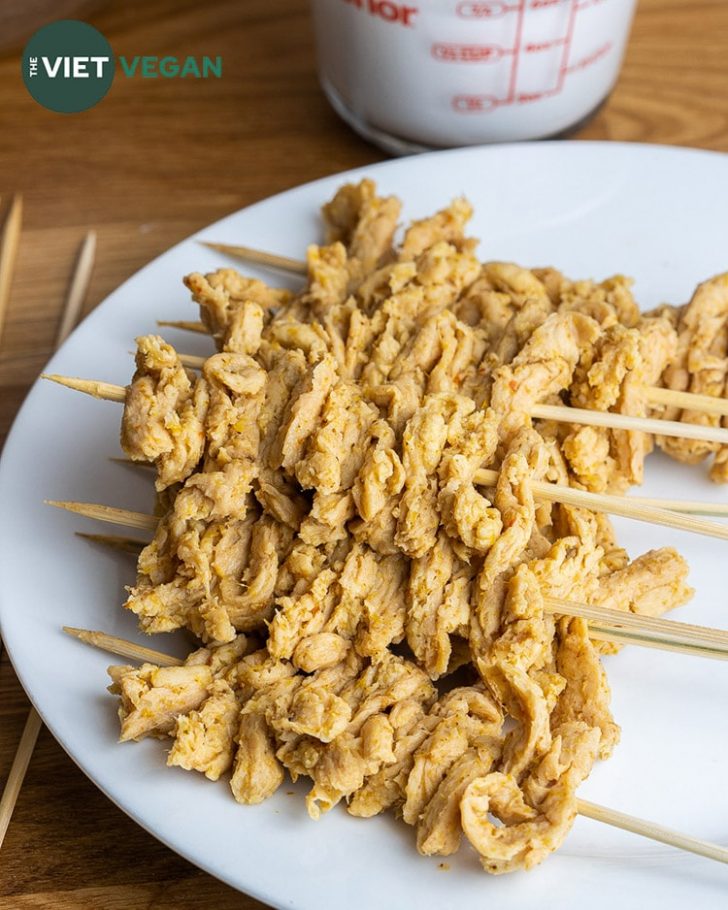 I find a lot of satay offerings at Vietnamese restaurants, typically made with chicken or pork, but I made this recipe more similarly to the Thai style satay, which focuses more on curry flavour, whereas I find Vietnamese satay tends to rely more on garlic for flavour.
Most places will grill or BBQ the satay to get that delicious, caramelized and crispy flavour, but since it's the middle of winter where I live right now, I opted to use a griddle. You could broil these as well, but I wouldn't recommend baking them (they were still a bit too wet when I tried experimenting with baking these).
If you don't want to bother with the skewers at all, don't worry, I have a lazy pan-cooked version where you skip the skewers completely! It's not as traditional obviously, but you get a lot of the same flavour, minus the smoky char of a BBQ.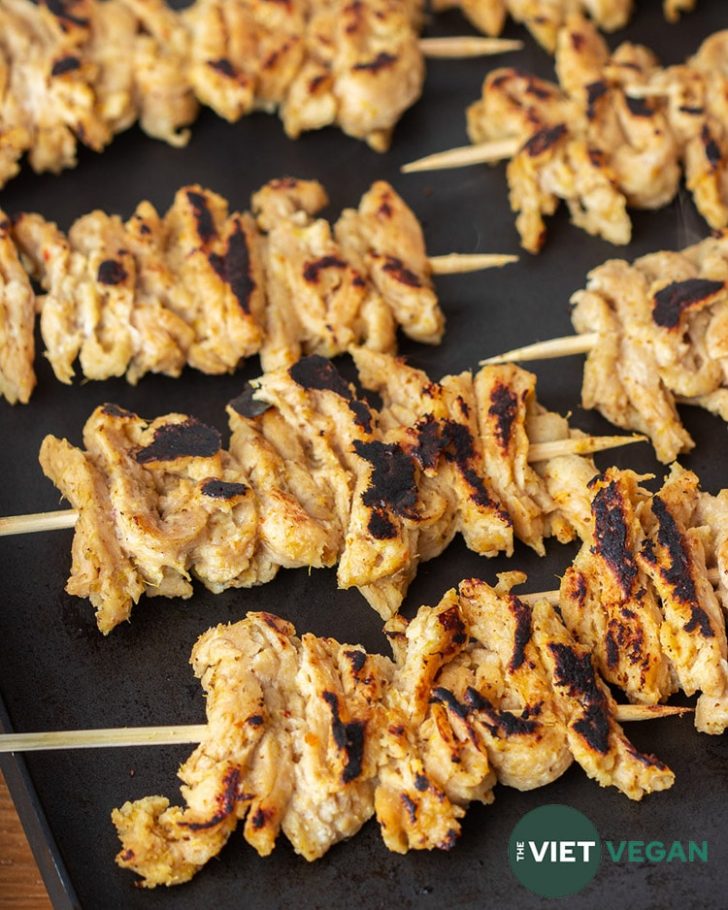 And of course, any satay is made 100x better with copious amounts of creamy, savoury peanut sauce! This peanut sauce has the perfect amount of salty, creamy, spicy and curry flavour to complement the satay. Eddie loves eating this more than anything else and will just slather peanut sauce on everything whenever I have this prepped in the fridge.
A lot of traditional recipes I've found use fresh roasted peanuts to make their peanut sauce, which I'm sure would be unctuous and delicious but I don't have time for that. I opted for using natural peanut butter (so no sweetener, salt, or any other additives) and that was perfect for this recipe. You can also use a sweetened peanut butter like JIF or Kraft, but adjust the sugar content in the recipe accordingly.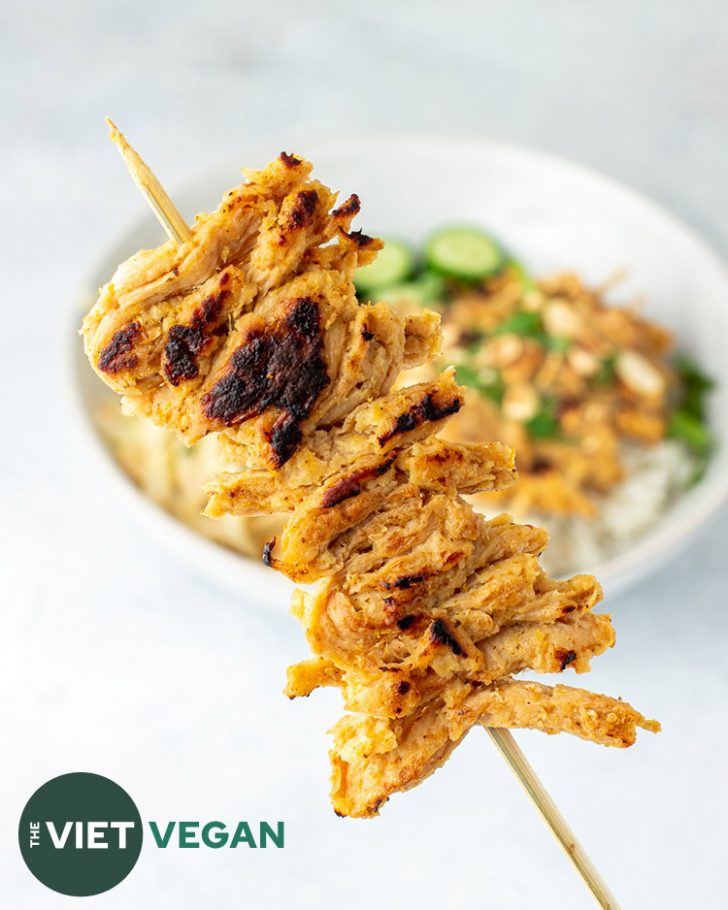 I paired this recipe with a green papaya salad, which the Thai version is called som tam, but the Vietnamese version is called gỏi đu đủ. This is a version that combines both versions, as both are slightly different. From what I can tell, it's traditionally a Laotian dish (tam som) that can be found across Southeast Asia.
The Thai version garnishes with Thai basil, long green beans, tomatoes, peanuts with a sweet, sour and umami sauce; whereas the Vietnamese version has similar variations but with shredded chicken and sometimes shredded carrots incorporated as well. I see consistently that limes, fish sauce, and garlic are used in all of these green papaya salads, so use whatever you like!
The Vietnamese versions I grew up eating had a lot of herbs and was often served with toasted sesame rice crackers as a crunchy vessel for this fresh and garlicky salad. My recipe is a part of this cookbook review I did, so click here for that recipe.
Yield: 4-6 servings
Vegan Satay with Soy Curls
Total Time
1 hour
5 minutes
Ingredients
Satay
227 g soy curls
1 tbsp mushroom broth powder
Hot water to cover the soy curls
1/4 cup coconut milk to brush while cooking
2 tbsp vegetable oil (if cooking in a pan)
Chopped fresh cilantro to garnish
Crushed roasted peanuts (unsalted) for garnish
Soy Curl Satay Marinade:
1 tbsp brown sugar
2 tbsp yellow curry paste
2 tbsp vegan fish sauce
1 tsp kosher salt
1 tsp vinegar
1/4 cup coco rico (or water)
1/2 cup full fat coconut milk
Peanut Sauce:
1/2 cup natural peanut butter
1/2 cup full fat coconut milk
1/2 tsp salt
1 tbsp yellow curry paste (use red for spice)
1 tsp vegan fish sauce
1 tbsp brown sugar
1-2 tbsp lime juice
Instructions
In a large bowl, rehydrate the soy curls with some mushroom broth granules and enough hot water to cover the curls. I use boiled water but to save your hands from scalding water, use half hot water and half tap water.
In another bowl, combine brown sugar, yellow curry paste, vegan fish sauce, kosher salt, vinegar, Coco Rico (or water), and coconut milk to make the marinade. Whisk everything together.
Prepare the peanut sauce by combining natural peanut butter, coconut milk, salt, red or yellow curry paste, brown sugar and lime juice in a pot and mix over low heat until everything is evenly mixed. Remove from heat and transfer to a container.
At this point, the soy curls should be fully softened and hydrated, so strain over a colander and squeeze as much liquid as you can out of it. The more you squeeze out, the more marinade it will retain. Once all the liquid has been squeezed out, toss in the marinade and let sit for at least 30 minutes.
To prepare the skewers, soak them in a bit of water for at least 10 minutes if you plan on cooking them on the barbeque, but if you are cooking them on a griddle like me, a quick dunk in the water or a soak while you skewer should be sufficient.
Thread the marinated soy curls onto the skewers, and set aside. If you find you have many small pieces that don't skewer well, don't worry about that, I simply pan fry those instead of BBQing/griddling them.

To grill or griddle the skewers: Over medium heat (I did 400F on my griddle), brush one side of the skewers with coconut milk, and place on the griddle/grill, coconut side down. Cook for about 3-4 minutes until browned, if cooking on a griddle, you may need to press down to get the entire skewer to touch the cooking surface evenly. Before turning to cook the other side, brush with coconut milk, then cook until the other side is browned.

To panfry (not skewered): add about 2-3 tbsp of coconut milk to a large non-stick pan/wok and fry until it bubbles. Ideally wait until it separates a little, but I'm often impatient, so it's not necessary. Add 1-2 tbsp of vegetable oil to the pan, and add the soy curls. Cook for about 5 minutes, and then stir, mixing until you get fairly evenly caramelized and browned pieces of soy curl. This should take about 15-20 minutes total.
Serve satay with peanut sauce, extra crushed peanuts, and cilantro, with rice, fresh cucumber slices, and if you're feeling a little extra, with green papaya salad.