This vegan tom yum noodle soup is tangy, spicy and comforting, brightened by a squeeze of fresh lime juice! Make with noodles or serve with rice, it's a bright and vibrant delicious soup that's perfect for cooler weather!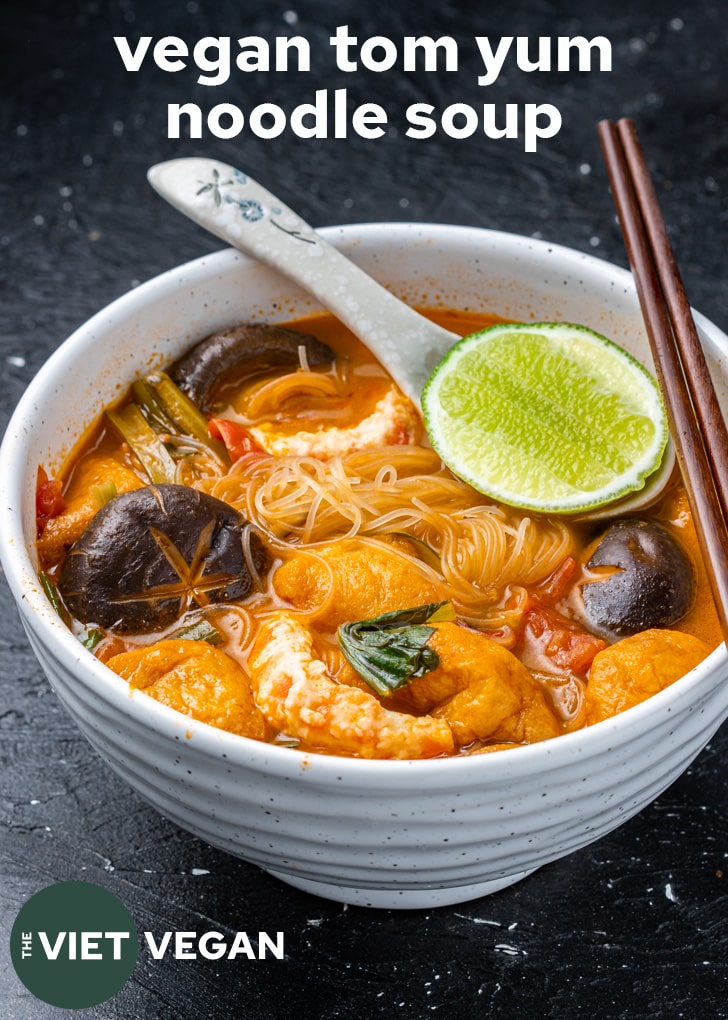 My pregnancy cravings lately have involved lots of sour food, and this vegan tom yum noodle soup has been a recurring meal for me! It has a delicious balance of sour, spicy, salty, and sweet, and it's just so comforting and vibrant in every spoonful! I've made fried rice with tom yum paste and fried vermicelli noodles with tom yum, and it's always a hit in every form!
This version of tom yum noodle soup is vegan, so it doesn't have a lot of the traditional flavours of shrimp or shrimp stock, but I amplify the traditional flavours with umami mushrooms, a vegan tom yum paste (that has it's own blend of galangal, lemongrass, and Makrut lime leaves), and vegan fish sauce.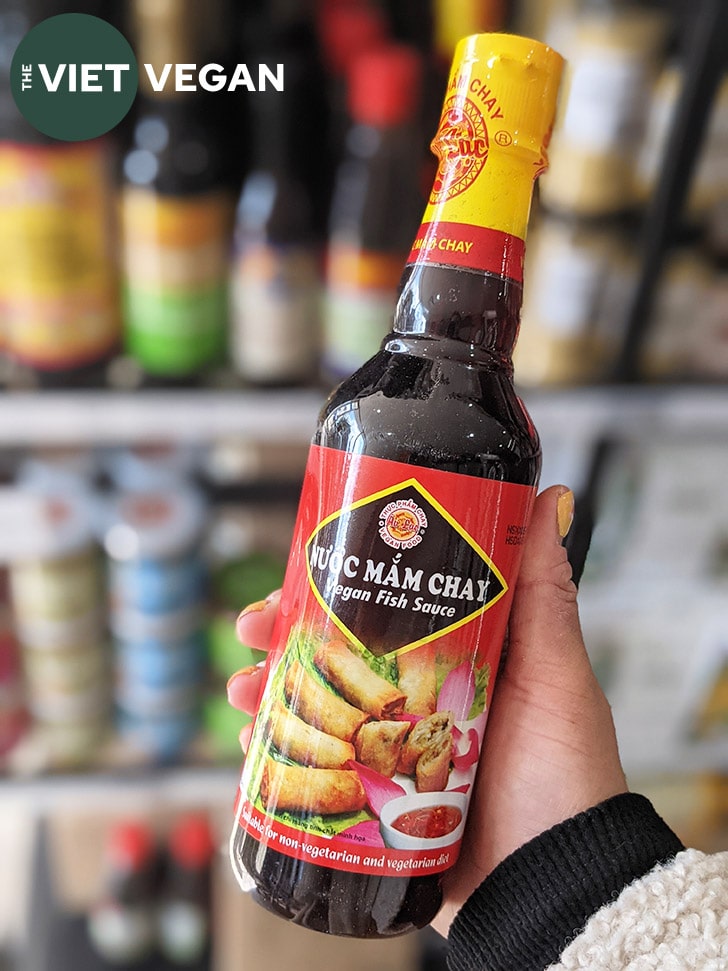 There is a clear broth version as well as a creamy version, and the traditional way to make the creamy version is to use evaporated milk. I have swapped to full fat coconut milk, and you can add a touch of sugar to add a subtle sweetness (I did not for this recipe).
Where can I find vegan tom yum paste?
Traditionally tom yum paste is made with shrimp paste, but miraculously this is vegan-friendly! If you'd like to make your own tom yum paste, I have a recipe for that, but it is a bit of a hassle to make, it lacks the nam prik pao (chili spice), and doesn't last as long in the fridge. Not a glowing endorsement for my own recipe, but it's there if you want it haha. You can freeze it in ice cube trays though!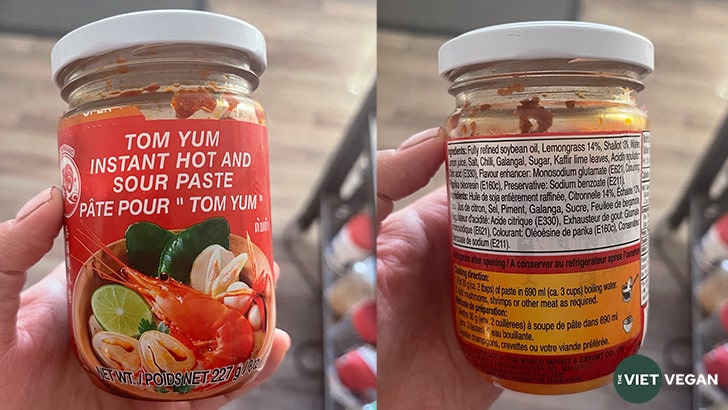 As I've mentioned in previous tom yum recipes, I found this Cock Brand Instant Tom Yum Paste quite easily at my local Asian market! I bought this from Nations, my mom has seen it in her city (north of Toronto), and I see this brand often at T&Ts or other similar Asian markets.
You'll find this close to the other curry pastes, either in this 227g jar or the larger 450g jar. It lasts a while in the fridge but I still like to buy the smaller jar because aside from my current tom yum phase, I don't cook it enough to need huge quantities of it!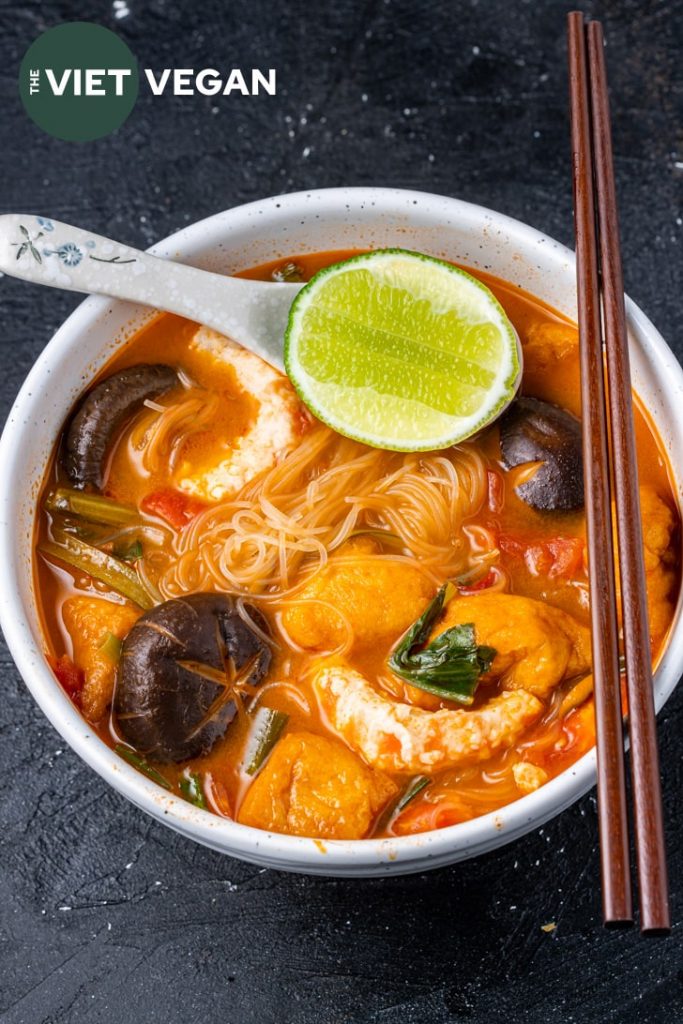 My Favourite Tom Yum Soup Additions:
There are so many things people put in tom yum soup, but my favourites include:
tofu puffs (bought from the Asian market): great for soaking up that delicious broth
vegan shrimp (I bought from the Asian market and Coven, Hamilton)
flower mushrooms (you can score a star pattern on top for extra presentation)
tomatoes: they are essential in this tom yum to add a sweetness to the broth.
pineapple: this is a common Vietnamese addition to tamarind based soups, but I don't see it that often in traditional tom yum. Like tomato, it adds a delicious tangy sweetness, but isn't absolutely necessary. Canned is fine, but ripe fresh pineapple is the best!
Bok choy or yu choy: I think both lend themselves very well to add some green to the soup, you could also add mustard greens or gai lan as well. Any Asian greens work here!
Fresh lime: this is also essential to bring all the tom yum flavours together!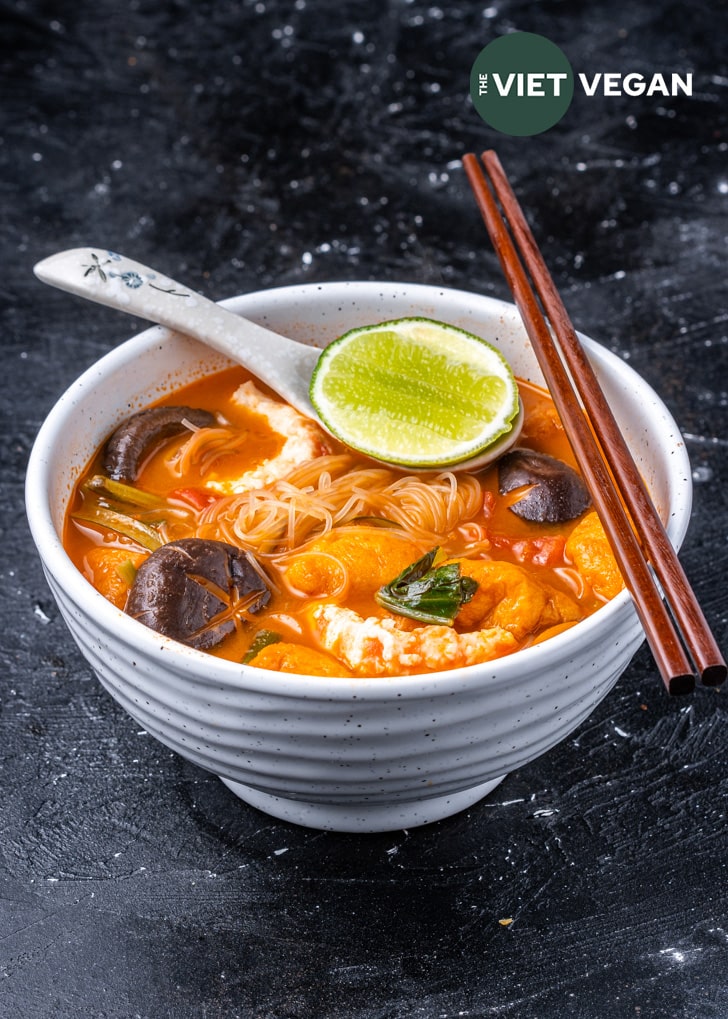 What noodles are used in tom yum soup?
I've seen so many different noodles used for vegan tom yum noodle soup: ramen, rice vermicelli, mung bean vermicelli (glass noodle), soba, udon…I don't think there's a single noodle that wouldn't be delicious with this. My favourite is probably mung bean vermicelli, and in this recipe I used a rice and mung bean based vermicelli so it has a bit of the rice noodle bite and mung bean chew. Best of both worlds!
If using vermicelli, I like to soak the noodles in warm water for 15+ minutes until soft and pliable so it doesn't soak up as much liquid when you cook it in the soup. I've also just stuck it straight into my soup dry. Whichever works for you!
Use whichever noodle you like, or omit noodles completely and eat this delicious vegan tom yum soup with steamed jasmine rice or sticky rice.
Yield: 1-2 servings (1 large serving)
Vegan Tom Yum Noodle Soup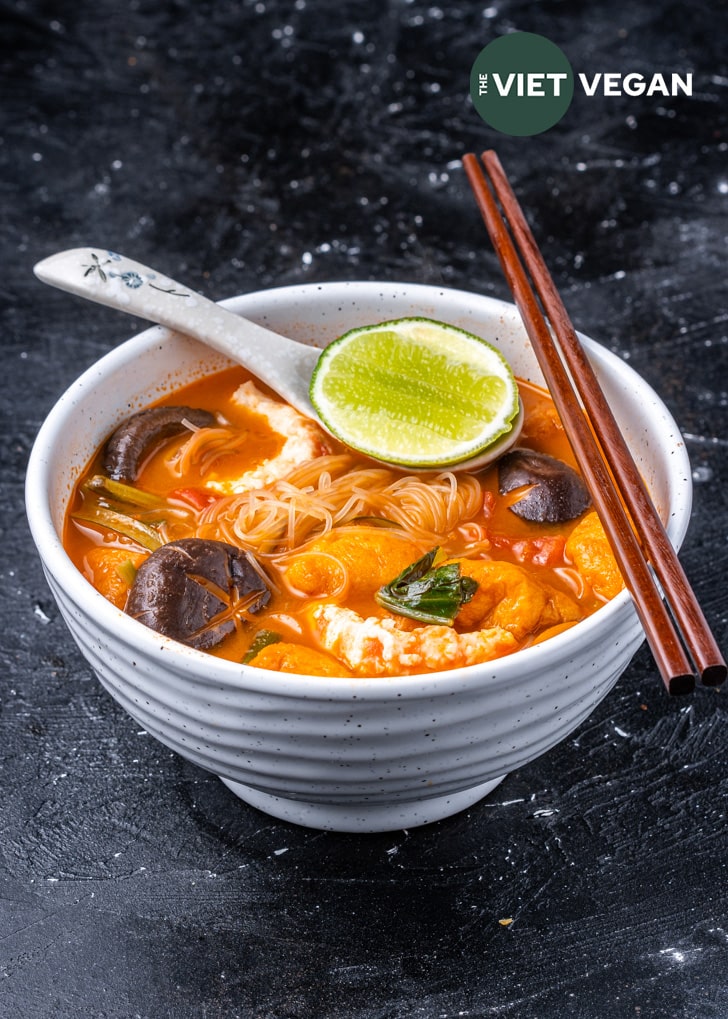 This vegan tom yum noodle soup is tangy, spicy and comforting, brightened by a squeeze of fresh lime juice!
Ingredients
1 tbsp vegetable oil
1 1/2 tbsp tom yum paste
1-2 green onions, whites halved lengthwise then cut into 2 inch pieces, greens cut into 1 inch pieces or as desired
3-4 tbsp coconut milk
2 small tomatoes, cut into wedges
2 cups vegetable broth (I used water + 1 tbsp mushroom broth powder)
3 flower mushrooms (you can also use cremini or shiitake here)
2-3 pieces yu choy, cut into 2 inch pieces (thicker stems halved lengthwise)
4-5 pieces of puffy tofu (or your desired protein), halved
3 vegan shrimp
1 bundle (serving) of dried vermicelli noodles (if you can soak in water for 15 minutes ahead of time, that's better)
Optional: 1 tsp vegan fish sauce
Wedge of fresh lime
Instructions
In a small pot, heat up the oil and fry the tom yum paste until the oil is infused with the paste (about 2 minutes)
Add the whites of the green onions, and stir to cook, about 30 seconds.
Add coconut milk and bring to a bubble and stir to infuse with the paste. Mash any chunks well into the coconut oil to incorporate evenly.
Add the tomato wedges, vegetable broth, mushrooms and thicker pieces of the yu choy. Bring broth to a boil, then lower to a steady simmer.
Add the vegan shrimp, puffy tofu, and vermicelli noodles (if you had soaked them, drain first!)
Once your noodles are nearly fully cooked (taste to check), add the remainder of the yu choy and green onion tops. If you want a bit of extra funky salty flavour, add a tsp of vegan fish sauce to the broth.
Finish with a squeeze of lime juice just before serving!
Notes
If you don't want any noodles, feel free to eat this with steamed jasmine or sticky rice!