These vegan tom yum fried vermicelli noodles are full of tangy, umami flavour. It's a great way to pack lots of veggies into your meal!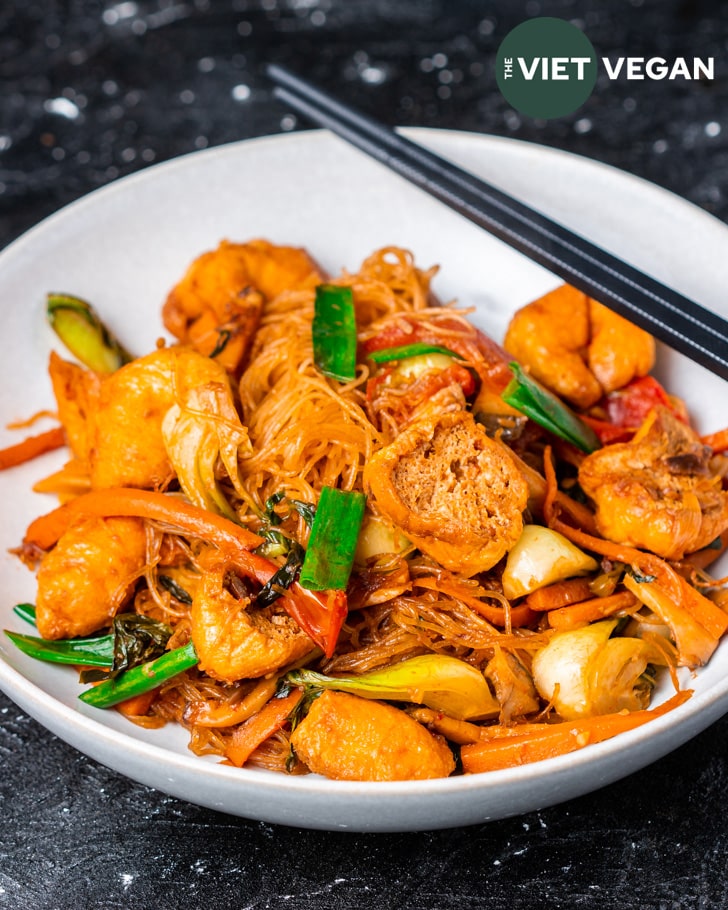 I would say that with the cooler weather, I've been craving these hot, tangy and spicy tom yum fried vermicelli noodles more, but I still love eating tom yum even on the hottest days of summer.
What is Tom Yum?
Tom Yum is a tangy Thai soup that uses a tamarind base with Makrut lime leaves and galangal to infuse it with sour and spicy notes. It's one of my favourite soups, and there's versions of a tamarind-based hot and sour soup across so many South East Asian countries! Vietnamese canh chua, Filipino sinigang, Cambodian samlor machu, the list goes on.
You can use tom yum paste to infuse SO much flavour in stir fried rice, fried noodles (glass noodles/mung bean vermicelli are my favourite here), or a tofu/vegetable dish to eat along with rice. No matter how you eat it, make sure you finish off your dish with a squeeze of fresh lime juice. My mouth is watering just thinking about it, but the lime juice is essential to brightening up the dish and complementing the salty, spicy, tangy punch of tom yum.
Where to find Vegan Tom Yum Paste
I have a homemade tom yum paste recipe (since most of the time, tom yum includes shrimp paste), but I've managed to find a tom yum paste that is quite flavourful and tangy and can last longer in the fridge than the homemade stuff. In retrospect, I could have frozen my homemade tom yum paste in ice cube trays so it'd last longer, but buying it is way less of a hassle.
I found this at my local Asian market (Nations in Hamilton), but I see this brand in a lot of places, so you should be able to find it fairly easily! They have a small jar (that's the 1 cup one here), or a taller jar that's larger.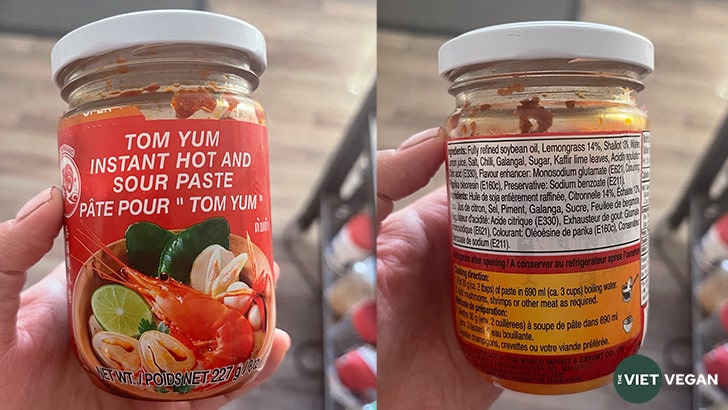 It's taken me about 2 weeks to eat through this jar from eating tom yum in some form (either as these fried vermicelli noodles; a soup, recipe coming soon; or as fried rice)
The sodium content is quite high so it'll last a while, if not indefinitely, in the fridge. I would say it's worth the fridge space! Tom yum dishes have been a delicious way to warm up on these gloomier rainy days.
Vegan Protein for Tom Yum
For protein content, I used tofu puffs, which quite literally are fried cubes of tofu that have this deliciously puffy, spongey texture. So many people have asked me how to make tofu puffs at home, but since I have access to them pretty easily at the Asian market, it's never occurred to me to try making it myself.
From this recipe by Adriana, she is able to make tofu puffs by literally just frying it, so you could do that if you don't have access to an Asian market.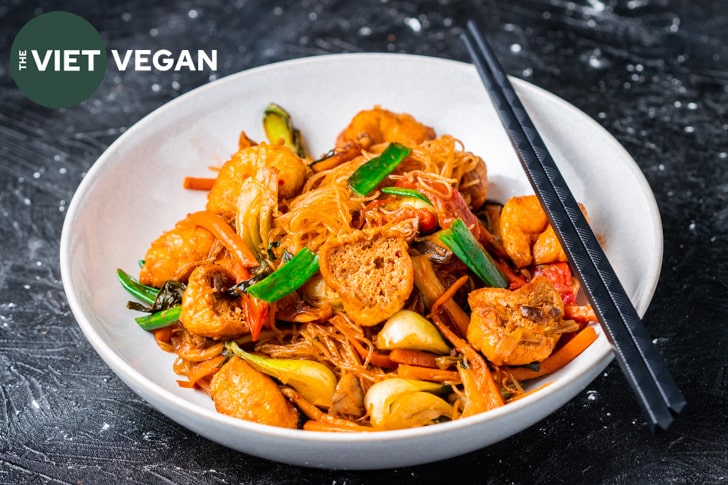 Tofu puffs are extremely common in most Asian markets, as they are a popular ingredient in hot pot and stir-fried dishes. The only downside to buying them is that once you open the package, they can spoil within a day or two. It's best to use them immediately and cook them before they go off. They're so delicious though, especially soaked in hot pot broth, pho, or tom yum so that's not usually a challenge!
You can also just use regular fried tofu, or slices of firm tofu that you fry first to get a bit of a crust before adding to this stir fry. Using plain firm tofu would be okay, but the texture is less than ideal for a stir-fried dish.
Extra Recipe Notes
To add extra depth of flavour and seasoning, I use doenjang, a Korean fermented soy and broad bean paste. If you don't have doenjang, substitute doubanjiang (the Chinese fermented soy and broad bean paste) or you can use mushroom broth powder/broth paste. You could also just use more tom yum paste, but I like the added depth of flavour.
I use some rice/mung bean vermicelli noodles that I bought by accident, so they're not completely opaque like rice noodles are, and they're not clear like normal glass/mung bean vermicelli.
They were perfect in this dish, but my favourite noodles to use are the glass noodles. Both are delicious! I recommend a vermicelli noodle for sure, but you could use a thin rice noodle like the kind for pad thai too (soak the noodles before cooking, just like you would for pad thai or my fave Viet style stir fry)
Feel free to double or quadruple this recipe to have some delicious leftovers (or serve a family), I just am eating a lot of solo meals lately because Eddie's been back at work in Toronto, so smaller stir fries like this have been all I've been eating lately!
Yield: 1 serving
Vegan Tom Yum Fried Vermicelli Noodles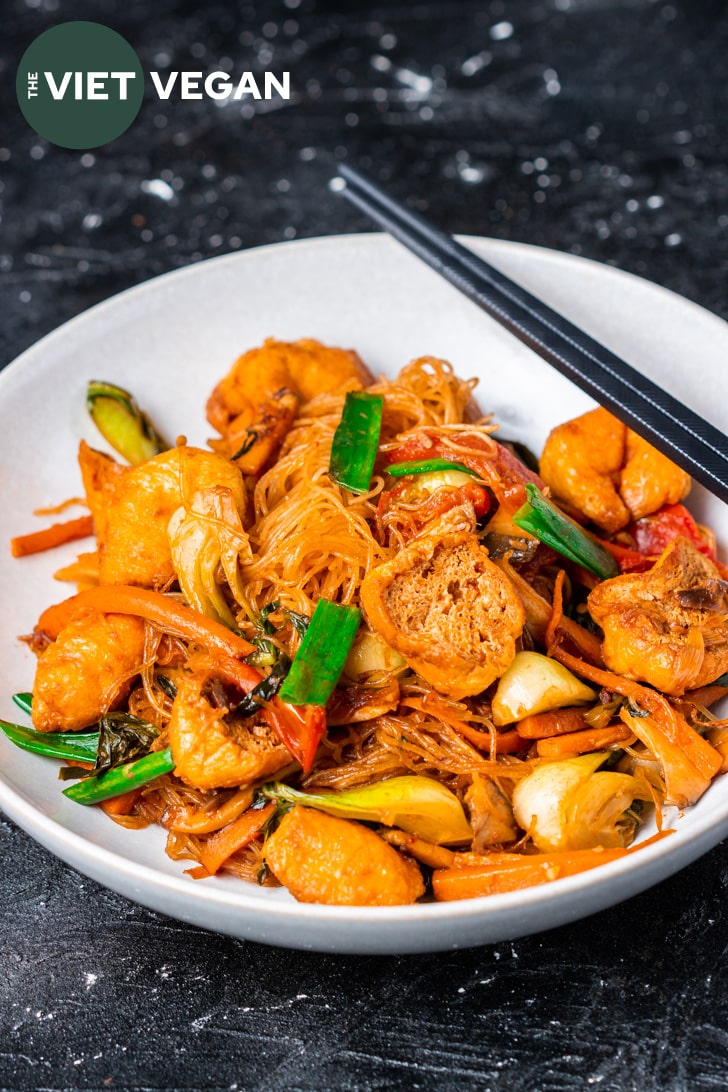 Ingredients
1 bundle vermicelli noodles (mine is part rice and mung bean starch, mung bean is my favourite for this!)
2 tbsp vegetable oil (I used canola)
1 tbsp tom yum paste
1/2 tbsp doenjang (or doubanjiang) (you can just use more tom yum paste if you don't have any)
1-2 green onions, whites halved lengthwise and cut into 1 inch segments (or cut on a diagonal), greens cut into 1 inch pieces
2 cloves garlic, minced
1 small tomato, cut into wedges
1 king oyster mushroom, sliced
1/3 of medium carrot, julienned
2-3 baby bok choy (I used Shanghai), quartered
4-6 tofu puffs (fried puffy tofu, bought at the Asian market), halved diagonally
1 tbsp vegan fish sauce
1/4 cup-1/2 cup water (for the noodles)
Wedge of lime to garnish
Instructions
Soak the vermicelli noodles in warm water for 20-30 minutes until softened
In a wok over medium-high heat, fry the tom yum paste and doenjang until fragrant and loosened in the oil (about 30 seconds)
Add the whites of the green onion and garlic, and stir fry for another 20-30 seconds.
Add the tomato, oyster mushroom, carrot, and bok choy and stir fry until the carrot has softened and the tomato and mushroom havecooked down and released some water (about 3-4 minutes)
Add the tofu puffs and stir to coat in the sauce well. Add the noodles and add water as needed to cook the noodles through. I had to add about 1/3-1/2 cup over 4-5 minutes (the noodles will become a lot more tender and clear once fully cooked).
Season with vegan fish sauce and stir everything together well so the noodles, veggies, and tofu puffs are evenly coated in sauce (any clumps of the tom yum paste will be quite salty).
Add the greens of the green onion and stir until just cooked (about 30 seconds), and then serve with a squeeze of fresh lime juice!
Notes
If you'd like to double or quadruple this recipe, it does make excellent leftovers! Store in the fridge for up to 3-4 days. Reheat by either stir-frying again in a wok or microwaving for 2 minutes on high.