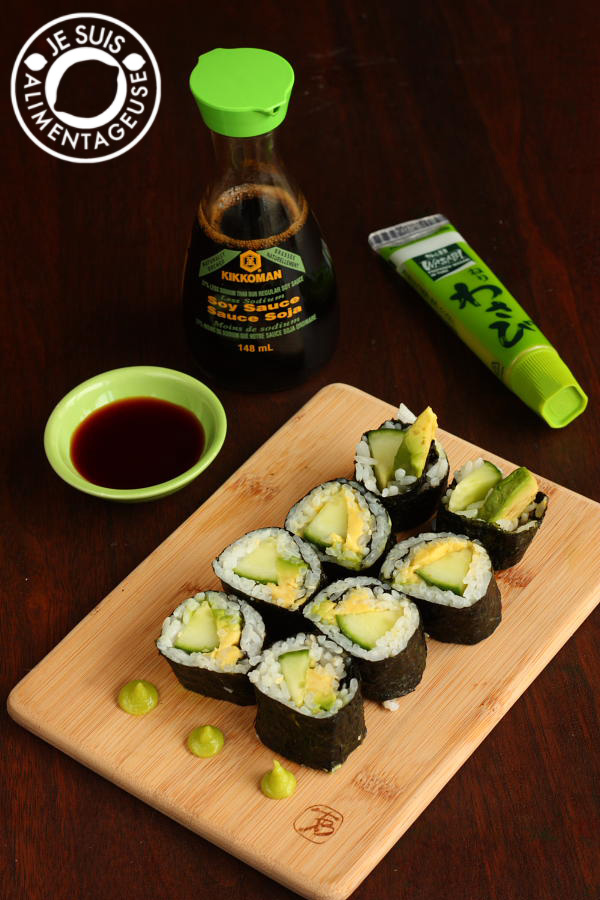 Being Canadian-born sometimes makes me forget that I'm Vietnamese. Or that I'm Asian at all. But all it takes is a visit to some sort of Asian restaurant and my face incurs a slew of confused Asians who can't figure out what I am. Before I get into how I make cucumber avocado sushi (which is vegan sushi btw! Yum!) I'll continue to talk about the bluntness of Vietnamese curiosity. Whenever I go to a sushi restaurant, they ask me kindly, "Are you Chinese?". (Most sushi restaurants I've been to are actually run by Chinese families. You don't have to be Japanese to be good at making sushi, although being Asian seems to give people some sort of authenticity). Â Either that, or they whisper in whatever language until they ask me outright. However, Vietnamese people don't always ask me. They'll speculate instead, but of course, I understand every word they're saying. It happens even when I go into a Vietnamese nail salon, and I hear the nail technicians whisper to each other, "Is she Vietnamese?", "Her face is too fat to be Vietnamese, she must be Chinese…", "No, no, she's Korean."
Seriously, people? I'M ONE OF YOU. I can understand you.
This is why I hate getting my nails done unless it's my family doing it.
Now some of you may be asking, "Why don't you just tell them you're Vietnamese?"
Because I'm a terrible person and I like making people squirm at the very end when I reveal to them that I speak Vietnamese.
Does that make me mean? Maybe. But I'll live. Let's say it's karma for them not having the common courtesy to ask me themselves instead of speculating in Vietnamese to each other.
Now if you don't speak Vietnamese, and you hear Vietnamese nail technicians talking amongst each other, 90% of the time they're talking about you. If you don't tip well, they'll talk about it. If you have nice hair, they'll talk about that. If you have nice skin, they'll talk about that too. Viet people love pale, white, soft skin. At least whenever I go to Vietnam, they praise me when I first come there, but once I tan, they start making faces and say I'm ugly.
But don't let that deter you from going to a Viet nail salon. They are masters at doing nails. I'm just letting you in on some trade secrets.
So a disclaimer, I am in no way an expert sushi roller. In fact, I am a beginner. I'm just letting you know what works for me. In the photos above, you can see the avocado got squished a little, which is evidence alone that my rolls aren't perfect. I should be able to roll the sushi tightly without squishing any of the ingredients. Think of it like swaddling a baby. The filling for the sushi is the baby and the nori and rice are the blanket. You don't want to suffocate the baby in the blanket, but you don't want the baby to be able to pry itself lose either.
Good luck, and enjoy! Making sushi is fun ;)
Avocado Cucumber Sushi
Serves:
2 rolls and 6 hand rolls (or about 4-5 rolls)
Ingredients
- 1 cup sushi rice (short grain, sticky)
- 1 cup water (or cook according to your rice cooker or the package of race)
- ¼ cup rice vinegar
- ⅛ cup white granulated sugar
- ½ tsp salt
- ¼ cup toasted/roasted sesame seeds
- 5-6 pieces of nori (roasted seaweed)
- 6-8 long pieces of cucumber
- 1 avocado, sliced and lemon juice to drizzle on avocado to keep from browning
- water for sealing and to keep rice from sticking to your hands
- soy sauce for dipping
- wasabi
- EQUIPMENT:
- Rice cooker or stovetop
- Rice paddle
- Fan (or large flat thing you can use as a fan)
- Sushi mat
Instructions
Cook the sushi rice according to the package or to the rice cooker manufacturer's instructions
Heat the rice vinegar, sugar, and salt either in the microwave or over the stove and stir until the sugar has dissolved.
Pour the mixture over the sushi rice, fanning constantly and gently folding/stirring the rice until the mixture is absorbed in the rice. Be careful not to break any of the grains. The rice should be tacky and fragrant. You can either add the toasted sesame seeds here, or sprinkle it onto the rolls later.
To make the sushi rolls, gently spread some of the sushi rice over the nori, leaving space at one end to make the seal. It's best to wet your hands with water to handle the rice so you don't get monster rice hands. Do not squish or pack the rice, you just want to make a light layer.
Arrange the cucumber and avocado in the bottom third of the square, then start to roll. Use the sushi mat to roll and shape the ingredients into a roll.
Continue rolling and shaping with the mat until you get a nicely shaped roll. Use a bit of water to seal the end. Cut into sushi pieces with a sharp knife (either into 6 or 8 pieces, whichever you prefer). I cut usually by cutting the whole roll in half, then placing the two halves side by side, and then cutting those halves into four pieces.
To make the hand roll, cut the nori squares in half to get two rectangles.
Spread a little bit of rice (about 2-3 tbsp) to one end of the rice in sort of an oval-ish clump.
Add a piece of avocado and cucumber and roll into a cone, using a bit of water to seal the end.
Serve sushi with soy sauce and wasabi (and pickled ginger if that's your thing). Best served immediately, because even with the lemon juice the avocado will brown. It'll taste fine but it won't look that pleasing.