Inspired by arroz rojo, this is Instant Pot red rice & beans, a meal you can set and forget and come back to.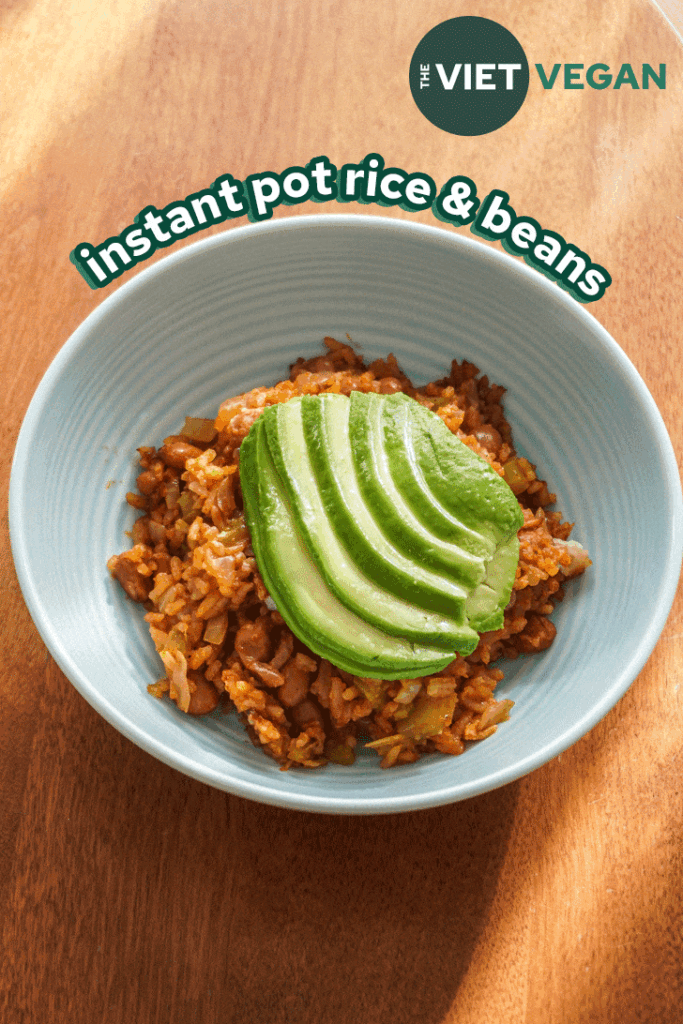 I've been making a lot of Set It & Forget It type recipes because at this point in toddlerhood, it is necessary for survival. This is a recipe for when you're craving something hearty and savoury. When I'm craving Mexican flavours but need it in one pot, this is what I make. By no means is this an authentic recipe, please do not mistake this for one.
When I first started making this recipe, this was just rice to go with the Chipotle-style rice "burrito" bowls we often have on rotation for our meal plans. Typically I would make cilantro garlic rice but for the days I didn't have any cilantro on hand, I would make this instead.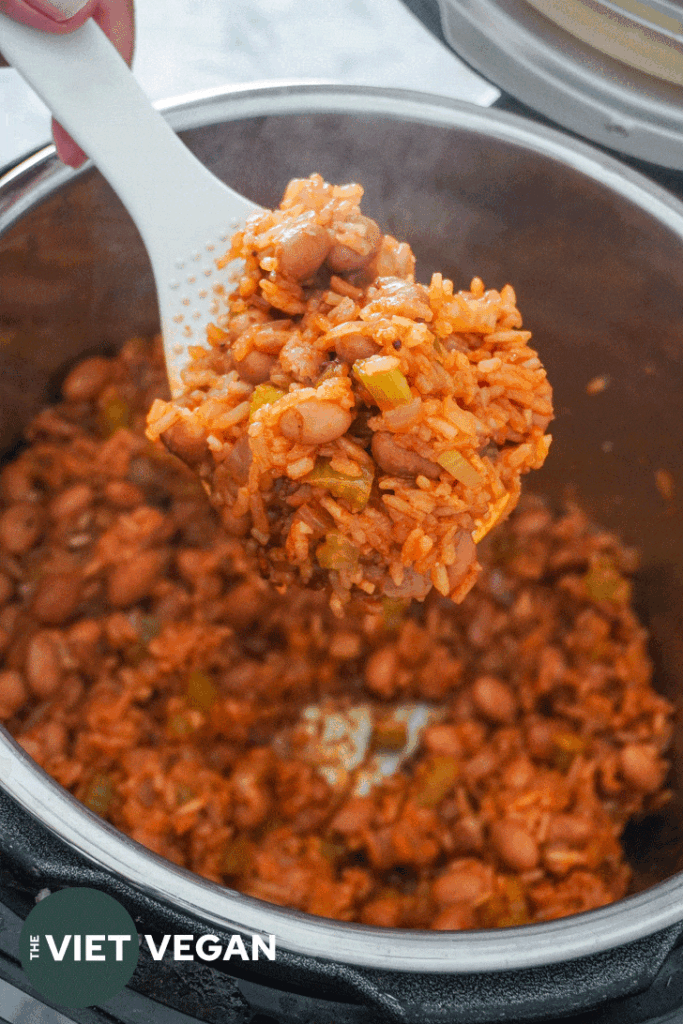 Ingredient Substitutions
Before we get into an substitution recommendations, please note that I haven't tested these. Instant Pot rice and bean recipes can be finicky especially with water ratios.
Jasmine Rice: Mexican rice (arroz rojo) is typically made with regular long grain white rice. I don't always have that in my house, so my default is typically jasmine rice. Both cook up the same, jasmine rice has more fragrance and is fluffier. Use whatever you prefer.
Onion, Celery, Garlic: You can omit anything you like! For nutrition reasons, I like to add at least an aromatic and a vegetable in there. I typically see peas and carrots in arroz rojo, so you can sub those. Use carrots instead of celery, and add frozen peas once it's finished cooking.
Tomato Paste: You could use diced tomatoes instead of broth/broth paste + tomato paste. I usually develop these recipes based on pantry staples, and I always have tomato paste cans lying around or frozen into cubes. With how this is an instant pot recipe, tomato paste has less moisture content and is more predictable in the pressure cooker.
Broth paste/water: Feel free to use premade vegetable broth or use bouillon cubes/water. I like using Better than Bouillon broth paste because I can adjust the seasoning by adding more broth paste. If you substitute with premade vegetable broth, you may need to add extra salt to taste.
Canned Beans: For this recipe, I tested with canned beans for consistency and convenience. But if you want to use dry beans, cook them separately first. When I tested with cooked from dry beans, I used about 1/2 cup of dry black eyed peas, cooked for about 8 minutes on high pressure with a natural release. If using canned, substitute whatever beans you like. Pinto beans, black beans, black eyed peas are all delicious with this recipe.
Yield: 4-6 servings
Instant Pot Tomato Rice and Beans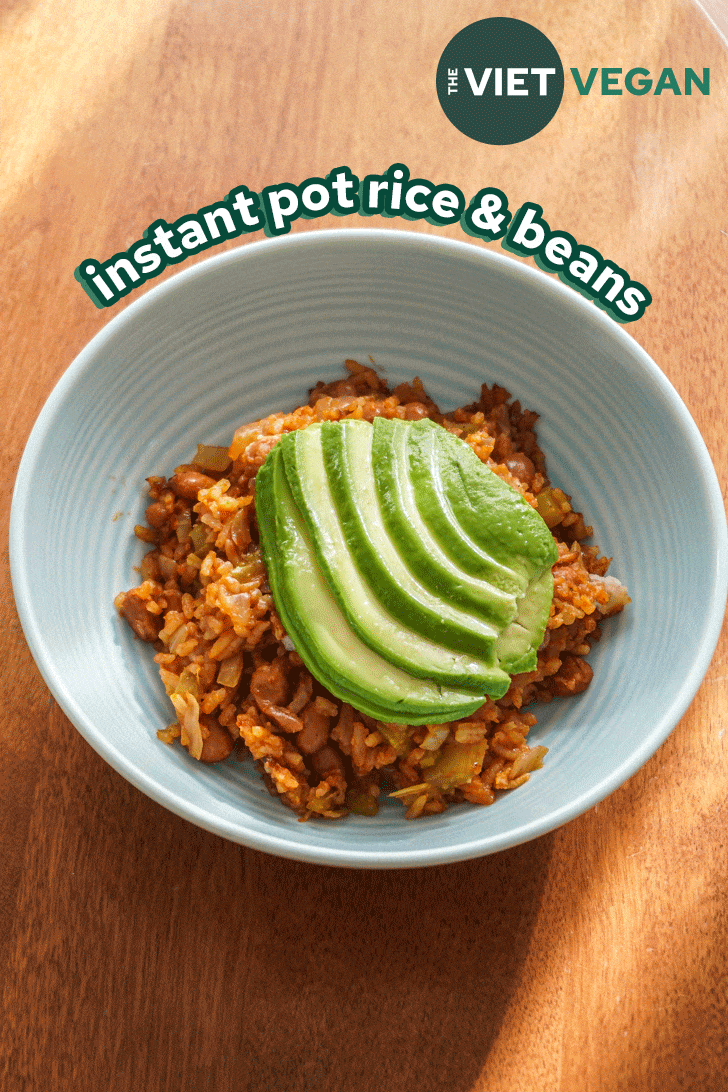 Rice and beans made in the Instant Pot and you can come back to a hearty meal packed full of savoury tomato flavour.
Additional Time
25 minutes
Ingredients
1 cup (250 mL) jasmine rice, dry (uncooked)
1 tbsp (15 mL) vegetable oil
1 small onion, diced
2 ribs celery, finely diced
3 cloves garlic, finely minced
1/4 cup (60 mL) tomato paste
1 tsp (5 mL) chili powder
1.5 tbsp (22.5 mL) vegetable broth paste (I used Better than Bouillon, you could also use 2 bouillon cubes)
1 cup (250 mL) water
1 can (19 fl oz) pinto beans, drained and rinsed
Toppings:
Avocado, sliced (I use about 1/4 avocado for each serving)
Lime wedges for each serving
Instructions
Rinse and drain your rice until the water runs clear. It should take about 2-3 passes of water. Drain well in a fine mesh sieve and set aside.
On Sauté mode, cook the diced onion and celery until the onion is translucent is the celery is no longer has a bite (unless you want it to)
Add the minced garlic and sauté until fragrant (about a minute)
Add the tomato paste and chili powder and sauté for about 2-3 minutes. If you find the paste starts sticking to the bottom, add the rice and stir well to coat the rice in the paste, then quickly add the water and vegetable broth paste.
Stir well until the broth paste is fully dissolved, and level out the rice so its evenly coated by the water. Turn off the Instant Pot.
Then add the rinsed and drained pinto beans and carefully spread out over the rice, but keep the rice submerged.
Turn the Instant Pot on manual high pressure for 8 minutes, switch the vent to Sealing.
Once it finishes cooking, let the pressure naturally release for about 10-12 minutes, then open up and enjoy with avocado and squeeze a wedge of lime on top!
RICE COOKER INSTRUCTIONS:
The difference between the Instant Pot and Rice Cooker ingredients is that there's more water used for the Rice Cooker method. As for the method, you need to caramelize the aromatics before adding to the rice cooker.
I'm using a Cuckoo rice cooker (which kind of pressurizes the pot), but if you have one with just a loose lid that rests on top, increase the water to 1.5 cups water (375 mL).
Rinse and drain your rice until the water runs clear. It should take about 2-3 passes of water. Drain well in a fine mesh sieve and set aside.
Cook the aromatics on the stove: In a medium pot over medium heat, caramelize onion and celery until the celery is almost as soft as you would like it before it goes in the rice cooker (it won't really cook enough to get mushy in there with the rice)
Add the garlic, tomato paste, and chili powder, and cook for another few minutes to bloom the spice and caramelize some of the tomato paste.
Turn off the heat, then add 1.5 tbsp vegetable broth paste and 300 mL of water (about 1 cup + just under 1/4 cup) Mix well to evenly dissolve the tomato paste and broth paste, then transfer to the rice cooker pot and mix in the rice to evenly submerge.
Add the pinto beans on top, then hit Cook (I just use the regular white rice setting, which is about 50 min). If you only have a cook/keep warm type rice cooker, DO NOT OPEN the lid once it flips to Keep Warm, let it steam through for another 20-30 minutes.
Then open up, and enjoy with avocado and lime juice.