This Taro Sago Grass Jelly dessert soup is the love child of chè khoai môn, chè chuối, and Taiwanese dessert soup. There's no sticky rice in this version, and it's a lot lighter and much more soup-like than pudding-like.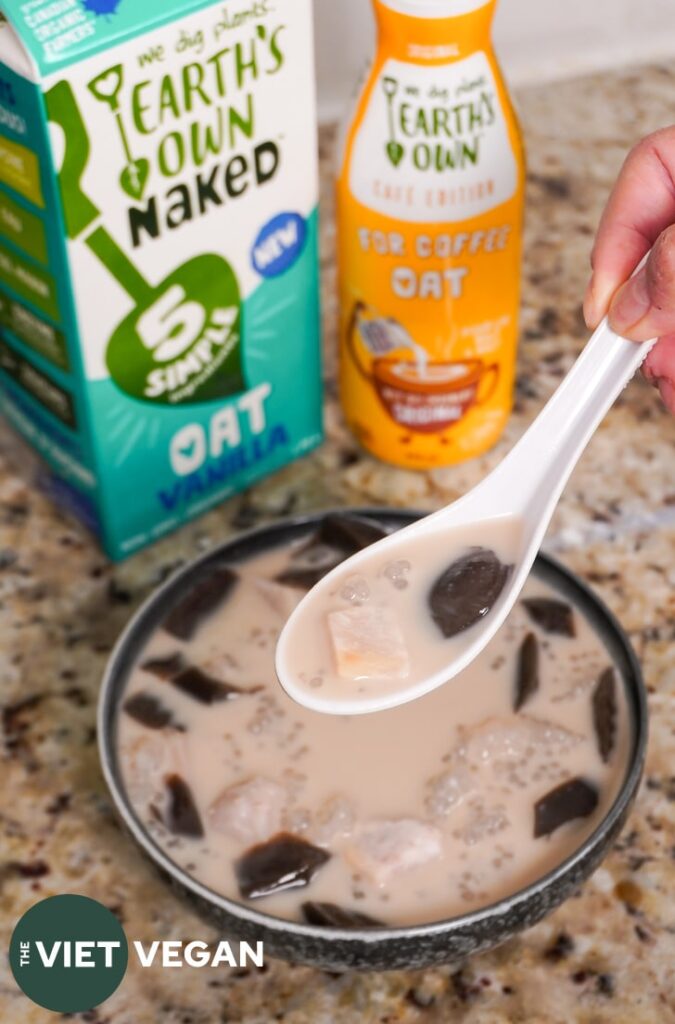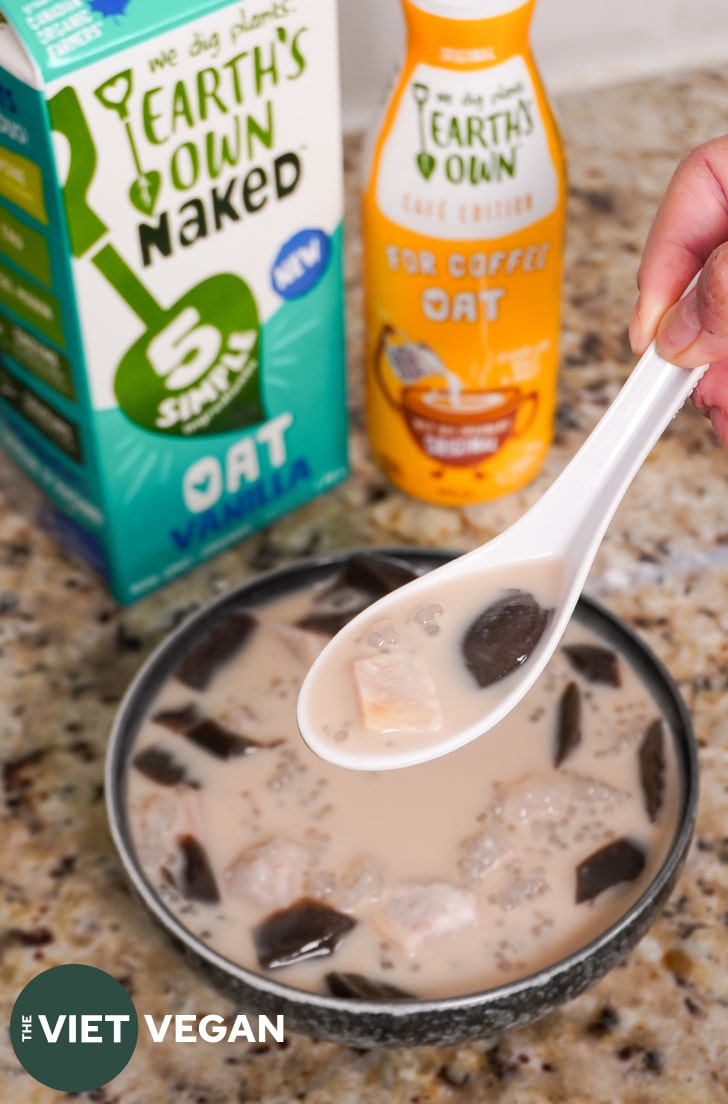 This recipe is sponsored by Earth's Own to be posted on Instagram and Tiktok. This blog post is not sponsored. I just wanted to post the recipe here since it was too long for Instagram captions.
I've always wanted to go to Taiwanese dessert cafés for the delicious sweet soups and hang out with friends—but most cafés don't have non-dairy milk. There's usually coconut milk, and there are a few accidentally vegan options. However, a lot of the milky soups contain sweetened condensed milk, regular dairy milk, or evaporated milk.
In the past, servers have given me a really dirty look when I ask if they have non-dairy options. It's a triple combo of things against me and my desire to enjoy Taiwanese desserts.
This version is my easy/lazy version that I can store disassembled and eat over a few days. I'm the only one in my household who is interested in cold dessert soups, so storing separately helps me keep it fresher, longer.
Want more Asian Desserts?
If you're looking for a more classic Chinese/Vietnamese version, check out this recipe from Jeannette from Wok & Kin. If you're wondering where the grass jelly component came from, it came from me wanting a Taiwanese grass jelly dessert bowl, like this one from Christian from One Happy Bite!
For more Asian desserts, check out these recipes:
Yield: 4-6 servings
Taro Sago Grass Jelly Dessert Soup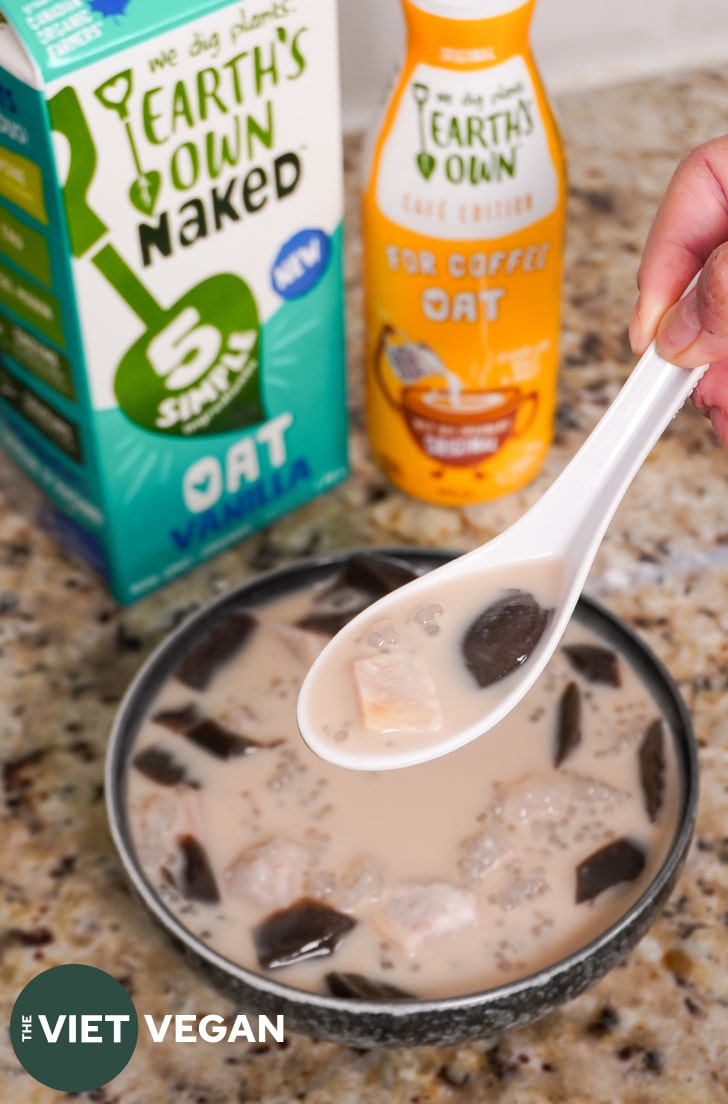 Additional Time
15 minutes
Total Time
1 hour
15 minutes
Ingredients
1 cup small tapioca pearls
3 cups water
3 cups taro, peeled diced (about 300 g)
6 tbsp palm sugar, chopped
1/2 cup water
1 can grass jelly
Per serving
1/3 cup grass jelly, cut into bite size spoonfuls
1/3 cup cooked tapioca sago pearls
1/2 cup cooked taro cubes
3 tbsp palm sugar syrup
2 tbsp oat cream
1/4 cup oat milk (I used Vanilla flavoured)
Instructions
To cook the tapioca pearls:
In a pot of at least 3 cups boiling water (use more water than you think), add 1 cup of small tapioca pearls. Cook for 10 min, stirring frequently, then turn off the heat.
Cover and let stand for 15 min to cook through.
Rinse the pearls and drain with a fine mesh sieve, then transfer to a jar. Add cold water to the jar to keep the pearls chewy and separated.
To cook the taro:
Cook 300 g diced taro in a large pot of boiling water for about 15-20 minutes until fork tender. Drain and set aside.
To make the Palm Sugar Syrup
Over medium heat, melt the palm sugar in the water to make a sugar syrup.
Once the sugar has melted, transfer to a clean container and let cool.
To assemble 1 serving:
In a bowl combine 1/3 cup grass jelly, 1/3 cup sago pearls, and 1/2 cup cooked taro cubes.
Spoon over 3 tbsp of the palm sugar syrup, 2 tbsp of oat cream, and 1/4 cup of Naked Oat Vanilla.
Stir and enjoy this sweet, dessert soup!


Notes
If you'd like to mix all the ingredients together and store that way, you are welcome to do so, but the soup will thicken in the fridge with the sago. The taro however will absorb the sugar, which is a delicious time! But I prefer to keep each component separate so I get an even distribution in each bowl.