These vegan bulgogi wraps can either be eaten with perilla, shiso, or lettuce wraps, but paired with ssamjang and rice, they make for an at home Korean BBQ experience!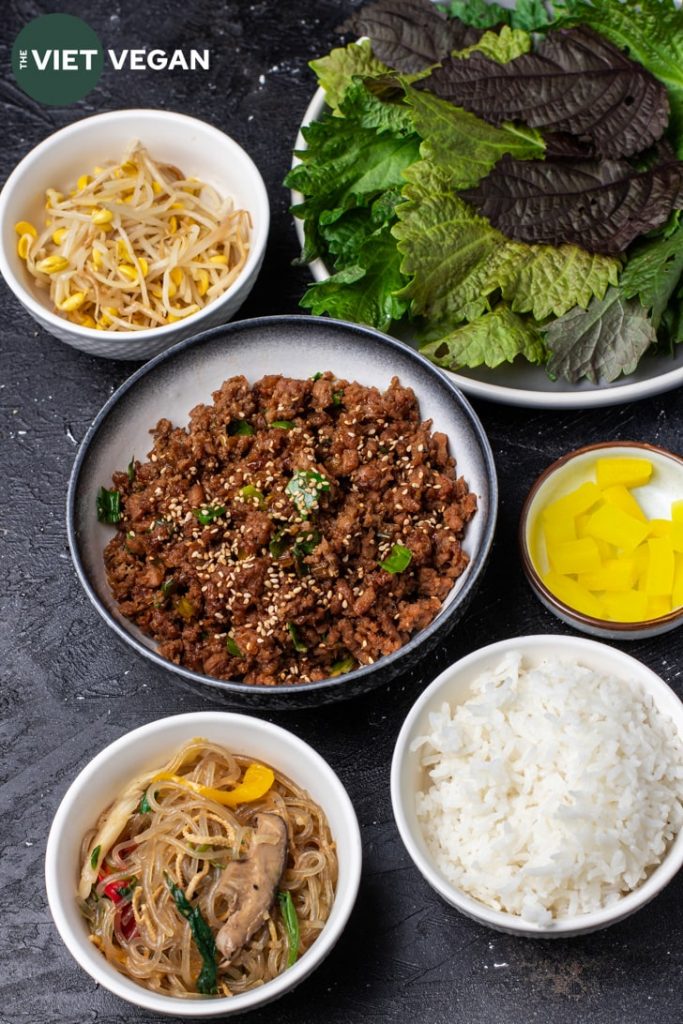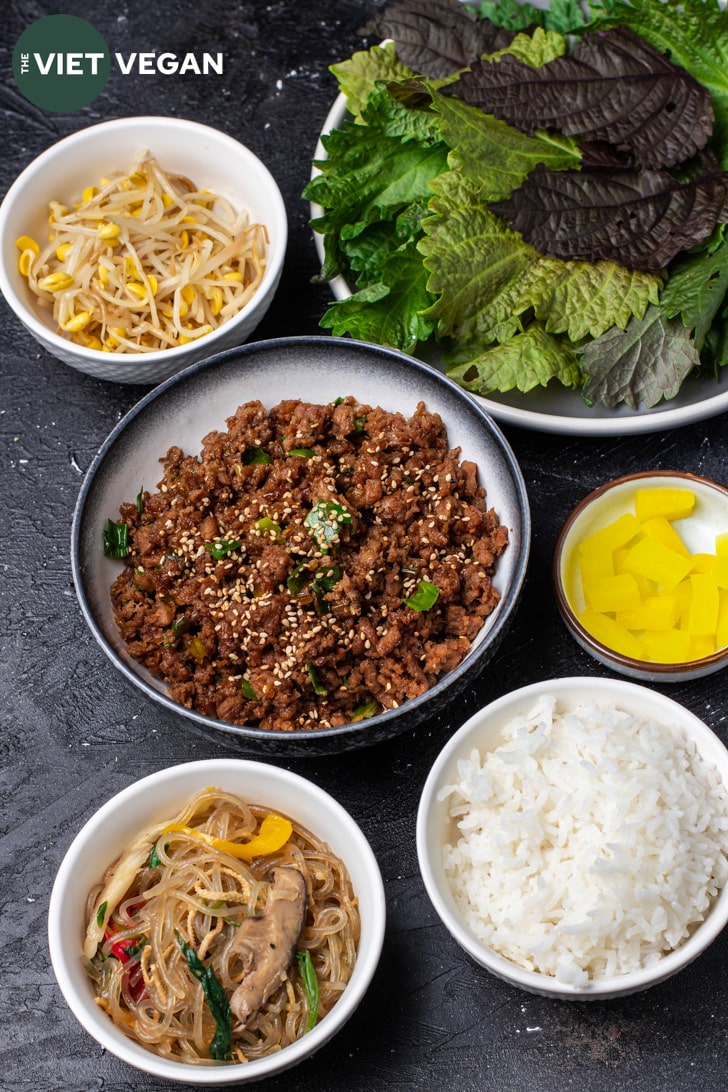 Lately I've been finding Korean flavours and cuisine so appealing: there's such a delicious balance of sweet, savoury, and richness. I LOVE toasted sesame oil and Korean cuisine is extremely liberal with their use of toasted sesame oil and I have zero complains about that.
I went vegan before I ever tried Korean BBQ, but it reminds me a lot of Vietnamese Bò Chiên Bơ (butter-fried beef), which is often cooked on a shared hotplate in the middle of the table. It's communal, delicious, and often served with copious amount of herbs, veggies, noodles, and rice.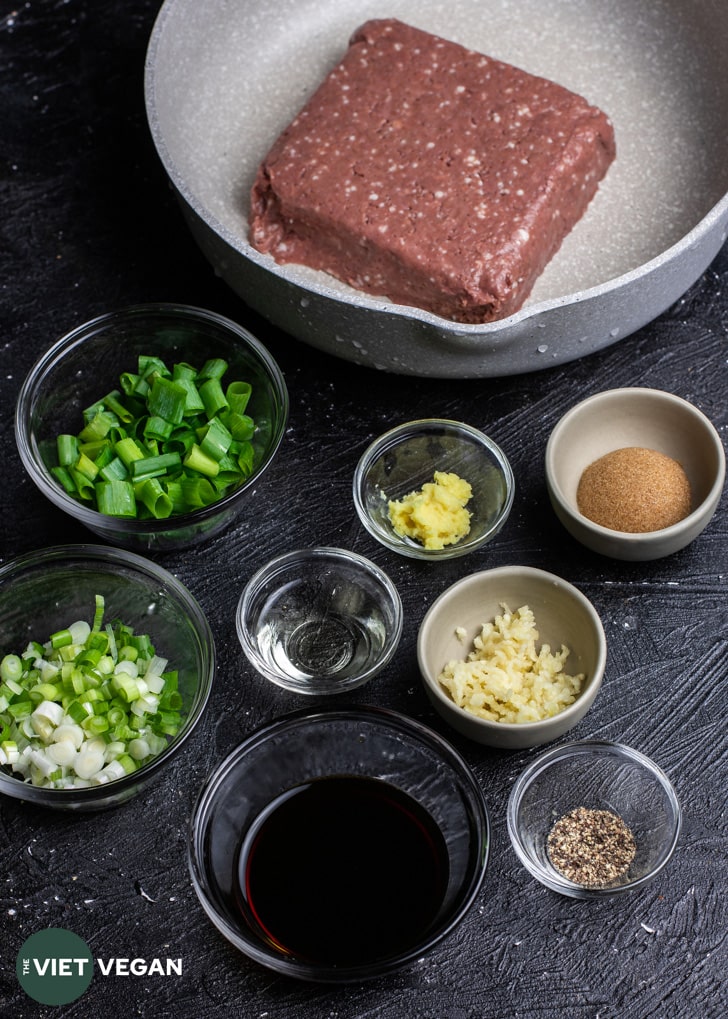 Bulgogi is typically slices of really fatty beef to have really tender BBQ'd strips. The meat is typically marinated in a distinctive sweet and savoury sauce, which I've replicated here.
If you were patient and had the time, you could easily make a batch of my beef seitan (make slabs instead of one giant log though), and slice, then marinate the slices in this same marinade, but using ground vegan mince is an easy shortcut to get a beefy, bulgogi time but made vegan!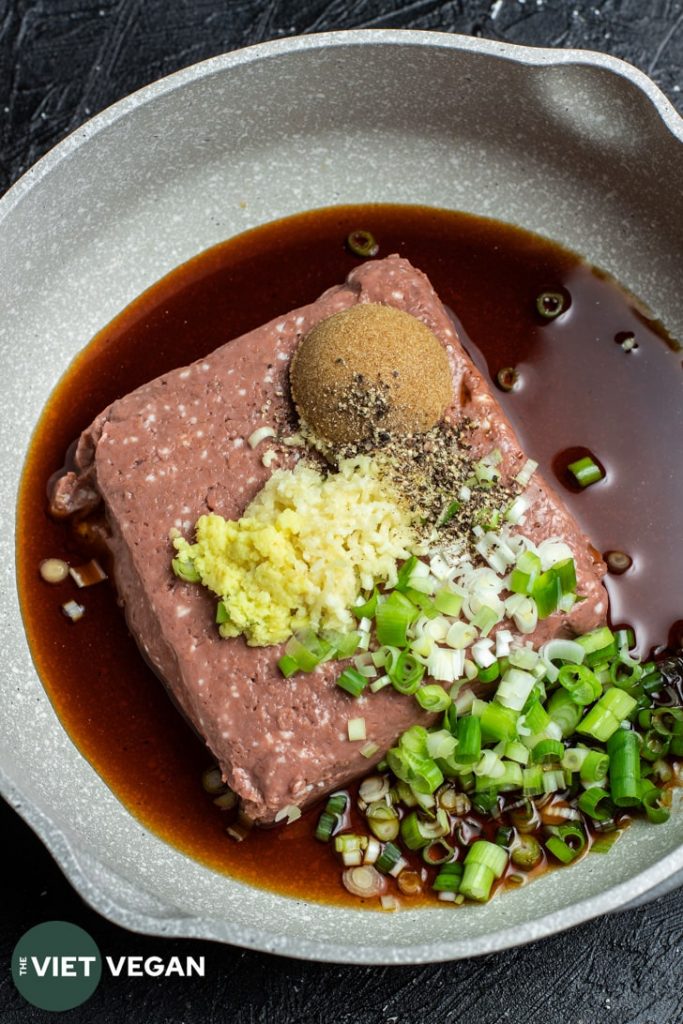 I've tried marinated vegan bulgogi and also just cooking this straight in its marinade, but honestly, I didn't find any significant difference in flavour. The only benefit to marinating ahead of time is having the prep done ahead of time and you'd just throw it in the pan whenever you need dinner.
For this batch, I've been using the Beyond Beef ground which yields a really meaty and chunky crumble. If you'd like to be more frugal, feel free to use Yves or even just dried TVP. If you're using TVP or soy curls, rehydrate and then drain and squeeze out very well before adding the marinade.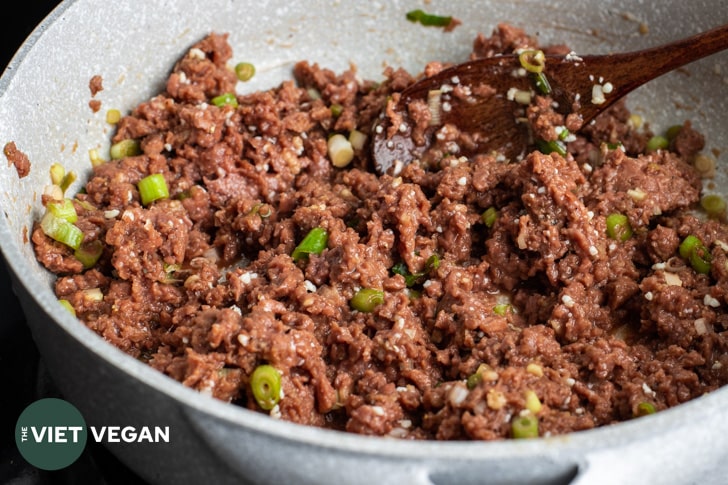 Obviously a ground/mince product isn't possible to BBQ, but you could make meatballs or flat patties with this mix and grill them that way as well! Definitely would recommend the more expensive grounds that stick together better like Lightlife, Omnipork, or Beyond if you're going to do that though.
Homestyle bulgogi is often just cooked in a pan, and the ground mixture works really deliciously in a rice bowl or for a lettuce wrap. I used my grandpa's garden shiso here, but perilla leaf is more traditional! Perilla can be hard to find in most Asian markets unless it is a Korean specific one, but I was able to find it at Galleria (the Oakville location).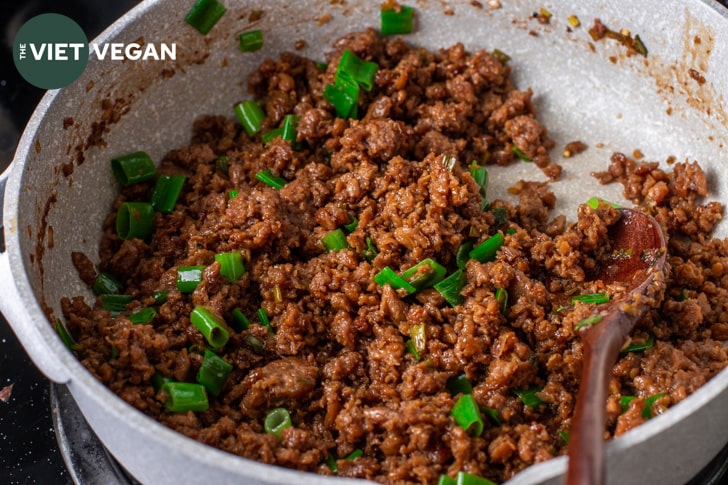 The best way to enjoy this is either over rice with plenty of toasted sesame seeds, or in a lettuce/shiso wrap with ssamjang as detailed in the recipe below.
It packs a sweet, salty, and aromatic flavour and is delicious and comforting no matter what time of year it is!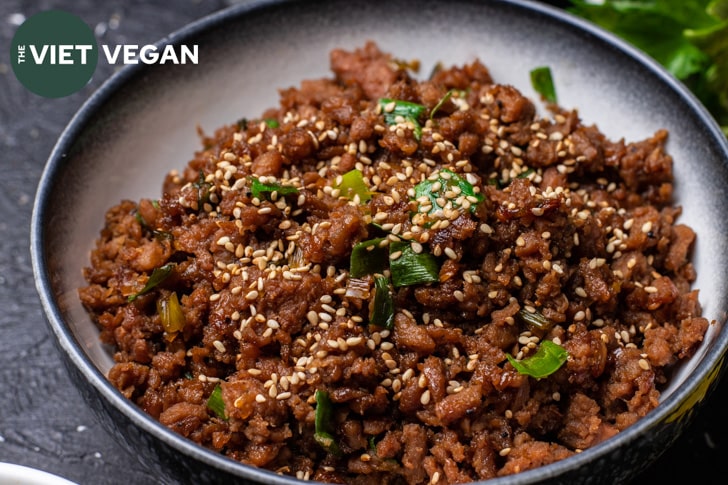 Pictured in this spread is also some pickled radish (the yellow kind is kind of sweet and crunchy!), kongnamul muchim (salted soy bean sprout salad) and japchae (sweet potato vermicelli noodle dish). If I had kimchi, I would also definitely be serving that alongside this meal. The fermented tang and crunch of the kimchi would pair perfectly with this vegan bulgogi.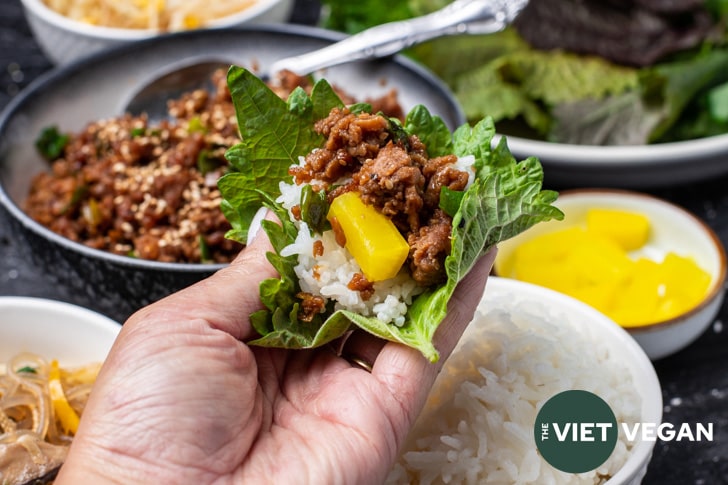 For my birthday this year, a few friends and I went kayaking and I made these bento boxes for lunch for everybody, which included:
Steamed rice
vegan bulgogi mince
cucumber
pickled radish
japchae
shiso (although I should have packed way more)
and kongnamul muchim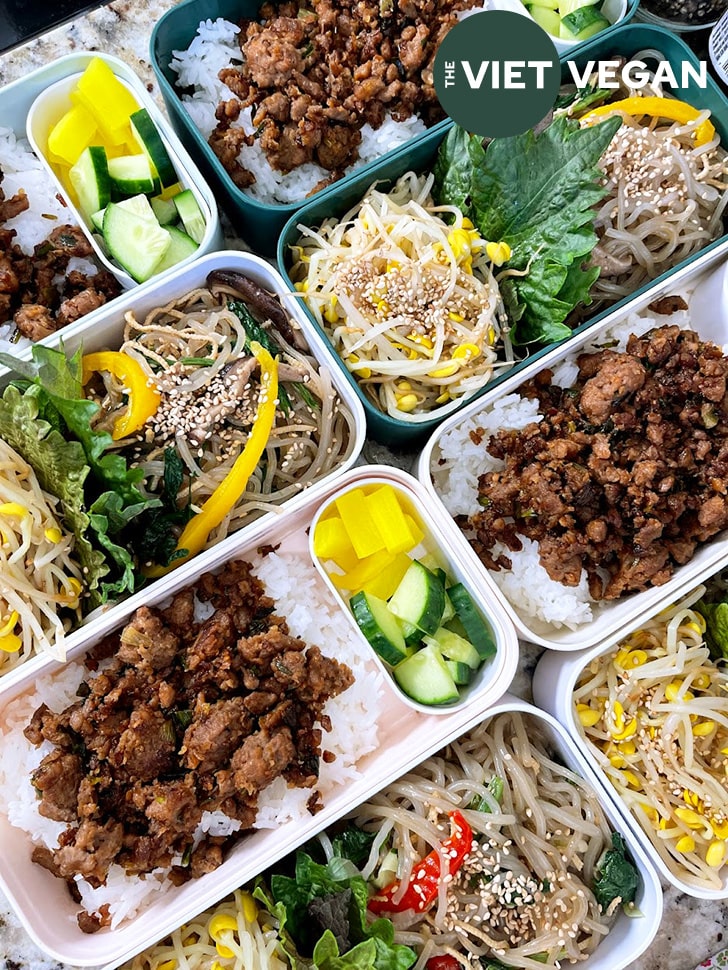 It was a hit with everyone and perfect fuel for a day on the water. Our overall kayak trip was about 4 hours long and it was a delicious lunch break on the water. I have a vlog for my birthday that I haven't edited yet, but I've been really loving my now-two-year-tradition of outdoor adventures for my birthday.
Anyway, I hope you enjoy this recipe for this vegan bulgogi, and I've seen lots of people make riffs of this using lentils, soy curls, tofu slices, or seitan slices. Use whatever protein you like! The marinade is super delicious and can turn anything into a savoury, delicious feast!
Yield: Serves 4
Vegan Bulgogi with Shiso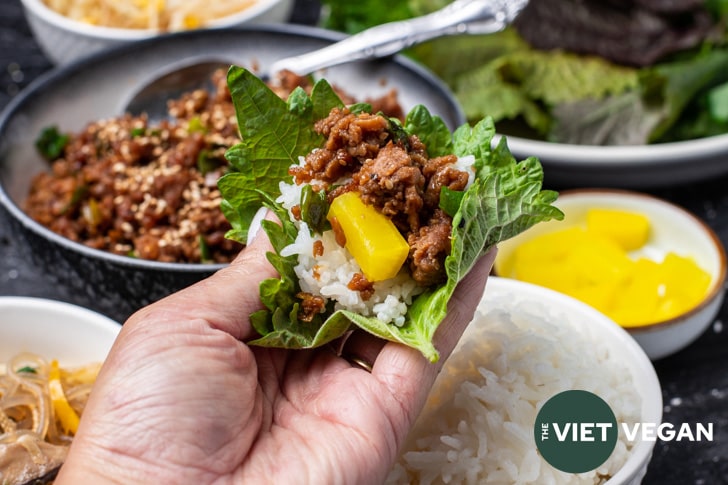 This is one of my favourite savoury Korean dishes! The bulgogi can be used on rice in a Korean bento, or you can serve it with perilla leaves and lettuce for a wrapped situation (like KBBQ!) The herbaciousness and bitterness of the shiso adds such complexity and balance to the salty sweet bulgogi, I hope you love it as much as my friends and I did :)
Ingredients
1 package vegan ground meat (340 g), I used Beyond beef (Beyond is GF!)
3 green onions, finely diced (whites and greens separated)
3 tbsp soy sauce (use tamari to keep this gluten-free)
1 tbsp brown sugar, packed (or 1 tbsp oliosaccharide if you have it)
1 tbsp rice vinegar
3 cloves garlic, minced
1/2 inch ginger, grated (about 1/2 tsp)
1/2 tsp ground black pepper
Toasted sesame seeds
To serve:
Perilla or shiso leaves (perilla is more traditional)
Steamed rice
Kimchi (I didn't have anymore T_T)
Pickled radish (danmuji)
Ssamjang (you can use storebought or make your own)
1 tbsp doenjang (fermented soybean paste, different from miso)
1-2 tsp gochujang (use 2 if you like it spicy)
1 tsp toasted sesame oil
1/2 tsp sugar
1 tsp toasted sesame seeds
1 clove garlic, finely minced
1 spring onion/scallion, finely minced
Instructions
In a skillet, combine the vegan ground, whites of the green onion, brown sugar, rice vinegar, minced garlic, grated ginger, and black pepper and mix well.
Cook over medium heat until it's all cooked down and browned (the soy sauce will have evaporated and reduced into the ground).
Add the greens from the green onion and stir in until bright green. Remove from heat, garnish with toasted sesame seeds, and serve with perilla or shiso, steamed rice, kimchi, pickled radish, and ssamjang (just mix all the ingredients listed above for the ssamjang) if you have it!