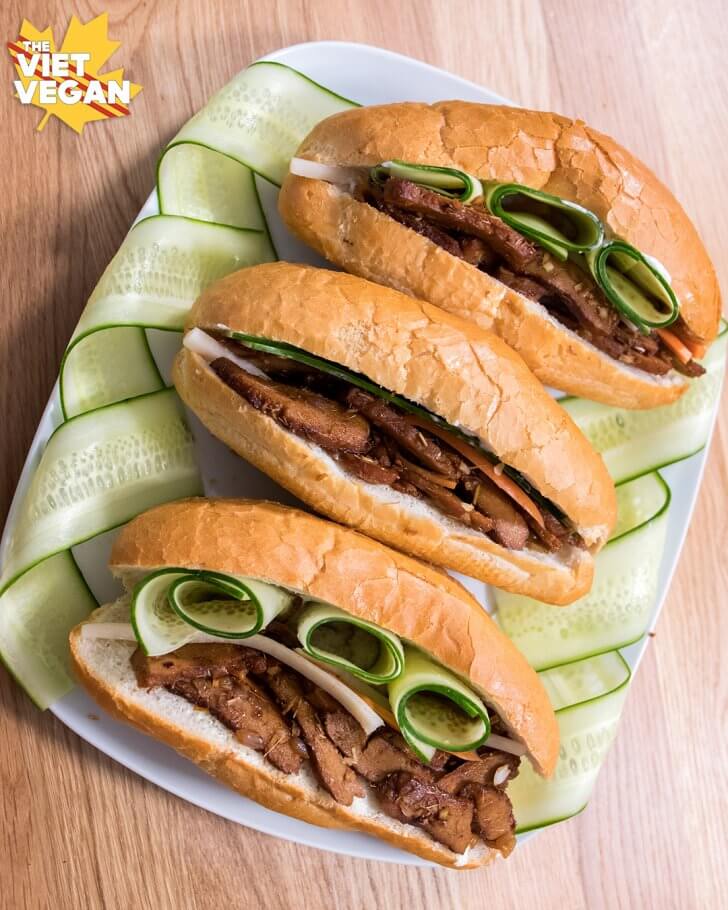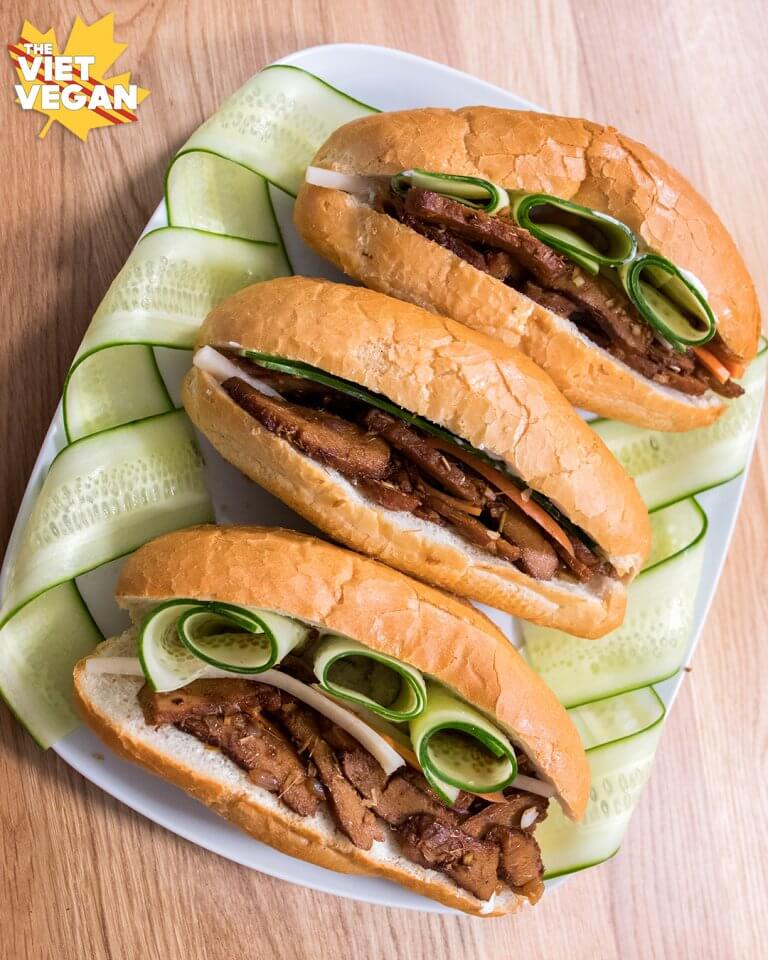 This week has been one of my more challenging weeks and I definitely feel like I'm stretching myself too thin. Emotionally and physically; my body is exhausted but I don't really have a choice but to keep trudging on. Something's gotta give and I think it's gonna give pretty soon. There have been a lot of things happening lately that I can't quite delve into just yet, but I'm opening a door I thought I was going to keep pretty closed for a long time.
Lots of life changes down the pipeline, and I'm trying to dot my i's and cross my t's before they start coming down. The last thing I need is some sort of emotional crisis on top of the stuff I can barely keep up with now.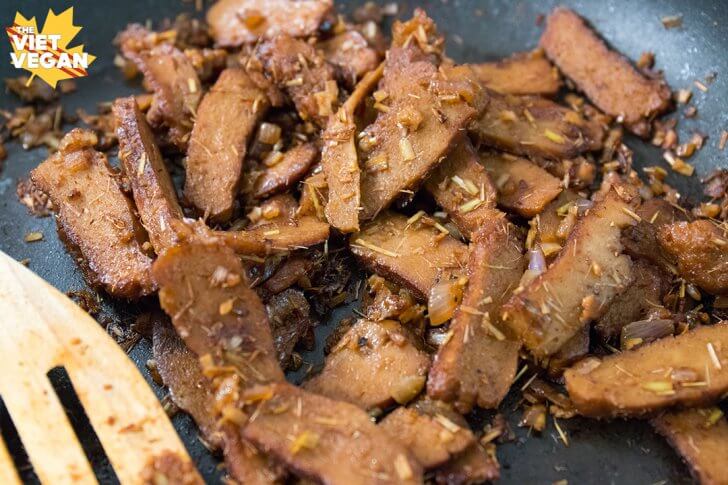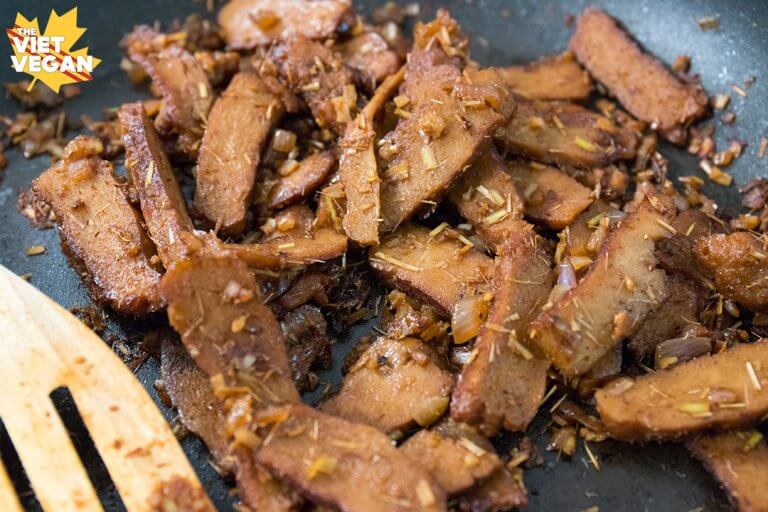 But all that drama aside, I always know that a nostalgic Vietnamese recipe can make me feel better. Savour a bite through the crisp, airy Vietnamese baguettes and getting a rich, unctuous bite of this lemongrass beef seitan. Layered with a fresh bite of thinly sliced cucumber and that satisfying pickled crunch of the daikon and carrot? Mmmmm this is the sandwich of my dreams.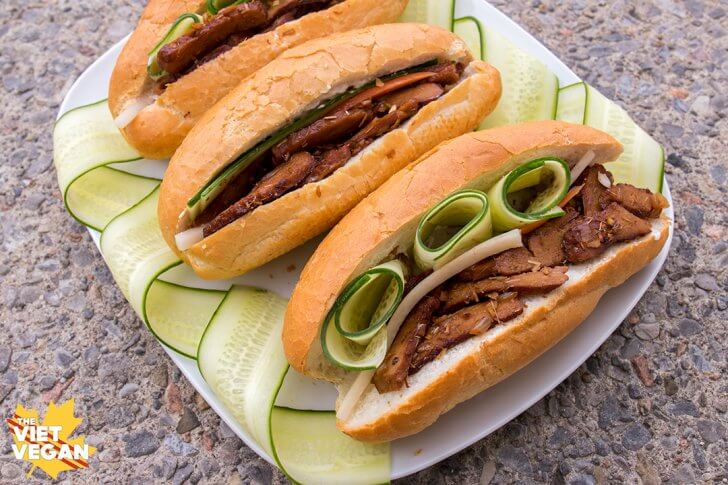 The seitan takes a bit of work, but now that I'm getting the hang of seitan, I think I'm going to start saying goodbye to the packaged mock meats because not only are those super expensive, they almost always have flavours and spices that I don't really love in 'em, especially when I like to control the sodium factor as well. It's really easy to prep ahead of time and just freeze for later!
This recipe was a collaboration with my friend Mary from Mary's Test Kitchen! She did a delicious vegan char siu bao that is sure to knock your socks off because her recipes are always amazing. Definitely go check out her website for some epic vegan recipes, and be sure to subscribe to her channel for more delicious vegan eats :)
If you want to see how I made this recipe, check out the video I did:
This recipe was adapted from the Steak Bites recipe from Chef Skye Michael Conrad's Seitan and Beyond cookbook (affiliate link)

Yield: 6-8 sandwiches
Vegan Lemongrass Beef Banh Mi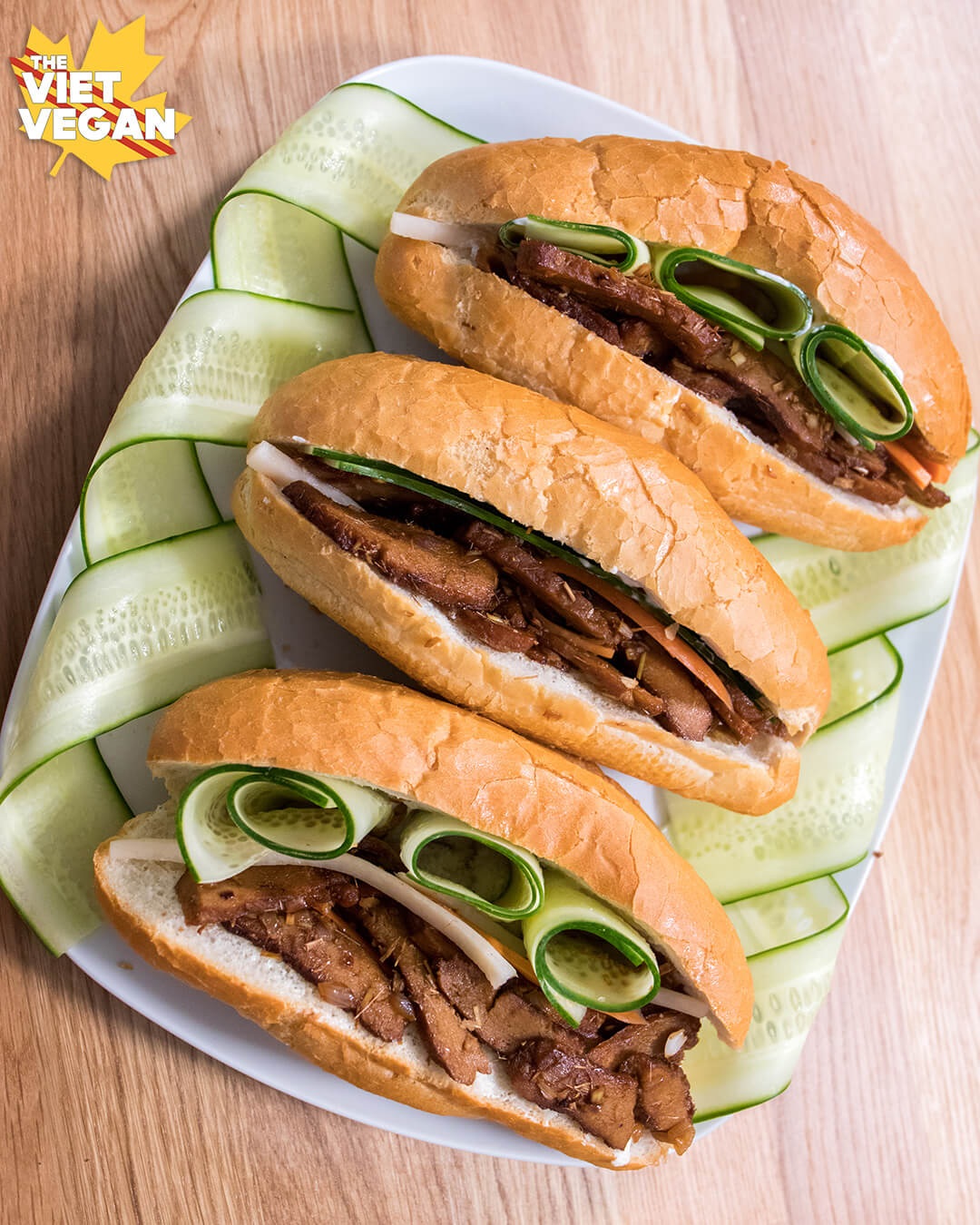 Ingredients
For the simmering broth:
8 cups water
2 onions, peeled and quartered
2 medium carrots, washed an roughly cut into 3 inch chunks
3 ribs of celery, washed and roughly cut into 3 inch chunks
1/4 cup tamari (use coconut aminos to make this soy-free)
1 tbsp blackstrap molasses
1 tbsp mushrom broth powder
1 tbsp vegan Worcestershire sauce
1 tsp marmite
1 tsp whole black peppercorns
1 tbsp nutritional yeast
For the seitan:
1 1/2 cups vital wheat gluten
1/2 tsp ground white pepper
1 heaping tbsp onion powder
1 tbsp garlic powder
1 cup water
2 tbsp tamari
1/2 tsp marmite
1 tbsp mushroom broth powder
1 tsp vegan Worcestershire sauce
2 tbsp oil
For the lemongrass seitan:
3 tbsp oil
1 large shallot or 3 small shallots, finely diced
4-5 cloves garlic (1 heaping tbsp of minced garlic)
1/3 cup shredded lemongrass (about 1-2 stalks)
3-4 tbsp soy sauce (to taste)
Black pepper to taste
Optional: 1/4 tsp chili flakes
Some water on hand to keep the mixture from sticking to the pan
For the banh mi
6-8 banh mi Vietnamese baguettes
1/2 English cucumber, sliced finely sliced
Vegan butter
Vegan mayo
Instructions
First prepare the broth in a large pot over medium heat. Combine all ingredients for the broth and let simmer for 30 minutes to develop the flavour profile. Once fully infused, remove the larger chunks with a slotted spoon.
Preheat oven to 350F.
To make the seitan:
in a large bowl combine the dry ingredients: gluten, white pepper, onion powder, and garlic powder. Stir to combine.
In another bowl, combine the wet ingredients: water, tamari, marmite, mushroom broth powder/granules (to dissolve into the water), Worcestershire sauce and oil.
Add wet ingredients to dry ingredients and stir to combine to create a lumpy dough.
Once dry ingredients are fully incorporated, turn onto a clean work surface and knead the dough until you have a firmer texture that springs back when you poke it. You'll also find you can tear it slowly when you pull it apart. This will take 5-10 minutes. Feel free to take out your aggression on the dough: punch, karate chop, etc ;)
Once dough is firm, roll into a rough log and cut into 1 inch thick slabs. Arrange on a lined baking sheet and bake for 25 minutes until golden. Once baked, remove and place directly into the simmering broth and cook on a slow simmer (not too aggressive but not still, hot water either) for 25-30 minutes.
Once the time has elapsed, remove the seitan slabs from the broth into a container or plastic zip-top bag and add about 1/4-1/2 cup of broth on top to keep the seitan moist. Let chill in the fridge overnight (or for at least 8 hours) for the gluten to continue to develop texture and for the seitan to soak up the flavour.
To cook the lemongrass seitan:
Once the seitan has set, remove from fridge and slice into thin strips.
In a large frying pan, saute shallots in oil until translucent. Add minced garlic and saute until fragrant. Add lemongrass and continue to saute until fragrant (about 1-2 minutes).
Add sliced seitan and stir to coat in the aromatics. If you want to add chile flakes, add them here.
Add soy sauce and season to taste. Cook the seitan until it browns. You may need to add a few tbsp of water to help deglaze the pan and keep the seitan from drying out.
Season with black pepper to taste and set aside.
To assemble the banh mi:
Cut an opening in your baguette, then place in oven or toaster oven for about 2-3 min at 350F until just toasted. Remove and fill baguettes with vegan butter, mayo, cucumber, pickled vegetables, and a generous amount of lemongrass beef seitan!
Enjoy!