In light of the cooler weather and abundance of these orange gourds,
my pumpkin puree was begging to be turned into vegan pumpkin French toast.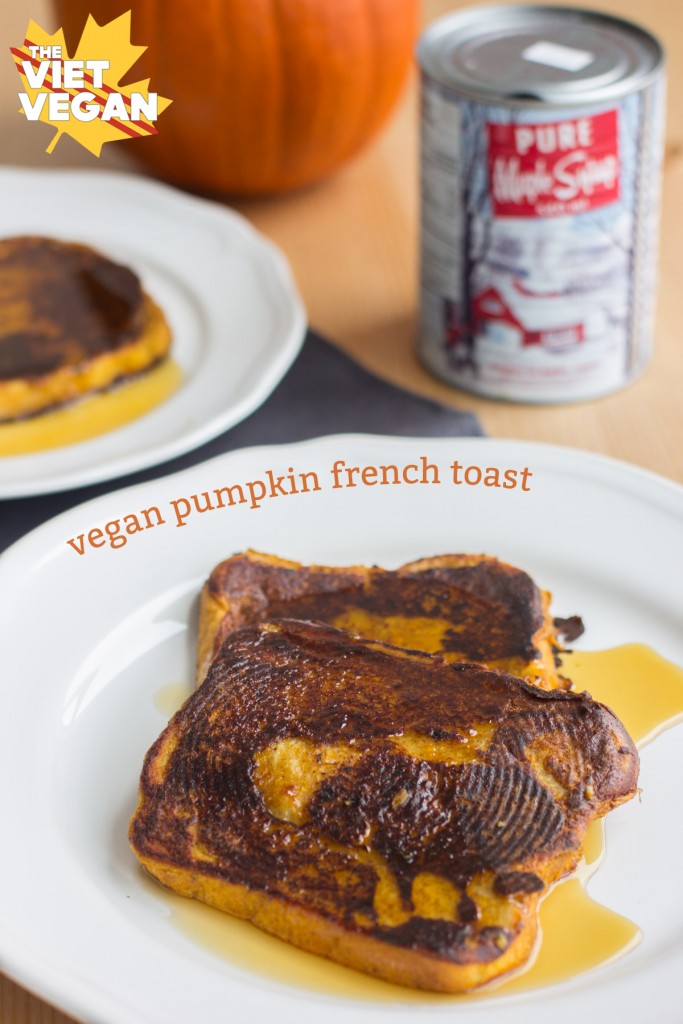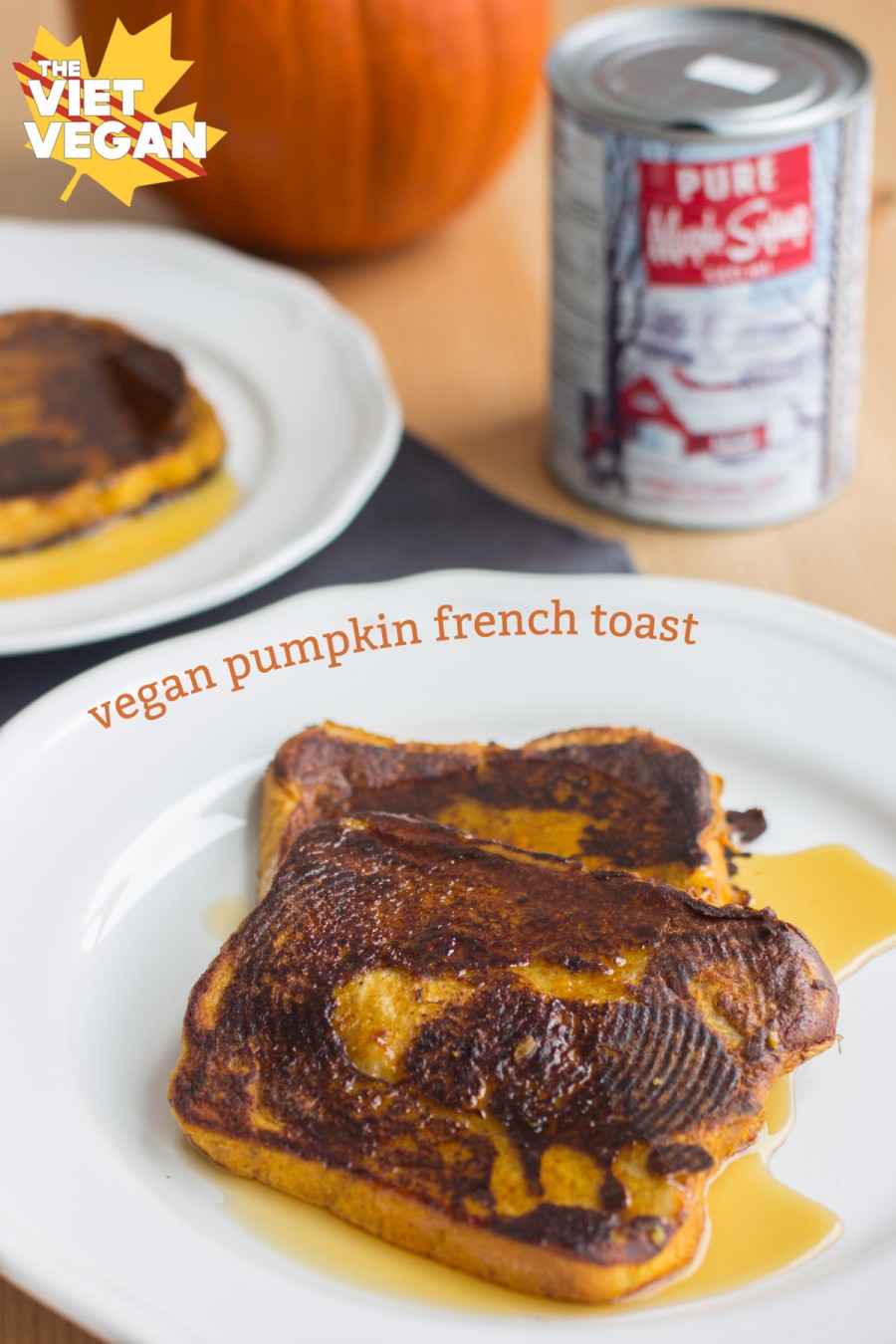 One of the hardest things about making the transition to veganism is missing out on certain social gatherings. I used to go out for breakfast all the time at cheap diners and we'd all get your typical breakfast special: eggs benedict, eggs over easy with toast and whatever side you so chose, and on the rare occasion, I'd go for the French toast. Soft, tender, with a slightly crisp outside and a generous but not too excessive drizzle of real maple syrup.
The first time I had French toast as a vegan was a couple weeks when I went to Yuma. I had forgotten how much I liked it—tender yet sturdy French toast with that classic cinnamon and maple syrup flavour. It was like a craving I forgot I had—how have I not made this myself before?! I mean, why can't French toast be veganized? We've veganized scrambled eggs, we've veganized mac and cheese… clearly we have made the impossible possible.
So in the pan it went, low and slow. Well medium and slow is more like it. You leave it be, let it do it's thing in the pan while you attend to other stuff for a few minutes.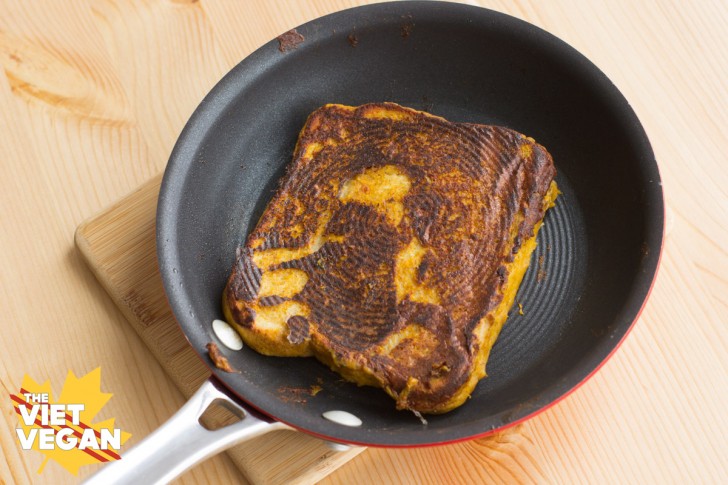 Speaking of pans, Circulon contacted me a couple months ago to review their skillets and I got a little distracted and kept wanting to make stuff like stuffed dates and coconut truffles, none of which required a skillet. They initially wanted to send me the 12″ skillet, but I'm trying to cut down on the amount of things I have. I already have a great 12″ skillet I love, I don't need another one. However, they sent me this 7.5″ one that is actually super adorable and surprisingly very handy.
At first I wasn't sure about the ridges in the pan. I was afraid that it would cause some of my food to stick, but they actually kind of worked to my benefit. My stove isn't completely level (or my floors, who knows which), but I noticed that in my 12″ inch skillet, any oil I had in the pan would automatically skirt over to one side. However in the Circulon pan's ridges, more of the oil gets trapped in the ridges and it is more evenly coated. I didn't notice any food sticking and the pan is dishwasher-safe (my new favourite feature of any kitchen-related thing)
The size has been helpful for when I just need a small pan for toasting nuts, or cooking a 1-serving piece of tofu steak, melting butter, or just making one piece of French toast for myself when Burrito Boy isn't around.
Thanks to Circulon Canada, you can get your own adorable pan. Win a free 7.5″ pan by entering the Rafflecopter below. Open to Canadians only (sorry my American and International readers). Must be 18+ to enter, no purchase necessary.
a Rafflecopter giveaway
Recipe adapted from Post Punk Kitchen

Yield: 4
Vegan Pumpkin French Toast
Ingredients
1 cup pumpkin puree
1 1/2 cups soy milk
2 tsp pumpkin spice
2 tbsp all purpose flour
1 tsp vanilla extract
1 tbsp white sugar
8 slices of bread (preferably stale bread)
2 tsp vegan margarine for the pan
Instructions
Preheat a skillet to medium heat.
Whisk together pumpkin puree, soy milk, pumpkin spice, flour, vanilla extract, and sugar until smooth and incorporated.
Lightly coat bread with the pumpkin mixture. Scrape off excess mixture: too much mixture on the bread will make mushy French toast. =(
Melt some vegan margarine on the pan (use about 1/4 tsp per slice on the pan) and cook French toast on each side until golden brown. Repeat until all bread (or mixture) is used up. Serve with maple syrup and/or a dusting of icing sugar!
Disclaimer: I received a free 7.5″ skillet (pictured above) for review by Circulon, and Circulon is providing the skillet for the giveaway. All opinions are my own.