This vegan quiche stuffed portabella mushroom dish is actually SO easy to make.
Filling, satisfying, and full of flavour :)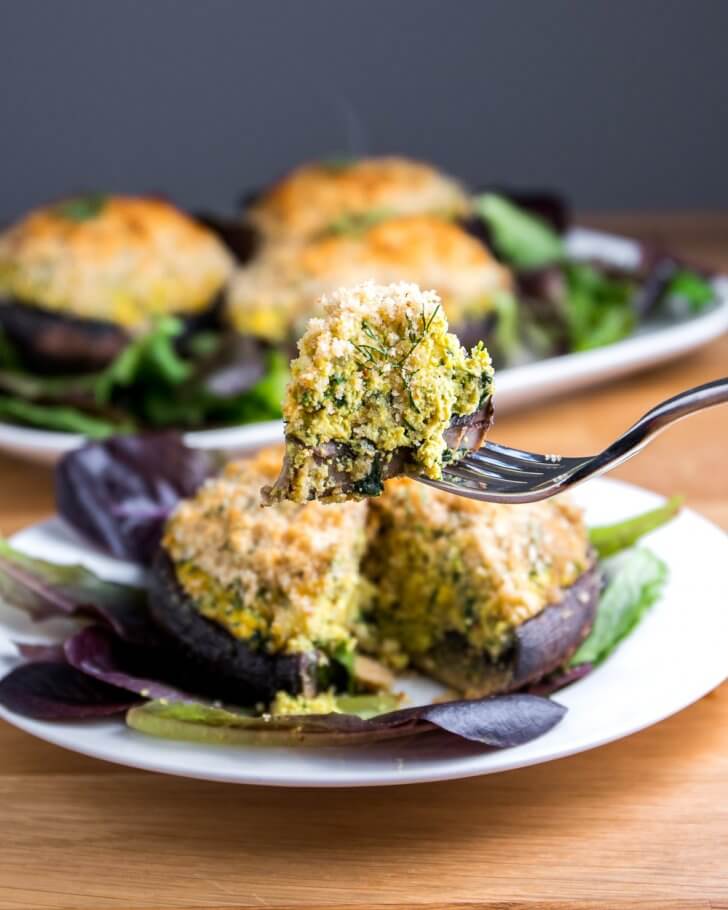 It's June now, which means its wedding season. I love weddings. Well, okay maybe that's not true. I don't love crowds, dressing up is not my favourite, and I'd much rather celebrate something in a low-key fashion than with all the pomp and circumstance that comes with weddings. But I do love eating and wedding food is usually pretty awesome.
Unless you're vegan.
Or you have any number of odd allergies like I do (mostly nut-free on top of being vegan).
The number of formal events I've been to this past year alone has shown me that despite veganism coming such a long way, people still don't have a clue when it comes to making a balanced vegan meal. I didn't think it was that complicated, but apparently when you take meat out of the equation, a lot of chefs clam up and don't know what to serve you aside from leaves and a bit of dressing.
Recently I went to a formal event and the first course was an arugula salad with berries, goat cheese, radishes, and beets. Of all those things, I just don't eat the goat cheese, which is pretty simple to omit, especially because it wasn't a tossed salad, all the ingredients were just laying on top of the greens.
So colour me surprised when a dish of JUST leaves shows up in front of me while everyone else got colourful watermelon radish, a handful of berries and some peppery radish slices. When I asked for the rest of the salad, I could feel people looking at me like I was being difficult.
I had informed the organizers ahead of time that I was vegan and nut-free, I had talked to the server before people were being served, I had done it all right. And still I get served naked leaves. Like c'mon folks, it's 2017. It's not hard to find tofu or vegan cheese in Toronto. It's not rocket science, it's a salad.
Now I know it's not the organizer's fault. They can't tick all the boxes themselves, it's not their job to cook. But chefs in Toronto need to understand how to create balanced plant-based meals. Veganism is here to stay and there are so many ways we can highlight the beauty of plants while still making a satisfying meal. And it's not just salad, some folks like to replace meat with mushrooms. Mushroom have a wonderfully meaty texture and flavour, but they're not meat. There are so many ways you can prepare mushrooms to be more robust, so get creative, and be open-minded.
You can do better, Toronto.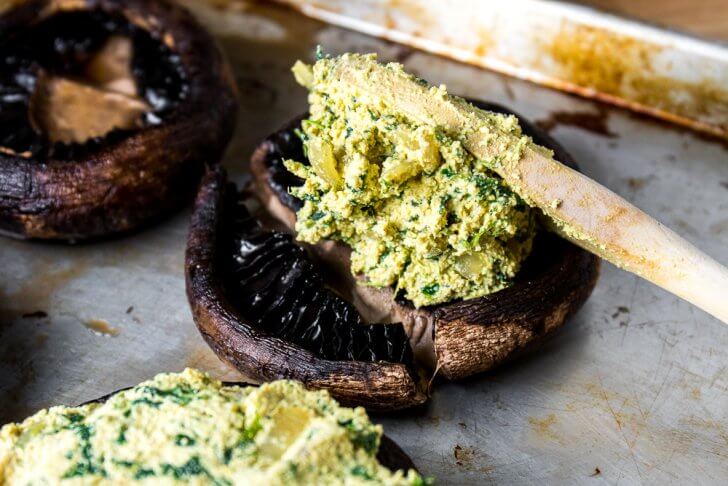 So I partnered up with Produce Made Simple again to develop a hearty, vegan dish that uses mushrooms to create a satisfying and satiating dish that is fit to be served at a formal event. Spinach, onion and dill are mixed into this seasoned egg-like tofu and stuffed into wonderful, umami-rich, portabella mushrooms. The mushrooms are baked to tender, juicy, perfection and finished with a crunchy coating of breadcrumbs to give this dish extra flavour and texture and bring it all together.
Serve it at a family dinner or brunch, but either way, you know that your guests are going to walk away satisfied :) Find the recipe here on Produce Made Simple.