2021 has been a WILD YEAR for vegan alternatives like this vegan salmon that can be made into a delicious marinated poke for my take on a vegan salmon poke bowl!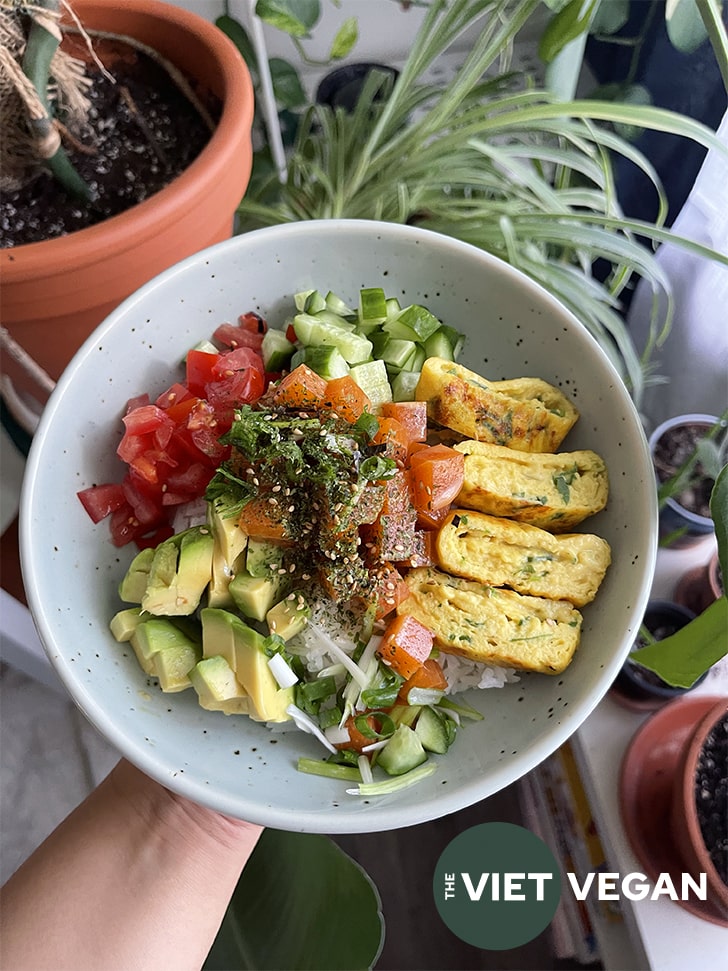 I had already gone vegan when the poke bowl trend took over. As someone who used to devour boatloads of sashimi, raw fish was something I sorely missed as a vegan. It was definitely hard to see poke bowls full of ahi tuna and salmon everywhere since I really wanted to eat it!
I've seen veganized versions where they will replace the tuna or salmon with cold tofu, and while nutritionally that's perfectly fine and good, depending on who is preparing it, tofu can lack the same texture and flavour that raw fish is able to give to a poke bowl.
I have been disappointed by most if not all the vegan poke bowls I've tried because they completely fail to deliver flavour. Surprisingly, the best poke I had was a watermelon poke, which was delicious but it was also $16 for like 8 half-inch cubes of watermelon. Not only did that hurt my wallet, I was still hungry afterwards haha.
Vegan Poke Alternatives for Salmon
I think if you're going to make a vegan poke bowl, you need to give it enough flavour to carry through the other unseasoned toppings and rice, otherwise you'll have an unsatisfying, very bland bowl.
Using Tofu as a fish alternative
I would recommend using medium tofu instead of firm or extra firm tofu because the texture will be softer and more delicate, while still having protein and some bite to mimic fish. Marinate with the same marinade I have listed below, but feel free to add a bit of lime for extra acidity (in addition to the rice vinegar), and be sure to add some roasted nori to impart that fishy flavour. I've seen some people use ginger too!
If your tofu can stand pressing, press for about 30 minutes to give the tofu more space to absorb the marinade and flavour. Otherwise, be sure to serve some of the marinade over your poke bowl to ensure you get some good flavour.
Using Watermelon or Tomato as a fish alternative
I've seen lots of people use tomato or watermelon instead of fish for that same sort of red, tender and soft fish texture. With the right amount of time and marinade, it can definitely be prepared that way!
Avant-Garde Vegan has a really beautiful looking watermelon poke, and Lisa from Okonomi Kitchen has a gorgeous version of maguro don where she uses marinated tomato for a similar purpose.
I think watermelon and tomato have a lot more to offer in terms of fishy texture and flavour than tofu, but neither can deliver the same protein, and require a bit more time to achieve those results. I have no doubt that they're tasty! I am just lazy haha.
Vegan Salmon
Enter this AMAZING new product: Vegan salmon! In the past, I've seen fish-free salmon like this offered from Tenon Vegetarian in Markham, but the product they used to use definitely had milk ingredients in it, so it was only vegetarian (despite them claiming it to be vegan for years).
Now I believe they use a vegan version, but this product hasn't been readily available for people to purchase until recently!
Coven Hamilton started carrying this product from made in Taiwan (I do believe Vegan Zeastar is a company from the Netherlands though) that is incredible and gives me the same sashimi texture that I remember from salmon.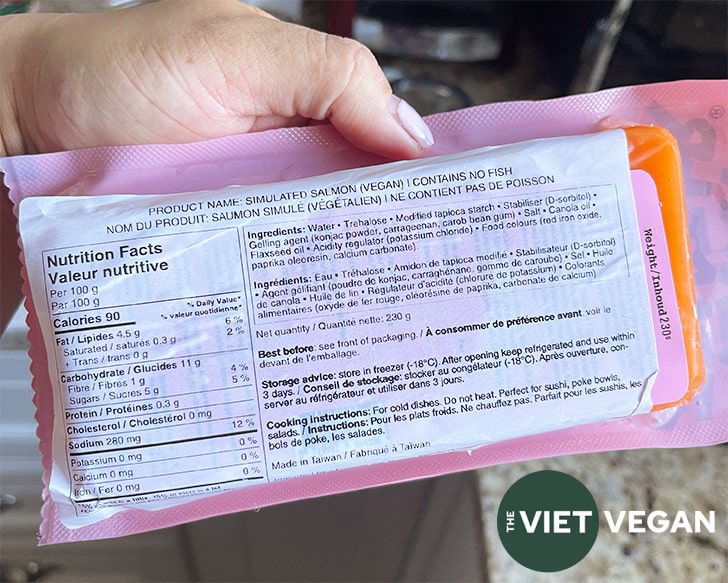 It comes frozen and is supposed to be eaten within a few days of opening. The package I got was $16 (yes, the same price as the watermelon poke I was complaining about), but for a once-in-a-while splurge for a vegan salmon texture, I'm willing to buy this again! Eddie has no interest in veganized fish (he was never a fan of fish in the first place), so this $16 splurge is for me and for me alone.
Does it taste like salmon? No. It's honestly kind of flavourless. But I'm okay with that. Raw fish doesn't have a TON of flavour, and marinade is important for this poke bowl anyway.
However, the TEXTURE is 90% there. Jiggly, soft, breaks apart but still has some bite to it. If you want it to have more fishy flavour, definitely add some nori to the marinade, but I always my poke bowls or rice bowls with roasted nori on the side anyway, so I didn't bother for this recipe. It's made with konjac and trehalose, which are both plant-based binders naturally occurring in plants, and is indicative of how cool food science is!
Is it worth it? Yes and no. I still add a vegan protein to my poke to fulfill the same purpose, but the texture is something I really missed, so it's worth it to have for me.
Recipe Inspiration:
Since I hadn't ever really had poke before, I can only go off of what I've seen from other folks. I got my inspiration for the marinade and toppings from these gems:
Yield: 2 bowls
Vegan Salmon Poke Bowl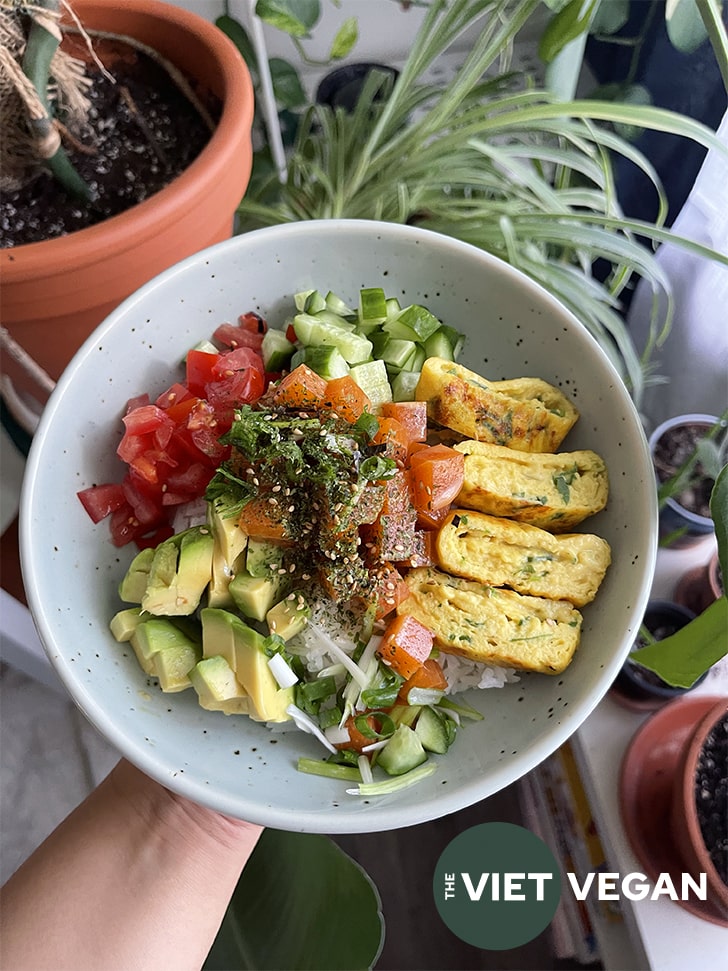 Ingredients
Marinated Poke
1 package vegan salmon, diced, approx 1 1/2 cups**
3 tbsp (45 mL) tamari
4 tsp (20 mL) mirin
4 tsp (20 mL) rice vinegar
1/4 cup (60 mL) vegan mayo
2 tsp (10 mL) sriracha
2 tsp (10 mL) toasted sesame oil
For the bowl
2 servings steamed short-grain rice (I do about 1 cup dry rice, cooked for 2 people, and I also sometimes just opt for Jasmine because it's cheaper and I have more of it haha)
1/2 avocado, diced
1 mini cucumber, diced
2 small tomatoes, diced
1 green onion, greens + whites finely diced
Roasted nori, cut into strips (or if you're lazy like me, top with furikake then have a roasted nori snack pack to eat on the side haha)
Instructions
In a bowl, combine the vegan salmon and seasonings for the marinade. Let sit in the fridge while you prepare the remaining ingredients (feel free to prep ahead of time and let marinate in the fridge for a few hours)
Prepare your poke bowl by adding rice, diced avocado, cucumber, tomato, green onions, your protein of choice (I made tamagoyaki with JustEgg, but you could also make tofu poke with the above ingredients too). Top with the marinated vegan salmon and enjoy with roasted nori!
Notes
**If you don't have access to vegan salmon, you can use raw tofu, but marinate with a sheet of nori as well to impart some of that fishy flavour.