This smoked tofu "crabby" salad is the perfect topping for a vegan sushi bake! It's great for using leftover rice and is a delicious quick meal!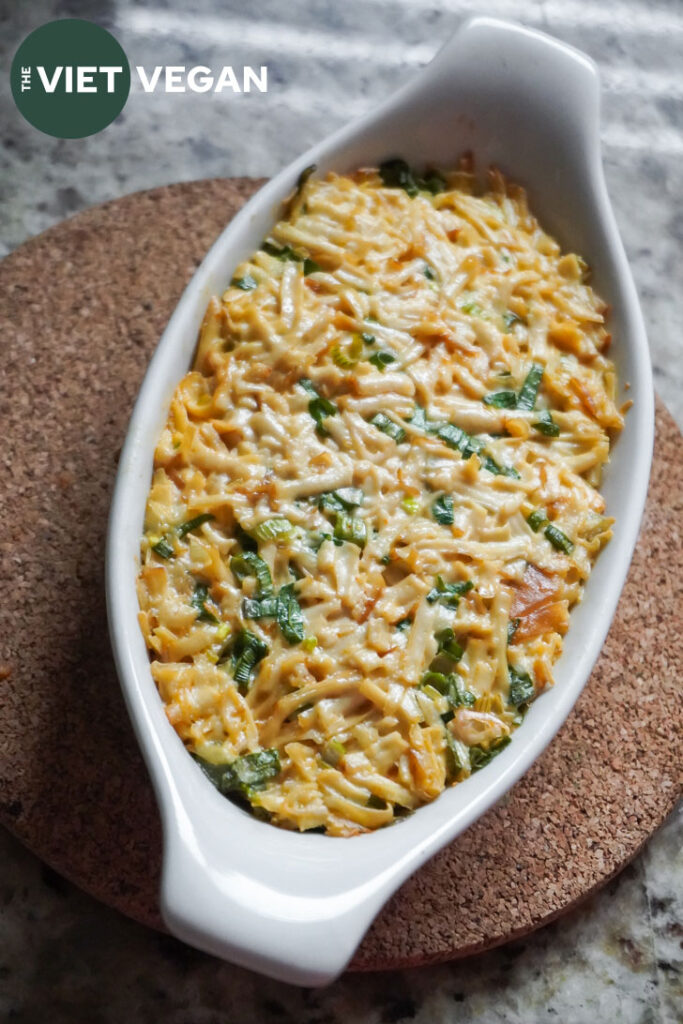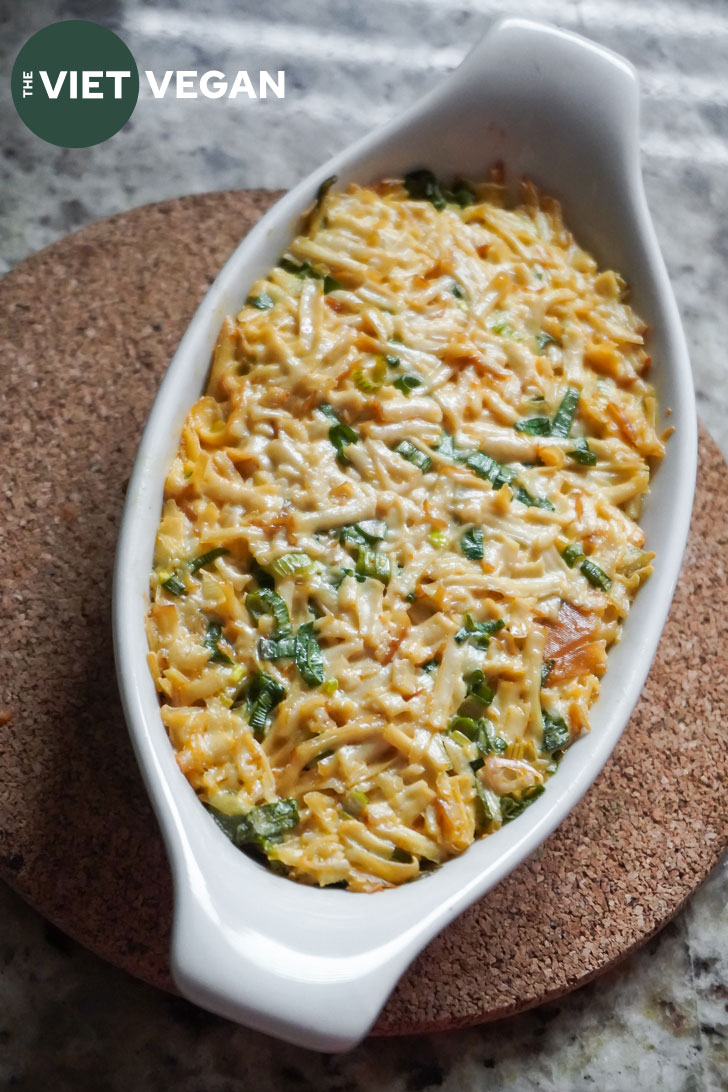 I've been eating variations of this grated smoked tofu salad ever since I saw Mary from Mary's Test Kitchen shred smoked tofu in her California Sushi Bowl Meal prep. I use it for crab salad rolls, and I used it in my recent What I've Been Eating Lately video and so many people were mind-blown at this tofu shredding technique.
What is Smoked Tofu?
Sunrise Tofu makes this smoked tofu that I find at my local Food Basics, Metro, or Longos. It was hard to find during the pandemic and I am SO HAPPY it's finally available again. They also used to make a regular pressed one that didn't have any extra flavouring, and a sriracha one, but I haven't seen either since before the pandemic. If I could find the regular pressed one without the smoked flavour, this would be my preference. But I think Sunrise discontinued that product.
This smoked tofu is a unique texture. The texture of the smoked tofu is VERY firm, almost rubbery, and that's why grating it makes such a magical crabby texture. The tofu takes on a smokey flavour that is unlike any other tofu product I've tried. When I'm grating it, the outside often doesn't make it through the grater, so I end up eating the outside smoked "shell" while I'm preparing this salad. Call it a chef's snack.
Can I substitute the smoked tofu for a vegan sushi bake?
If you can't find smoked tofu, you can use a regular extra firm tofu (the firmer, the better). You can also use flaked chickpeas, vegan konjac crab, or a canned vegan tuna product.
But like I said, the smoked tofu is truly a unique product that grates so easily and is so perfect to replicate shredded imitation crab in this vegan sushi bake.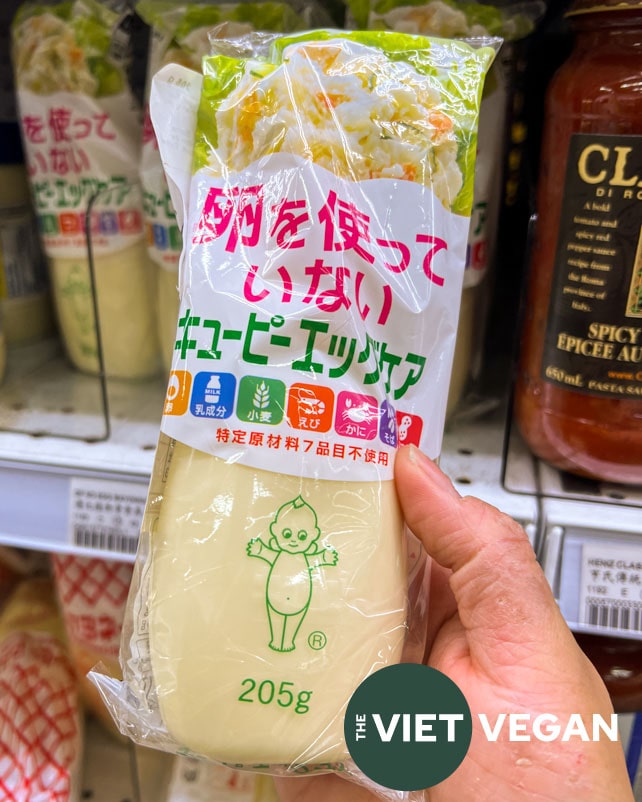 Where to find Vegan Kewpie Mayo
I got incredibly lucky and found the egg-free kewpie mayo at T&T Supermarket in Mississauga. After seeing this available in the US and Australia, I've been eagerly scouring any and all Asian markets for this.
It comes in a very small bottle, 220 mL, but it is so rich and thick, it is SO PERFECT for things like this vegan sushi bake. However, since I know it can be difficult to find, I used regular vegan Hellman's mayo in this smoked tofu salad mixture.
But if you can easily find vegan kewpie, by all means, use this instead. It is thicker, so you may need a bit more to coat everything, but the rich, decadent kewpie flavour is so good! Alternatively, you can use regular vegan mayo in the mix, and do a drizzle of the kewpie on top.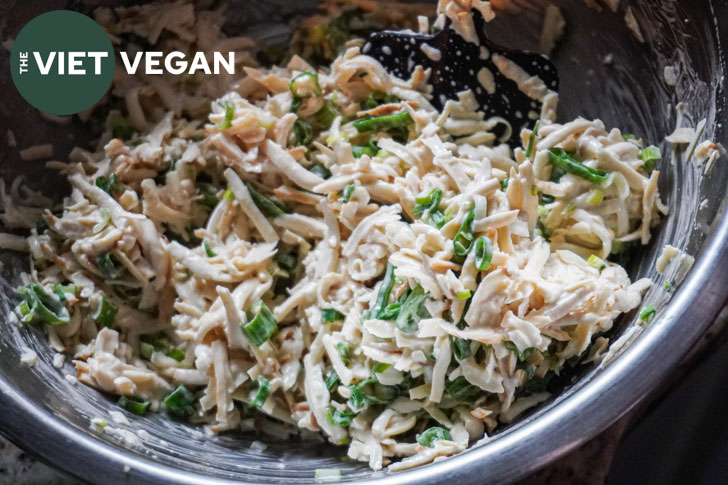 Optional Add-ins for the Vegan Sushi Bake
I use variations of this mixture in SO many different ways. Since it's packed with protein, I love eating it in rolled maki, in sushi bowls, and of course, this vegan sushi bake.
It's incredibly versatile and tasty, and is such a great base.
Sometimes I like to add other ingredients to bulk up the salad, because one block of smoked tofu only gives about 3 regular servings, or 4 smaller servings. Here are my favourite add-ins:
1 can of OmniTuna – Adds great flavour and texture, and extends the can of Omnituna which is about $3.50 where I live.
1 cup cooked chickpeas – I use a pastry knife, a fork, or a quick blitz in the food processor to "flake" the chickpeas and it adds a great texture, fibre, and bulk to this crabby salad. I use chickpeas in my tuna pasta casserole and chickpea tuna melt too and it's always delicious!
1 can hearts of palm – you can use a fork to "shred" the hearts of palm and roughly chop to add more of a crab-like texture to this dish.
Vegan konjac crab – Veggie Paradise and Nelakee (I think) make a vegan crab product that is actually so good. I find it at Coven or Asian markets. Shred or chop this to add even more crabby flavour to this sushi bake.
Yield: 3-4 servings
Vegan Sushi Bake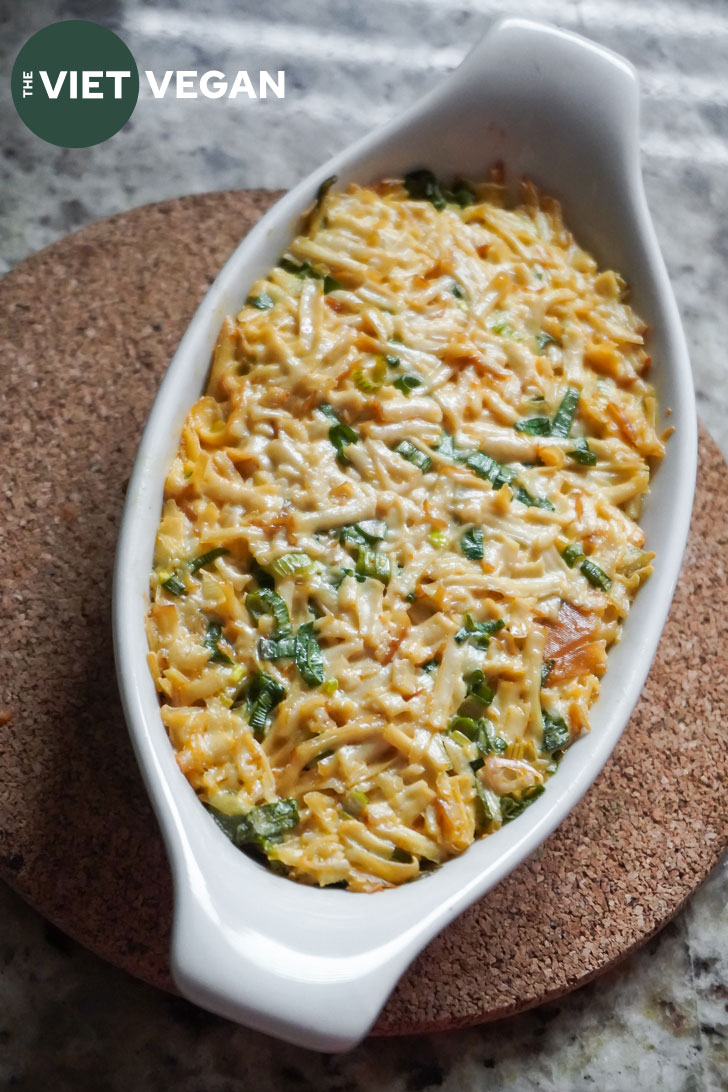 Ingredients
Tofu "crab" salad
1 block smoked tofu grated
1/4 cup vegan mayo
1 tbsp rice vinegar
1/4 tsp white or black ground pepper
3 sprigs scallions, fine dice
1 tbsp sriracha
1 tbsp toasted sesame oil
3-4 cups of cooked rice (I used jasmine, but short grain would be more sushi-like)
Roasted nori (either the rectangle snack sheets or full size roasted nori cut into smaller pieces for easier eating)
Optional Toppings:
Avocado slices
Diced cucumber
Toasted sesame seeds
Furikake
Spicy mayo
Instructions
In a mixing bowl, combine grated smoked tofu, vegan mayo, rice vinegar, white pepper, diced scallions, and sriracha and mix well until everything is evenly mixed through. You can store this mixture in the fridge and keep as easy meal prep.
Preheat oven to 350F
In an au-gratin single serving or large ceramic baking dish, brush toasted sesame oil all along the bottom and sides.
Add the cooked rice as a single, even layer (don't pack down, just gently press evenly in a layer).
Add the grated tofu mixture on top, and gently spread and press into an even layer.
Bake for 20-25 minutes, then serve with avocado, diced cucumber, sesame seeds, furikake, and even more spicy mayo if desired! Enjoy with crispy roasted nori.