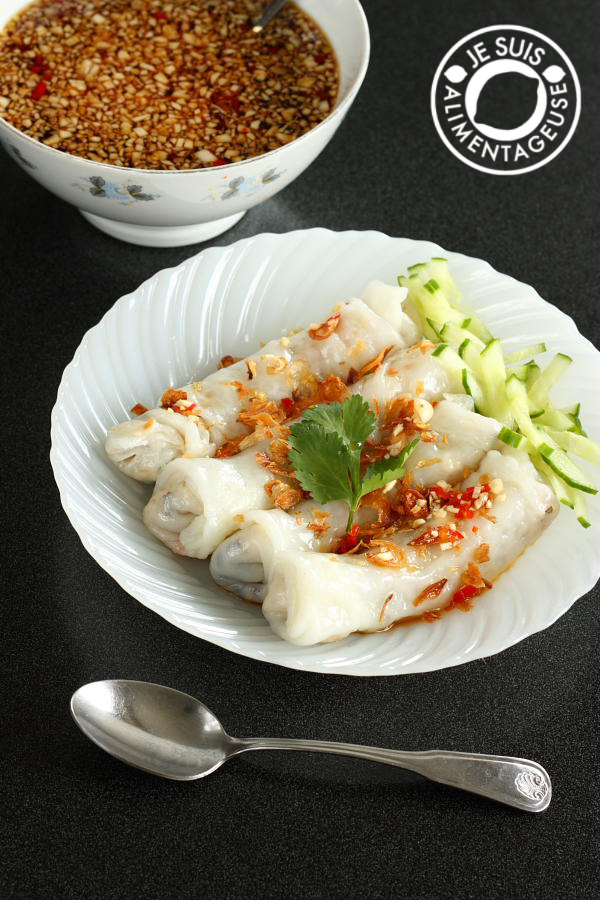 I had four delicious posts lined up for you but I couldn't decide which one I wanted to post. I thought about posting some popsicles that I made inspired by The Slow Roasted Italian, but I thought I'd wait until it gets into those muggy summer months. I asked my followers on Facebook (hit the "Like" button in the sidebar if you haven't already =P), and  from the feedback, people wanted these delicious Vietnamese vegetarian steamed rice rolls. Typically, these are stuffed with a ground pork mixture (basically substitute the tofu for the ground pork), and topped with fried onions and complemented with lots of leafy greens like green leaf lettuce, steamed bean sprouts, cucumbers, mint, cilantro and whatever other greens my grandpa has in his garden.
Drizzle from Vietnamese fish sauce on top, and these rolls are my absolute favourite thing to eat. As many of you know now, I am vegetarian and I can't eat any of that anymore. I thought I wouldn't be able to eat this ever again, but my mom proved me wrong.
One day, she woke up early and made me these before she went to work and took my brother to school (seriously, my mom is Super Woman). It was a huge platter of about 40 rolls and I was ecstatic. I had some vegetarian dipping sauce to drizzle on top and everything was perfect. As a result, I wanted to learn how to make these so that I could show you lovely readers how to make these fantastic Vietnamese vegetarian steamed rice rolls.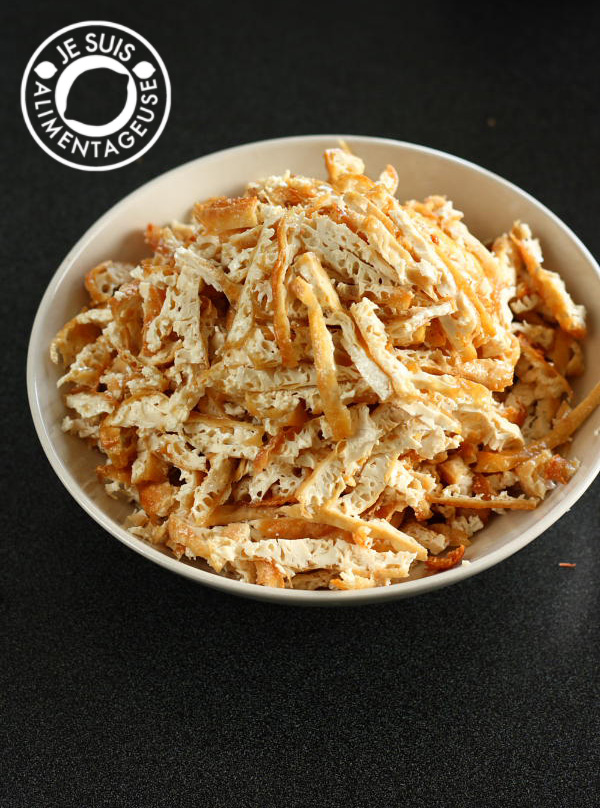 So for Mother's Day, my mom, my grandmother, and I all gathered in the kitchen to school me in the art of making bánh cuốn. My mom did it two at a time and was a BEAST at mastering the rhythm (with what I imagined included years of practice and experience) and after she showed me how to do it once, I just dove in. I seemed to get the rhythm down pretty quickly, but honestly, the most difficult part was flipping the rice crepes over flat. They kept flipping all to one side so it was a little pile of rice crepe, which is super sticky and refused to come apart (kind of like bunched cellophane).
The bottom of the crepe (which becomes the outside of the rolls) is smooth and oily, while the top part of the crepe is bubbly and crispy (which becomes the inside of the rolls). The mixture of textures from the filling, the smooth chewiness of the rice crepes, the crunchy fried onions, and the fresh greens is honestly the best thing ever.
Oh man. Being Vietnamese is awesome.
Harness your inner Vietnamese by trying this out at home or at your local Vietnamese restaurant. You will NOT regret it =)