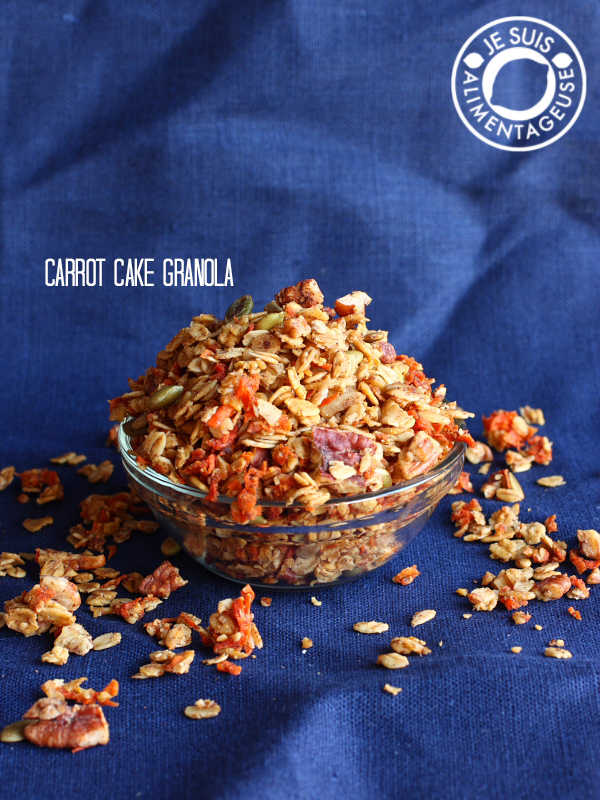 It's almost Thanksgiving for those south of the border and I have a great potato mash (forgive the name, they're not quite mashed potatoes) that was a huge hit at my recent "catering" gig on my friend's film set. Unfortunately, I haven't had the time to make it quite yet so for those who plan their Thanksgiving dinners, JUST WAIT UNTIL THURSDAY. The ingredients are sitting in my fridge, ready to be turned into a delicious potato dish, but I wanted to share this carrot cake granola first. And an awkward story about being Asian and a FR-EN-SP translator.
First, the granola.
The first time I made granola, I thought I had failed completely. After pulling out the mixture from the oven, the oats were still kind of soft and the almonds I had in the mix were painstakingly soft and didn't have that satisfying crunch when you bit into it. I was distraught. What a waste of ingredients.
I decided to let it cool while I figured out what to do with a batch of botched granola.
And like so many people who get lost in the tangles of information on the Internet, I lost track of what I was doing and came out to my kitchen for a snack and noticed that the granola had gotten kind of hard.
I quickly popped an almond in my mouth that was lightly sweetened with a touch of honey.
Crunch.
Oh baby yes. I did it. I made granola.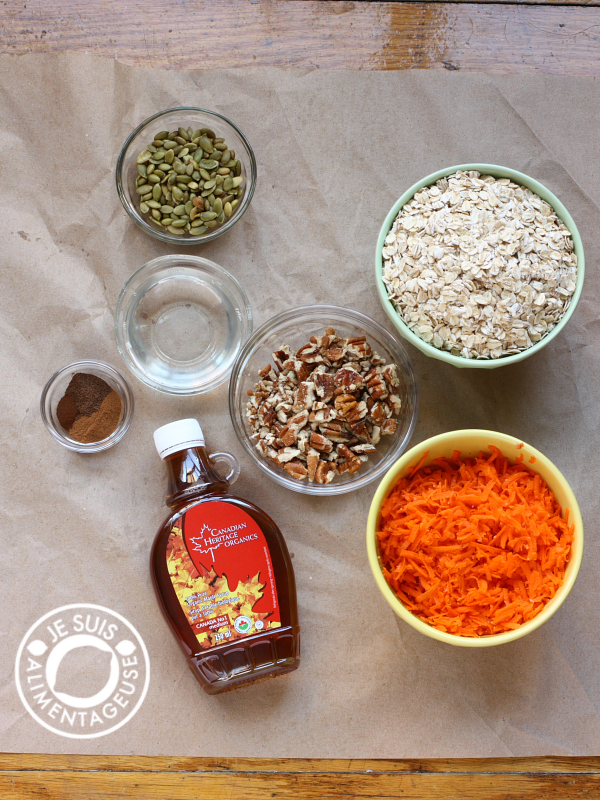 I did a little dance and proceeded to snack on that granola for about 2 days before the whole batch was gone. So I decided to make more, but this time, carrot cake flavoured!
The best thing about this carrot cake granola is that it's made with maple syrup, so it's only subtly sweet with a woody flavour for which maple syrup is famed. With a sprinkle of classic carrot cake spices and some grated carrot, this granola is a great spin on the classic crunchy granola.
But back to my awkward story about being Asian and translating non-Asian languages. Many of you know that I'm doing my Master's in Translation Studies. I've been focusing my research on translator training (didactics and pedagogy) and feminist theory (because it's interesting) but it's more theoretical as a degree than it is practical. My working languages are French, English, and Spanish but I'm not doing very much translating as part of the degree.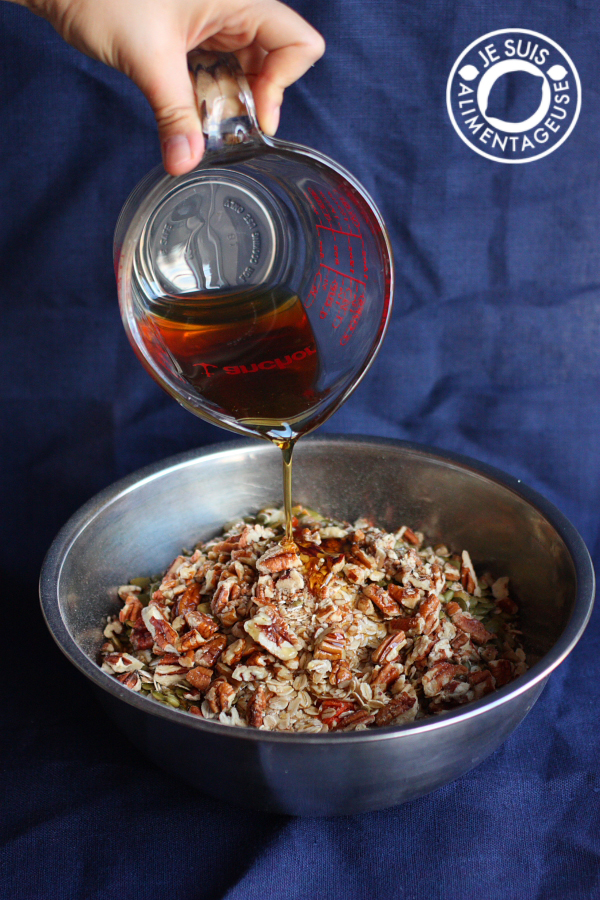 Recently someone asked what I was studying.
"I'm doing a Master's in Translation Studies."
"Oh, right, obviously you're translating something Asian."
"…Actually I translate from French and Spanish to English."
*stunned and/or awkward laugh*
Then some sort of back-pedalling that leads to one of us trying to leave to get away from the awkward encounter. Usually me.
It's times like these that I'm reminded that I am Asian.
Look random-stranger-who-decided-to-stereotype-me, I live in Canada. I speak fluent and native English with a clear Canadian accent. Just because I look Asian doesn't mean I speak an Asian language. Maybe I was adopted. Maybe I am first generation Canadian with immigrant parents. Maybe I just have a knack for languages and came here when I was 8. You don't know me.
English is allowed to be my mother tongue. I'm allowed to have two mother tongues, even. I was raised speaking Vietnamese first, but I learned English from TV and school. But again, I live in Canada. French is something we start learning when we're 9 (or younger depending on where you go to school).
Anything goes.
It's curious that people are OBSESSED with connecting your ethnicity to your behaviour. Yes, it's an identity, but the social norms aren't coded into our DNA. Nature vs. Nurture 101. So don't assume, 'kay?
Let's avoid the awkward encounter if necessary. I'm already an awkward person with hugs, let's not make the awkwardness bleed into speech and conversations too.
So yeah, in summary, don't buttume. (You know, make a "butt" out of "u" and "me"—hey, this is a family-friendly blog here.)
Oh, and make this granola. Makes a great homemade gift for friends and family =)
Yield: Three 500mL (1 pint) jars of granola
Carrot Cake Granola
Ingredients
2 1/2 cups large rolled oats (old fashioned whole oats)
2 cups grated carrot (about 2-3 medium sized carrots)
1/2 cup broken pecans, unsalted and raw
1/4 cup pumpkin seeds, unsalted and raw
5 Tbsp coconut oil, melted
1/2 cup maple syrup (the good stuff)
1 tsp ground cinnamon
1/2 tsp ground allspice
1/4 tsp ground cloves
Instructions
Preheat oven to 350F
In a large bowl, mix together oats, grated carrot, pecans, pumpkin seeds, coconut oil, and maple syrup until everything is well coated in the oil and syrup. Sprinkle the ground cinnamon, allspice, and cloves on top and mix until everything is evenly coated.
Spread onto a large, baking sheet and bake for 20 minutes, give it a good turn and a stir to promote even crisping, then bake again for another 20 minutes.
Remove from oven and let cool on a wire rack (give it another stir for good measure). The mixture will seem kind of soft and not granola-y but it'll crisp up. Once cooled completely, remove from the pan and store in an airtight container.