Vegan Pistachio Chocolate Cheesecake with Cashew Date Crust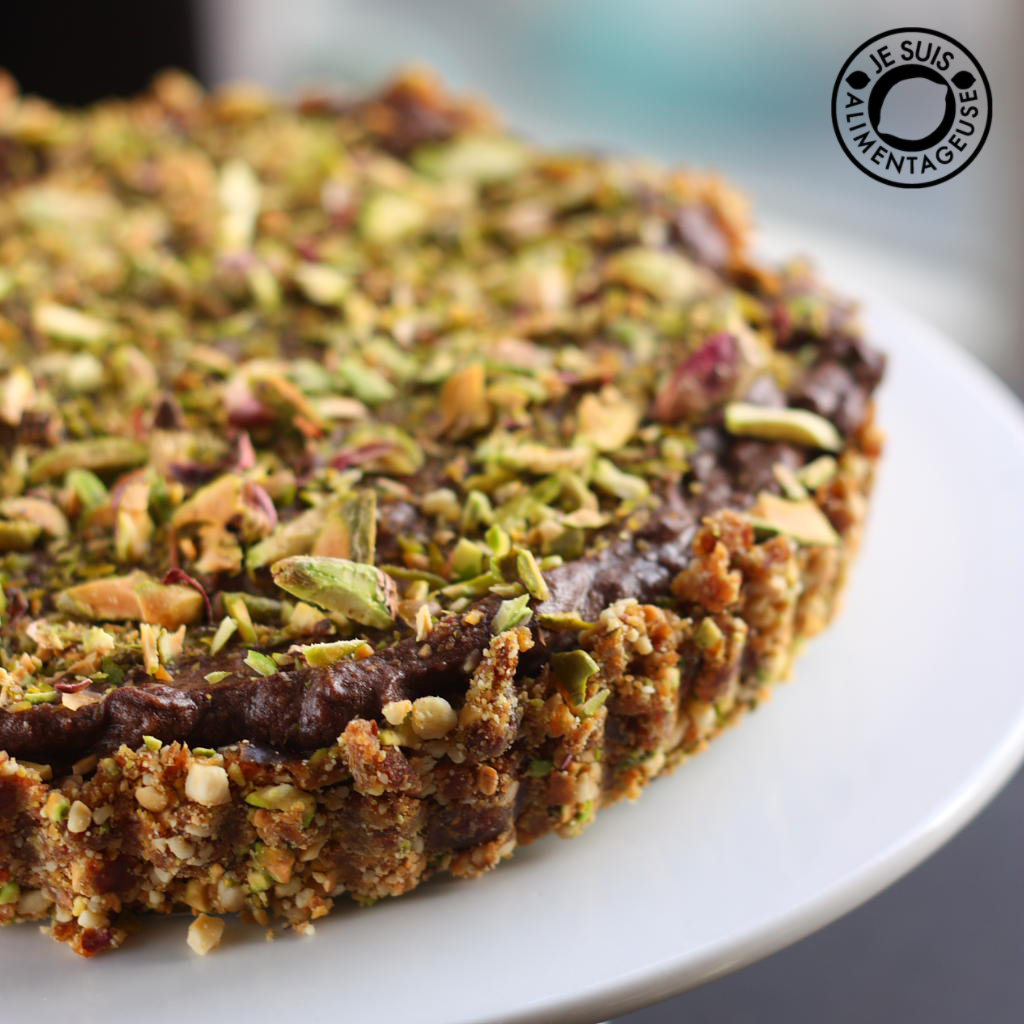 I used to be intimidated by the word "vegan". In my mind, this term was used for those who had overly complicated diets and aggressively judged anybody who chose to eat any form of animals or animal products. I thought that vegan baked goods would lose their appeal, their luxury, their decadence, without eggs or butter. I was -very- mistaken. Allow me to introduce you to my favourite superfruit: avocados, reader. Reader, avocados. Avocados are the ultimate fruit. They are packed full of healthy fats, nutrients, and vitamins. Their subtle and versatile nature are what makes vegan baking (in this case, dessert because this was a no-bake cheesecake) absolutely amazing.
I think one of the best things about eating vegan is that I don't feel guilty for consuming a meal that is heavy on cholesterol and saturated/trans fats. Vegan food is just an amazing way of appreciating ingredients the way you find them in nature. Raw, beautiful, full of colour, and packed with flavour. I used to think it was complicated, trying to find substitutions and whatnot to retain the same texture as non-vegan desserts. This cheesecake is the most luxurious yet light cheesecake you will ever have, because you aren't eating a entire brick of cream cheese. Actually there's no cheese. But I wouldn't just say this is a tart. I would pick this over cheesecake almost any day. And I -LOVE- cheesecake. I was almost reluctant to say that actually, that's how much I love cheesecake, but seriously, that's how amazing this is.
It's no bake, no cook, no refined sugar, no dairy, no gluten!
Unfortunately my nut-allergy friends should steer cleeear of this cake. Sorry friends.
But it is so creamy and the nutty crust provides just the right amount of texture to complement the filling. It took me about two hours from start to finish, but that's just because I was taking pictures of all the ingredients (it was getting dark so those pictures aren't any good). If you aren't a shutterbug like I am, this will probably take you less than an hour from start to finish. The most time consuming part of that is shelling the pistachios. If you have a food processor, you could probably make this in about 30 minutes.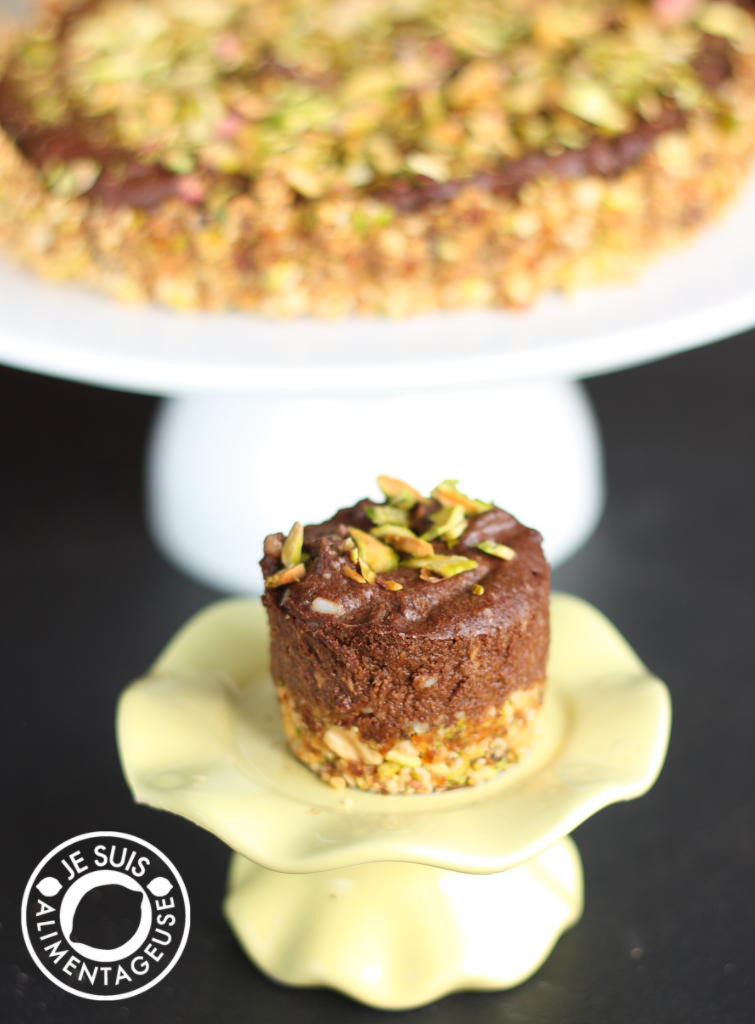 This recipe makes one 9-inch tart and 12 mini cheesecakes, so you can easily half this recipe if you only want to make one or the other.
Recipe adapted from Sally the Messy Baker.
Note: this recipe was developed before my nut allergy fully developed haha. This WAS delicious though, so if you can eat nuts, definitely try this! It was way tastier than I expected it would be XD
Yield: 1 tart + 12 mini cheesecakes (or two tarts)
Vegan Pistachio Chocolate Cheesecake with Cashew Date Crust
These freeze really well, just cover, freeze, and then thaw prior to serving. (I'd say about 20-30 minutes for mini-cheesecakes, and at least an hour for the tart)
Ingredients
For the crust:
200 g roasted cashews
100 g roasted pistachios, unsalted
370 g dates, pitted
1/2 tsp salt (my cashews were salted so I omitted this)
For the filling:
4 large avocados, ripe and mashed
1/2 cup cocoa powder (I used dutch-processed)
1/2 cup agave nectar (you can use raw honey or maple syrup)
150 g coconut oil
about 100 g pistachios sliced for garnish
Instructions
For the crust, use a food processor to chop all the cashews and the pistachios. You'll have most of it as kind of a flour, but bigger chunks are good too. Add the dates, and process until you have kind of a dough forming. My food processor was too small for this, so I did this all with my magic bullet and I chopped the dates by hand. I then squished together the dates and the nut flour so that they started to clump.
Press the mixture into a tart pan or into a mini-cheesecake pan. Set aside.
Mix together the mashed avocados, cocoa powder, agave nectar, and coconut oil. Make sure you mix until smooth and everything is incorporated.
Pour into/over the crust, and sprinkle the remaining sliced pistachios for garnish and extra texture.
Freeze for about 15 minutes to set, or stick in fridge for at least an hour before serving.