This vegan tunacado sandwich is refreshingly satisfying with the tofu "tuna", bright lemony pesto, tomato, and avocado. I didn't understand the hype until I made it!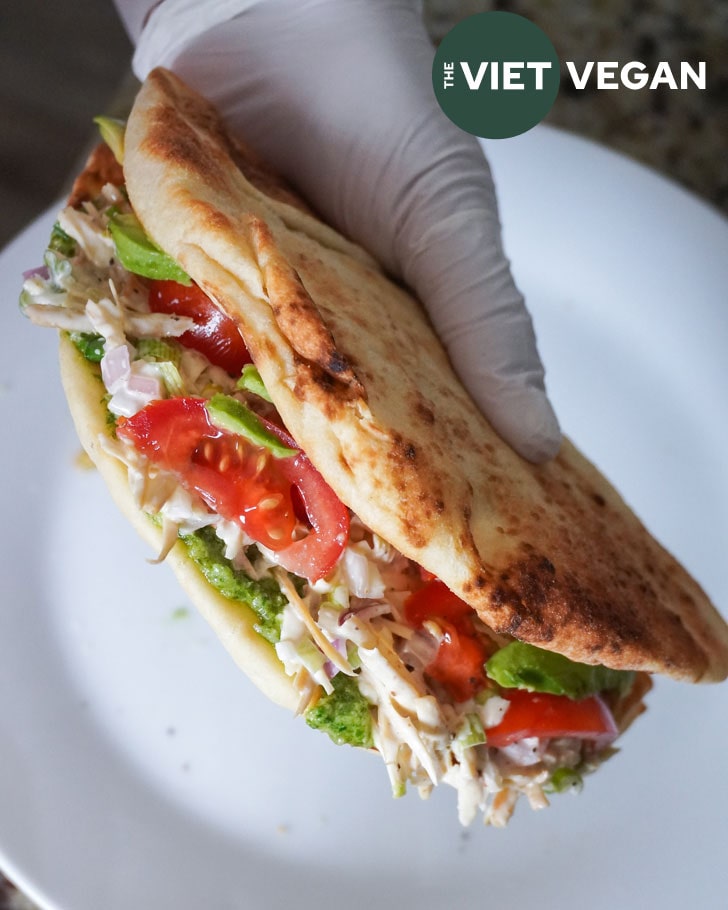 I always resist the viral TikTok recipes like the feta pasta or my washed flour seitan but then I make them and then I get it. TikTok is the wild wild west but they do know a good viral recipe.
Origin of the Viral Tunacado Sandwich
This tunacado sandwich is based off of a sandwich from Joe & The Juice, where they have a signature thin, crispy bread, topped with a thin pesto, avocado, tomato, and their tuna mousse (which is not blended FYI).
I don't have their fancy thin crispy bread, and honestly, slicing very hot toasted bread sounds like the worst time. So instead, I've opted for naan from Costco, because it's what I had in my house.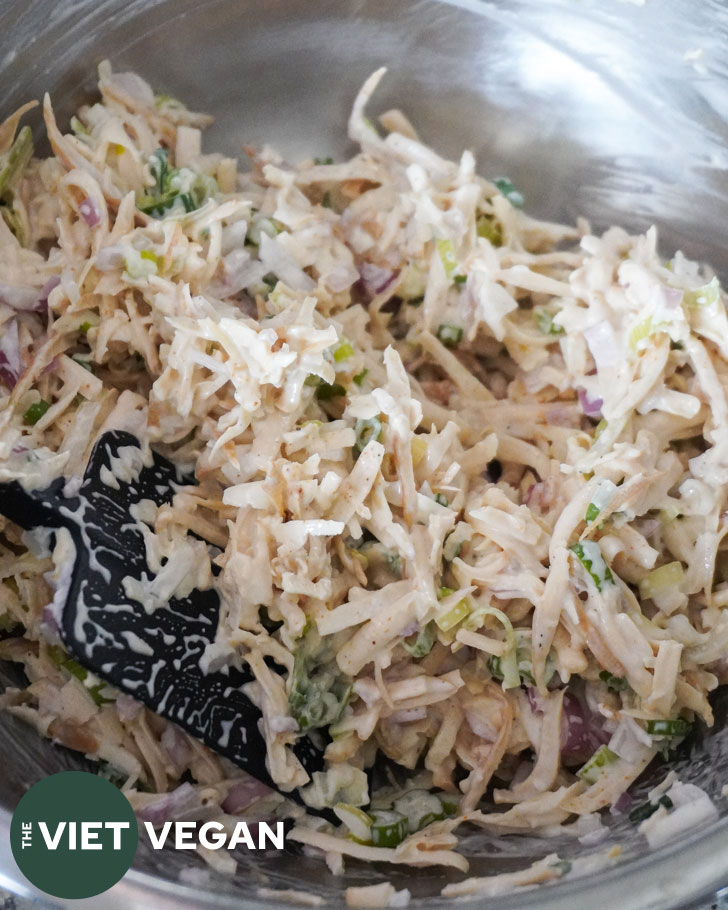 Vegan Tuna
Tuna is a big favourite in this house (both pre-vegan and post-vegan), so I have a lot of different versions of "tuna" on the blog. We have the chickpea tuna melt, tuna casserole, and this sushi bake.
One of my favourite ways to make a satisfying sandwich filling is using chickpeas or grated smoked tofu. Smoked tofu has the advantage of being ready in the fridge, whereas I only have dried beans these days, so chickpeas require about an hour in the instant pot prior to being sandwich-ified.
There are also various vegan tuna alternatives out there, my favourite currently is the OmniTuna (I'd link to their page but it seems they have deleted that product page). This would also be FANTASTIC in this sandwich.
But for accessibility and ease of use, we're using smoked tofu (or simply grated extra firm tofu if you can't find smoked tofu).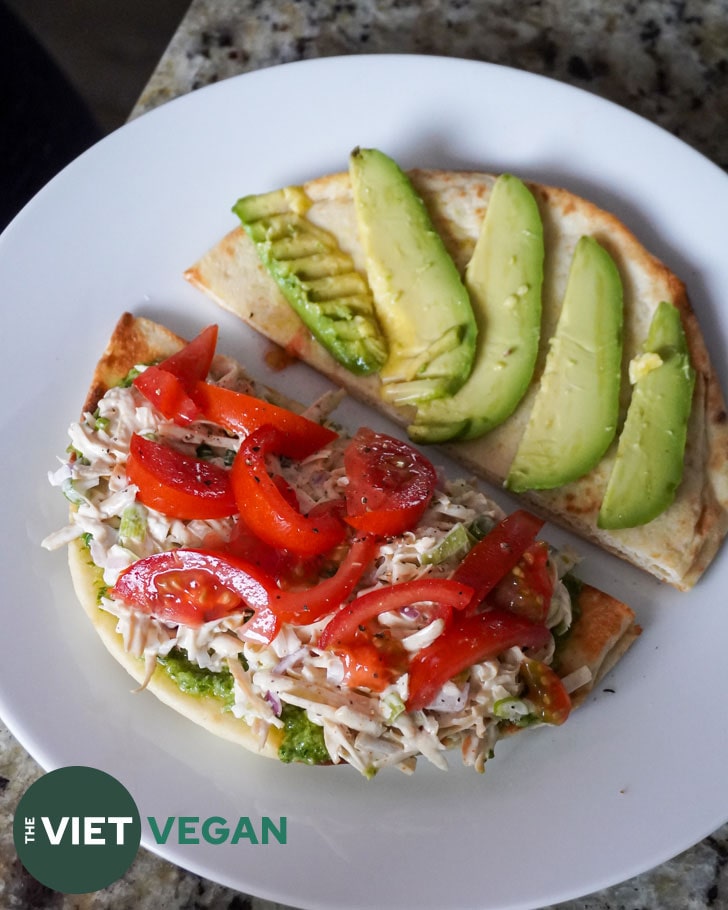 I use both shallots and scallion (green onion) for colour and flavour. It adds boldness to this tofu "tuna" filling to shine through the richness of the avocado. My pesto is extra lemony so it shines through all these ingredients to create a mouth-watering, bright sandwich.
Eddie isn't normally a fan of pesto, but he ate 4 out of the 6 sandwiches I made out of my latest batch of this vegan tunacado sandwich filling. The pesto really does make a huge impact on this sandwich, and even Eddie admitted he was into it.
We also ran out of pesto (fresh basil is hard to come by lately), so Eddie had more of this sandwich with just mustard and butter on the bread and said it was delicious. So even without anything else, the tofu "tuna" is just a solid sandwich filling.
Yield: 4-6
Vegan Tunacado Sandwich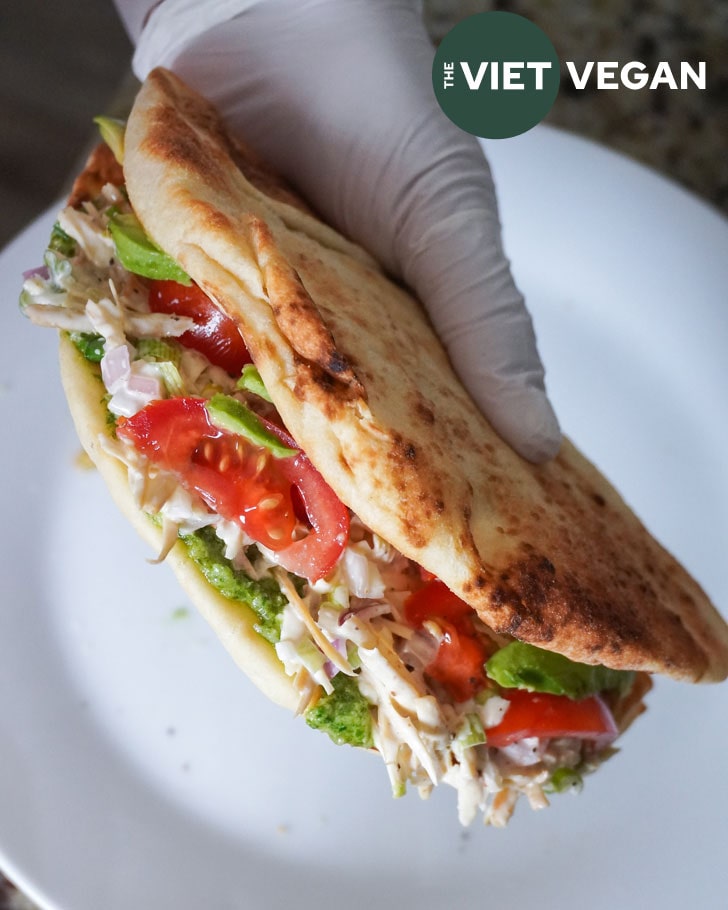 Based on the viral tunacado sandwich from Joe & The Juice, this is my take, but vegan!
Ingredients
For the pesto
1 heaping cup basil leaves
1/2 lemon, juiced
2 tbsp pumpkin seeds
1/4 cup olive oil (adjust to your preferred taste/texture)
40 g vegan parmesan (grated), about 1 cup finely grated
salt and pepper to taste
For the tofu "tuna"
1 block (180 g) smoked tofu, grated*
1/3 cup vegan mayo
1 medium shallot, finely diced
2 scallions, finely diced
1/2 lemon, juiced
1.5 tsp Dijon mustard
1/4 tsp black pepper
Optional: 1/2 tsp Old Bay seasoning
Per sandwich
1 piece naan bread, sliced in half
1 tbsp pesto
1/2 cup tofu "tuna"
1 small tomato, sliced
1/4 avocado, sliced
Salt and Pepper to taste
Instructions
For the pesto
In a food processor, combine basil leaves, lemon juice, pumpkin seeds, olive oil, grated vegan parmesan and blitz until finely pureed. Scrape down the sides as needed to fully blend. Add salt and pepper to taste if desired.
For the tofu "tuna"
Grate 1 block of smoked tofu, then combine with vegan mayo, diced shallots, diced scallions, lemon juice, Dijon mustard, black pepper and Old Bay seasoning (if using). Mix well and set aside. For best flavour, refrigerate for at least 30 min to allow the flavours to marinate.
To make the vegan tunacado sandwich
Slice the naan in half moons and toast until crisp (but not burnt). On one side, spread the pesto, then add the tofu "tuna", and top with sliced tomato. To the other side, add sliced avocado. Add salt and pepper to taste, close the sandwich and enjoy!
Notes
*If you don't have smoked tofu, feel free to use grated extra firm tofu. You can also use flaked chickpeas here!