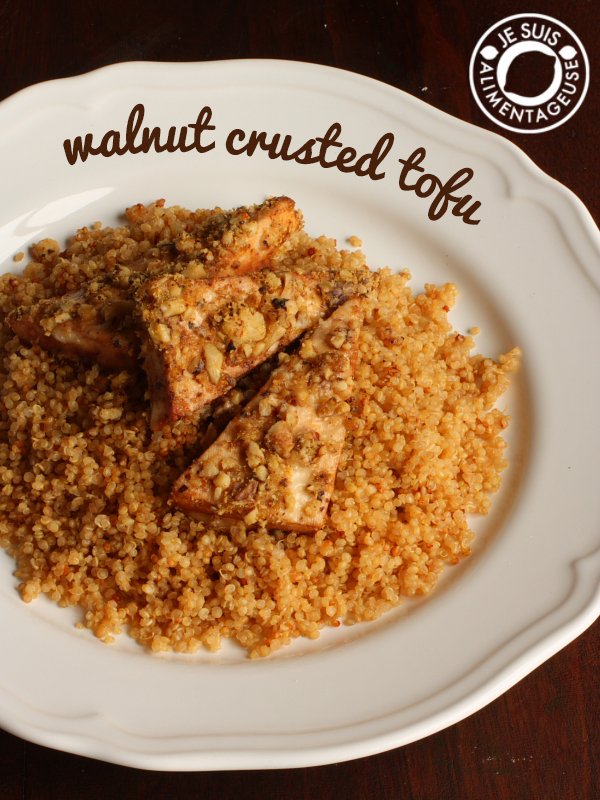 For anybody who is unsure about tofu, try this walnut crusted tofu. I love the texture of pressed tofu that's marinated, then baked until it has that almost sexy golden edge. It's soft, creamy texture is then contrasted with the toasted crunch of walnuts paired with the robust flavour of tamari is just… marvellous. Don't see tofu as a meat alternative here. Enjoy the tofu for what it is.
I know so many meat eaters who are skeptical about tofu.
"Why would I eat that when I can eat meat?"
"It tastes like nothing."
"It has a weird texture."
Hush now. First of all, meat doesn't taste like anything unless you marinate it or add flavour. Especially salt. Meat without salt… bleh. Even in my meat-eating days, eating sushi was great, but it needed that distinct salty soy sauce flavour to make it even better. Not a TON. Just a bit. To bring out the great flavours that the high quality fish had.
As for the texture, well, that's something that you'll have to get over. It's just like eating white tuna/butterfish…in a sense. The soft, buttery texture is creamy in your mouth, especially if you press all the excess tofu water from the packaging. When you marinate the pressed tofu, it just soaks up all the tamari like a sponge and it just transforms from bland tofu into something amazing.
It's still quite firm before you bake it, but as soon as you bake it, oh goodness. It's transformed into a soft, almost silky pillow with a crispy walnut crust. I'm pretty sure walnut crusted tofu is my favourite way to eat tofu now.
I made this with a bed of quinoa, but I ate the leftovers with plain steamed rice, Asian-style, and it was just as delicious, if not more because the tamari shone a bit more prominently on the rice. As it should. Stereotype me all you want, but I grew up having rice every day for dinner. I love rice.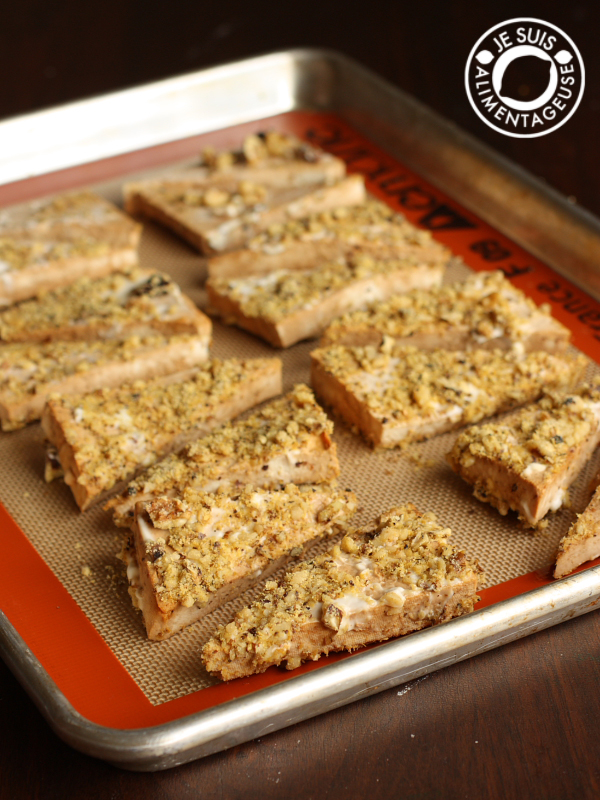 I'm also helping Lynne from 365 Days of Baking & More celebrate having over 365,000 Facebook followers. WHAAAAAT that's a ridiculous amount of people. That's more than 15 times the population of my hometown. And over 180,000 times the number of Facebook followers that I have (I'm sitting just under 2000 right now). So scroll down, check out all the other people who are celebrating with Lynne, and fill out the Rafflecopter to enter the contest! It's open to US and Canada so my fellow canucks get a chance to win =)
Hope those who are still in exam season are surviving! You're almost done!! I BELIEVE IN YOU.
Walnut Crusted Tofu
Total Time
1 hour
5 minutes
Ingredients
1 block extra firm tofu, drained and pressed* for at least 30 minutes, cut into triangles
1/4 cup tamari
2 tbsp vegan mayo (like vegannaise)
2 tbsp dijon mustard
2/3 cup walnuts
2 Tbsp nutritional yeast
1/2 tsp garlic powder
1/2 tsp onion powder
For the quinoa:
2/3 cups quinoa, rinsed and drained
1 tsp toasted sesame oil
1 tsp onion powder
1 cup water
2 tsp tamari
Instructions
Preheat oven to 350F.
To make the quinoa, combine the quinoa, toasted sesame oil, onion powder, water, and tamari in a pot. Cook, covered, over medium low heat for 20 minutes. Remove from heat and fluff with a fork. Set aside.
To make the tofu: marinate the tofu with tamari for 5 minutes, then flip on the other side for the tofu to soak up the remaining tamari sauce on the plate/platter.
Meanwhile in a food processor, blitz walnuts, nutritional yeast, garlic powder, and onion powder until the walnut pieces are fairly uniform. Careful not to overprocess or else it'll turn into nut butter. Transfer to a plate for dipping.
In a small bowl, combine dijon mustard and mayo. Spread a thin layer of the mixture on one side of the tofu to act as a glue, then dip into the walnut mixture. Spread mayo onto the other side then dip again. Spread out over a lined baking sheet and bake for 20 minutes, flip, then bake for another 15-20 minutes until golden.
Serve on a bed of the cooked quinoa =) Enjoy!
Notes
*To press the tofu, use a double layer of paper towel to soak up the water above and below the tofu. Press between two flat surfaces like cutting boards and place heavy objects like cans of beans or a cast iron skillet on top. Let drain for 30 minutes or more to encourage the tofu to soak up marinades better =)