Copycat Montana's Four Cheese Spinach Dip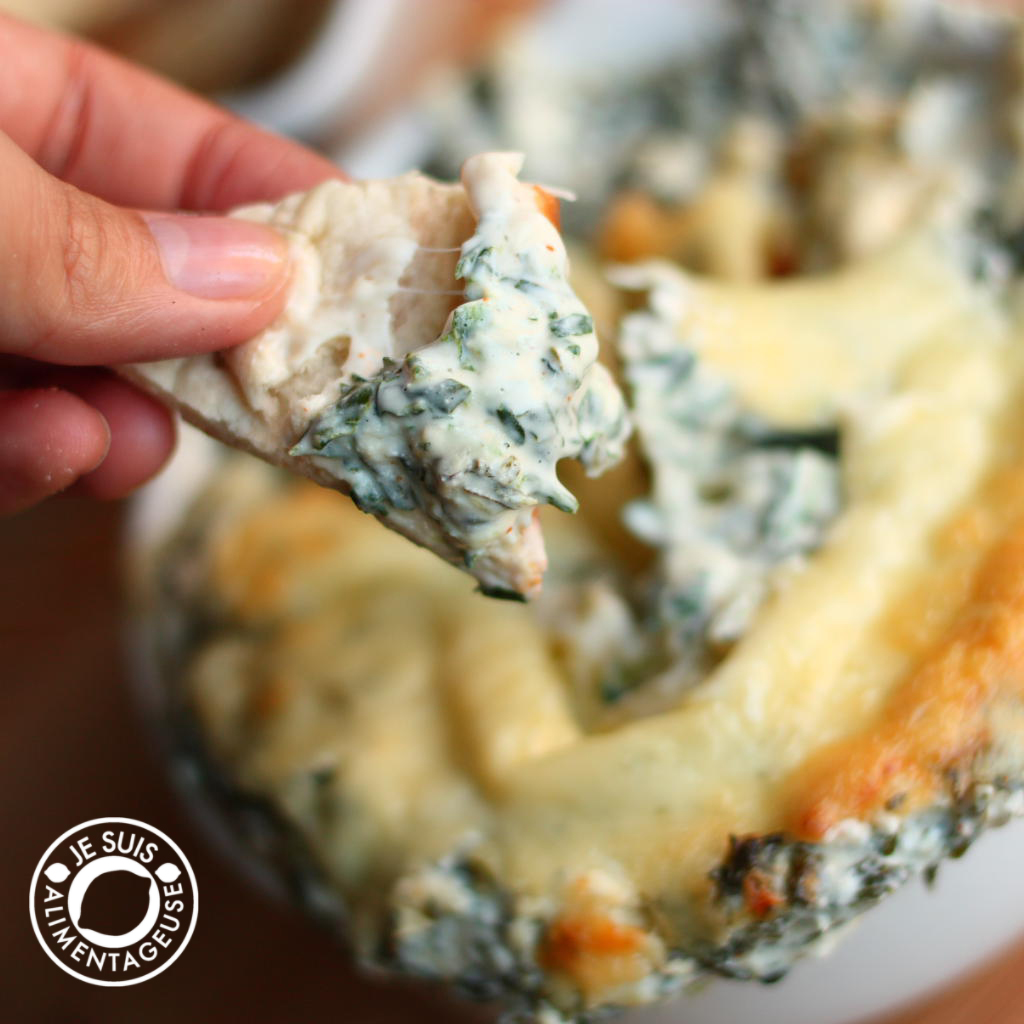 You know what I miss about Ottawa? Potlucks. People -love- potlucks in Ottawa. Or maybe that's just me. I love going to a low-key "party" where people bring food, share, and just talk. Food just lets the awkward ones (like me) munch on snacks while they think of something to say, or see someone to talk to. I love baking and cooking for other people because food always makes people so happy. 
Has anyone ever tried the spinach dip at Montana's? For my readers outside of Canada, Montana's is a family-style restaurant that specializes in "lodge fare", so steak, ribs, etc. I would always get their spinach dip and sweet potato fries and split it with Chris because a lot of their other things are not very veg-friendly to say the least. Their sweet potato fries are fantastic but their spinach dip? With the oven-baked pitas?
It's just phenomenal.
The right amount of spicy, cheesy, creamy, and spinach.
I spent ages and ages trying to perfect this recipe. I tried using certain ratios of milk, soft cheeses, cottage cheese, blending it, I had no idea how they got it that creamy! It kept turning out too thin, or green, or the spinach was too small so it was like puréed dip… I experimented with fresh vs. frozen spinach, I had no idea! I didn't even think of cream cheese until I actually though about the fact that cream cheese is well, creamy.
And then eureka. Cream cheese just made all the difference. With some extra cheese mixed it, you get the gooey, cheesy texture that is just amazing.
Spinach dip is meant to be shared. It's meant to be messy. And it's meant to be delicious.
To make this a little less fattening, try substituting in light cream cheese, skim milk, and light cheese. It wouldn't be as creamy but it'll still taste great.
Enjoy!
Inspired by Montana's Four Cheese Spinach Dip.
Spinach Dip
Inspired by Montana's Four Cheese Spinach dip, this dip is great for potlucks or as an after school snack!
15 minPrep Time
30 minCook Time
45 minTotal Time
Ingredients
1 block cream cheese (225 g), room temperature
1/4 cup milk
1 small onion, minced
1/2 block of frozen spinach, thawed and drained (about 1 cup once drained) You can also use about 1 cup chopped fresh spinach, but it'll turn your cream cheese green =P)
1/2 cup grated mozzarella cheese
1/4 tsp cayenne pepper (you can add more for a bit of a kick, I like to add about a tsp)
Optional: 1/2 tsp garlic powder, 1/2 tsp onion powder
Instructions
Preheat oven to 350F.
Cream together the cream cheese and milk
Add the cayenne pepper (garlic powder and onion powder if you want extra flavour) onion, spinach, and 1/4 cup mozzarella cheese.
Transfer to an oven-safe bowl and sprinkle remaining mozzarella cheese on top.
Bake in oven for about 30 minutes, or until the cheese on top has melted and started to brown
Serve immediately with pita, chips, or my personal favourite, baked flatbread.
http://thevietvegan.com/spinach-dip/