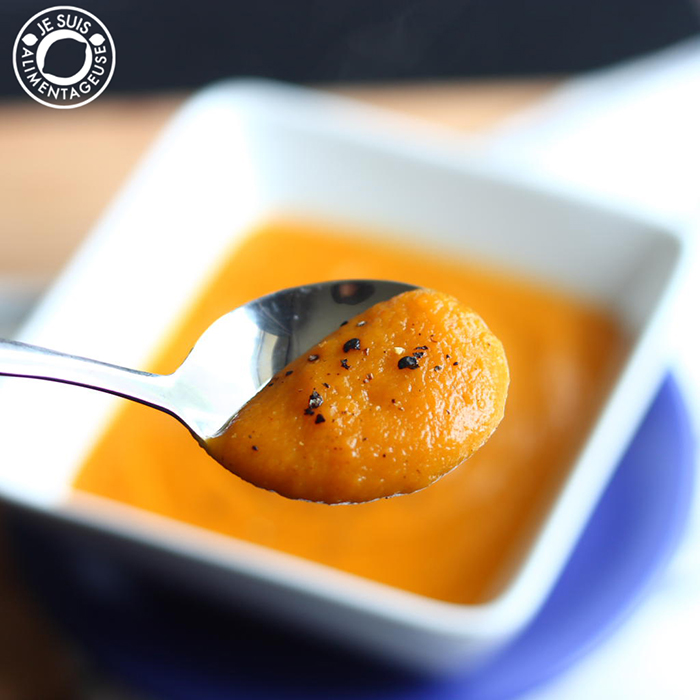 Let me preface this post with the following statement: IMMERSION BLENDERS ARE THE BEST. You can seriously make so many different things with them, and you don't have to worry about cleaning the inside of a blender. It's amazing. Want a slushie? Blenderize it in the cup you want to drink with this thing. Got soup you want to purée? No problem, just purée  in the pot. No need for blending in batches and worrying that the steam from the blender will kill you. Guacamole? Velvety smooth with this thing and you don't need to waste any delicious green goo because you can't get to it in the blender. But enough about blenders, more about this soup.
This soup is the epitome of fall: orange for the changing of the leaves; it's lovely and warm for the cool weather outside; this is the time of the year where butternut squash comes out to shine; and the spices and velvety texture in this soup just beckon for a cozy latte and blanket afterwards. AND it's super healthy because it's basically just carrots and butternut squash. Oh and vegan. OH NO. I just realized that I wanted to add some ginger to this. Drat.
These things happen.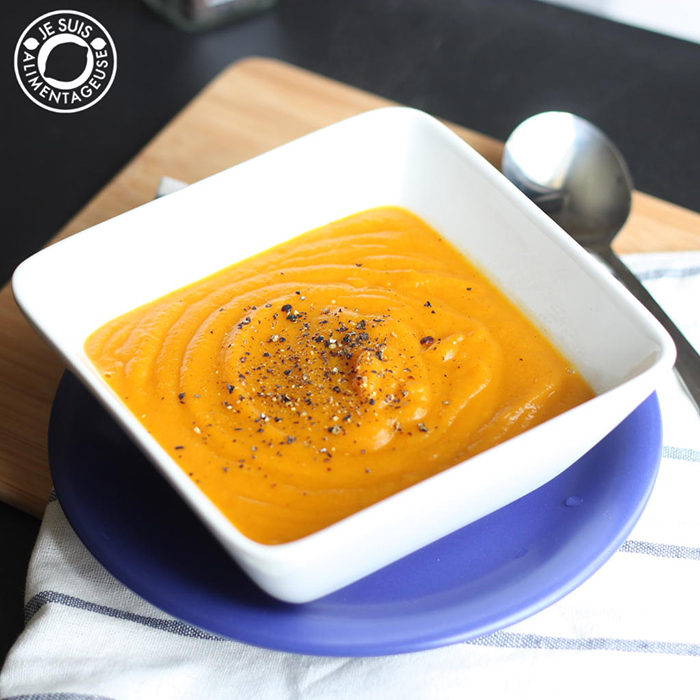 Anyway, soup.
Yield: 6-8 servings
Butternut Squash Carrot Soup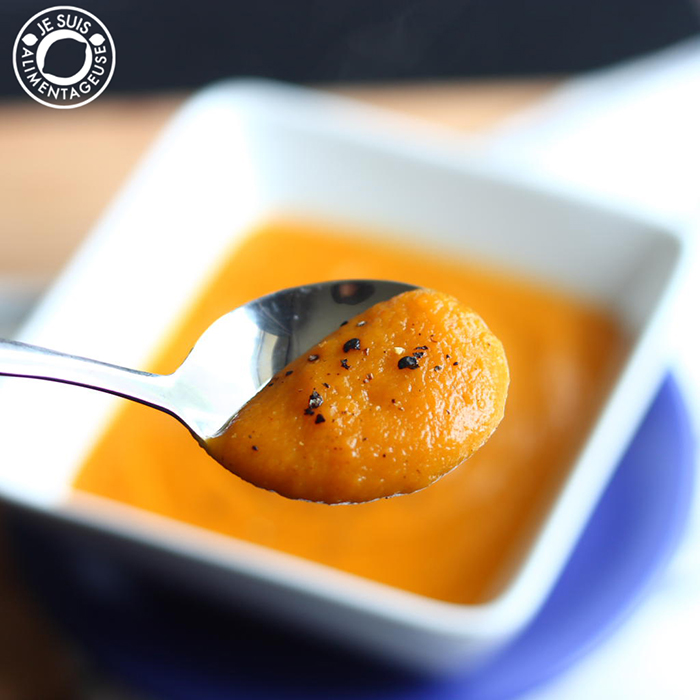 A spiced soup that warms you from the inside. Perfect for holiday dinners or to freeze for those lazy days you just want something quick.
Ingredients
1 medium sized onion, finely diced
2 cloves of garlic, minced
3 tbsp of oil (I used sunflower oil with a dash of sesame oil for flavour)
2 tbsp chili powder
1 tsp garam masala
a dash of allspice or cinnamon to just make it warm and toasty
2 tsp garlic powder
1/2 tsp cayenne powder
2 tbsp flour (cornstarch if you want it gluten-free)
6 cups of vegetable broth (or chicken if you prefer)
1/2 tsp salt (or to taste)
4 cups of butternut squash (1 small butternut squash, seeded, peeled, and cubed)
3 cups of carrots (I had leftover baby carrots from my latest potluck, so I used half a bag of those. I'd guess it'd be about 3 carrots, peeled and chopped)
Instructions
Preheat a pot on a stovetop at around medium heat.
Fry up the onions and garlic in the sunflower oil until translucent and fragrant.
Add the chili powder, garam masala, garlic powder, allspice/cinnamon and cayenne powder (basically all the spices you want) and stir until those are nice and fragrant.
Add the flour to make a roux, mix until incorporated, then add the vegetable broth.
Bring up to high heat to a boil, then add the squash and carrot cubes.
Simmer over medium heat for about 10 minutes, then bring it down to a medium low for another 20 minutes.
Poke the bigger pieces of squash and carrot with a fork to see if they're tender. If you can pierce through very easily, then you're ready to blenderize.
Blend either in your blender or with an immersion blender until velvety smooth.Add salt to taste.
I think I'll freeze a couple containers of this for those cold nights where I don't feel like cooking. I'm sure these would defrost well =)
Enjoy!