Don't get me wrong, I love rice. I love white rice like any good Asian, but rice isn't necessarily the best thing for you when you're trying to have a more balanced diet. I grew up eating rice every day. Rice with stir fried veggies. Rice with soup. Rice with marinated proteins. Rice with blanched greens. Rice turned into noodles. Rice turned into flour to turn into steamed buns. Despite how starchy and carb-heavy rice is, I'm very surprised that Vietnamese people aren't more plump because we bloody love rice.
I remember once as a kid, my mom teaching me how to value every grain of rice. To be thankful for the food we have and not to waste it because we are very lucky to have food in abundance at all, let alone enough to waste. It's very true. I forget what my family had to go through to live here. Escaping Vietnam under communist reign, living in the unfathomable conditions of refugee camps, making the arduous journey to come to Canada back in the day. My family came here with nothing and built a life here so that they could feed a family all the rice they could afford.
Whenever I crave comfort food, I find myself leaning towards rice-based dishes. Clumps of steamed rice accompanied with veggies galore or rice noodles swimming in a clear, flavourful, pho broth. I love visiting my family, sitting down for dinner and feeling united. Each of us with a small bowl of rice in our hand as we dish and dole out the various dishes in the centre. I am lucky to have grown up in a home where my family cooks, eats together, and can laugh and share over bowls of rice.

Don't get me wrong, rice will always have a special place in my heart, but cauliflower rice is super delicious. I was surprised I liked it so much. A light, fluffy alternative to rice that packs more nutrition, fewer carbohydrates, and texture. Oh the texture! It can be soft and pillowy like rice, or firm with a subtle crunch like barley or farro. It all depends on how long you cook it. You can use it like you would use couscous as well. Again, less carb-heavy than couscous, and just as light and fluffy in texture!
The instructions for preparing the cauliflower rice are below, but if you want the stir-fried rice recipe, visit Produce Made Simple. It's a super versatile recipe, in which you can swap out any of the veggies for your favourites. Use frozen peas, carrots, green beans—add broccoli or cabbage. Add your favourite proteins: tempeh, edamame, chickpeas, whichever you like. I love classic tofu and peas, but you can be as creative as you like.
Cauliflower fried rice is another recipe I developed for Produce Made Simple. It's a project from the Ontario Produce Marketing Association that aims to educate people on all things produce. There are selection and storage tips, cooking methods, flavour profiles, nutrition info, and more. Anytime I need to know how to cook something like artichokes, I check out the website because it's alllll there.
Disclaimer: I developed this recipe to complement the recipe I did for Produce Made Simple. All opinions are my own, I just love working for companies that love fruits and veggies as much as I do =) Thanks for reading and supporting TVV so that I can continue making recipes like these for you folks!
Yield: 8
TCauliflower Rice/Cauliflower Couscous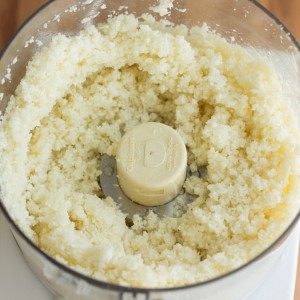 Instructions
Remove the cauliflower florets from the middle stem. Cut away the tougher parts stem as they won't break up and be as tender to be the rice.
Use a box grater or a food processor to break up the florets into small pieces, slightly smaller than rice. Serve raw like in a grain salad, or cook like rice by sautéing in a little bit of oil and soy sauce or salt, or add taco seasoning to stuff burritos and tacos.