Lemongrass Tofu Vermicelli Bowl (Bún Đậu Hũ Sả) is one of my favourite meals to enjoy in the summer or when I'm craving something refreshing yet satisfying!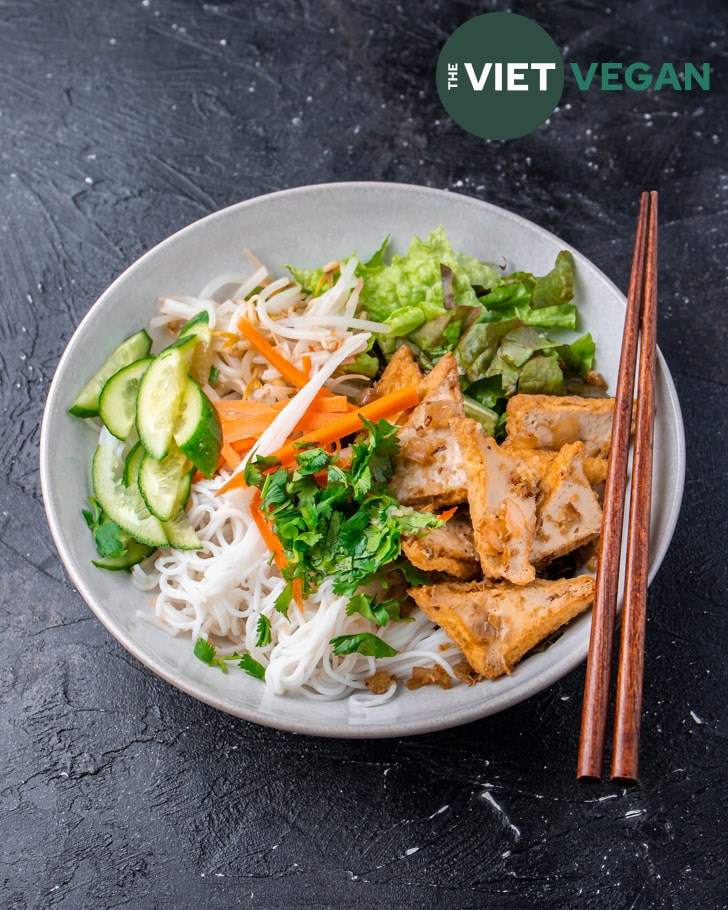 Vermicelli noodle bowls are a staple for a delicious, savoury bowl! Bún has tons of refreshing ingredients, meaty textures, and lots of flavour!
There are many different traditional renditions of bún: grilled pork, lemongrass chicken, nem nướng (seasoned sausage), and more, but one of the classic vegetarian offerings is lemongrass tofu. These bowls are often topped with herbs, veggies like cucumber, lettuce, mung bean sprouts, pickled carrots and daikon, and doused in a bowl of fish sauce.
I'm working on veganizing the nem nướng to make these bowls, but I have a version of the "grilled pork" using soy curls. I season that the same way you'd season grilled pork. I served that recipe with bánh hỏi in lettuce wraps, but you can easily swap that as the protein for this vermicelli noodle bowl!
Whenever I order this lemongrass tofu vermicelli bowl in restaurants, I always try to get the fried spring rolls on top too. When I make this at home, I don't always want to go through the effort of frying up spring rolls. So, getting them at the restaurant is a treat! But if you'd like to go full steam and make them yourself, my recipe for chả giò chay is excellent ;)
Yield: 4 servings
Lemongrass Tofu Vermicelli Bowl (Bún Đậu Hũ Sả)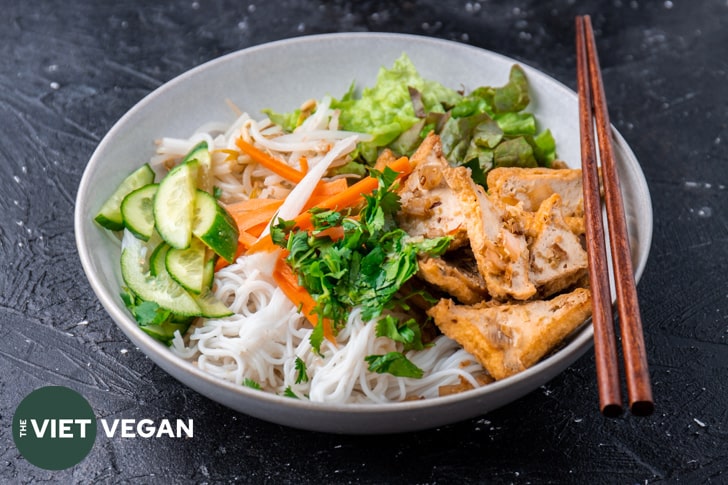 This lemongrass tofu vermicelli noodle bowl is the perfect noodle salad that is equally refreshing as it is satisfying! Feel free to add as many veggies as you like, or load it up with tons of lemongrass tofu.
Ingredients
Rice noodles (bun tuoi), 1 package (375 g)
2-3 cups mung bean sprouts
4 cups chopped green or red leaf lettuce
1/2 English cucumber, julienned or cut into half moons
1/2 cup cilantro, diced
Instructions
Add the noodles to a large pot of boiling water and stir to cook. The noodles cook fairly quickly and only take about 5-6 minutes, depending on how high you've got the heat. I usually take a noodle and taste to check, you want them to be tender and chewy, and they'll absorb the sauce better! Overcooked noodles will break and will make for a watery vermicelli bowl.
Once the noodles are cooked, drain immediately in a colander, and rinse with cold water.
Add back to the pot and submerge in cold water to further halt the cooking process. Then grab small portions to drain in the colander. I generally lay them out in a criss-cross pattern so that once the noodles are drained, they are easier to separate. Otherwise you'll have one MASSIVE noodle clump that you have to break apart to eat. Cover with a plate and let drain for about 30 minutes while you prepare the rest of the noodle bowl.
Prepare the mung bean sprouts by either steaming or blanching. I prefer the texture of them blanched, so I add them to a pot of boiling water for about 3 minutes until they're softened, then drain. You can steam for about 5 minutes, or just eat these fresh.
To assemble, for each noodle bowl, layer 1 cup of lettuce, 1 + 1/2 cups rice noodles, 1/3 cup mung bean sprouts, lemongrass tofu, cucumber, pickled carrots and daikon, cilantro, and top with about 1/4 cup of nước chấm chay. Enjoy immediately!