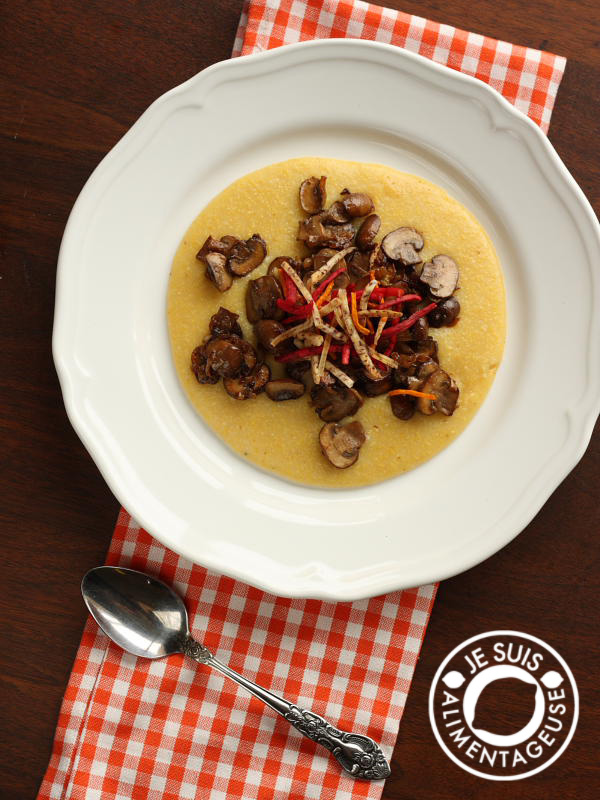 The first time I had ever had polenta (not delicious, hot, polenta with caramelized mushrooms, but more of a random slice of it) was at an event in Ottawa called Dinner in the Dark. You have dinner blindfolded, which simulates being blind, to experience food like someone who is blind or is visually impaired. It's a really unique experience, and you discover new foods in such an interesting way. Using one hand to orient yourself on your plate, and the other hand holds the utensil, you guide your food onto your fork so that you don't just end up eating random food on your plate. If I remember correctly, the entrée was vegetarian lasagna with polenta and greens on the side. I remember feeling the lasagna, which was okay and familiar,  the greens, also familiar, and then this cold, semi-solid thing, which was totally new and disconcerting to me.
I took a bite, and it was tasty enough for me to eat because I was just so hungry, but it had a cold, almost grainy texture to it, and it just mostly tasted like cold corn. My Italian friend, Joey, just wasn't having it. He said it was gross and mentioned how it's common in Italy because it's so cheap to make. Ever since that polenta experience, I had never really considered buying those weird sausage-like tubes of polenta at the grocery store.
However, while perusing foodgawker for inspiration, I saw this really interesting polenta recipe that used up some excess cornmeal (which is currently abundant in my pantry). SIDEBAR: If any of you follow my bread pinterest board, you'll notice a huge trend in cornbread (coming to JSA soon =P) because of this abundance of cornmeal.
Back to the featured presentation: Polenta with caramelized mushrooms sounded absolutely amazing to me. Creamy polenta with savoury mushrooms and onions? Get in my belly, now.
The only issue with that, is the texture.
Polenta is pretty one-dimensional in terms of texture. Mushrooms have a slightly different texture, but it's not that much different. Still soft and kinda mushy. So I decided I needed something crunchy to add to my polenta to give it more dimension, texture, and fun. I thought, should I make potato chips? Naw, that's too much effort, plus I don't really want crumbled Lays on my polenta. Too many sharp edges. But I remembered these TERRA Stix that are kind of like healthy hickory sticks, except more delicious. I powerwalked to the grocery store and found a bag (on sale! yay!) and the colourful chips (taro and sweet potato sticks coloured with beetroot juice) were exactly what this recipe needed.
It added a bit of colour, crunch, and salt to this creamy polenta recipe.
Disclaimer: This post is not sponsored by TERRA Stix at all, they're just one of my favourite brand of chips and they are just so perfect for this recipe!
And on an unrelated sidenote: I hope all of my fellow Torontonians are staying safe from the heavy rainfall and haven't suffered too much damage or grief from the flooding and power outages! Stock up on food that you can prepare and eat without any power! My favourites are pickles, sandwiches, guacamole, caprese salad (or any salad really), veggies, and crackers with almond butter, but not in that order nor combination! Stay dry and safe, Toronto! Make sure you have stocked up clean water too!
Yield: 4 servings
Polenta with Caramelized Mushrooms
The TERRA Stix are optional (although highly recommended), but if you want something crunchy but can't find the TERRA Stix anywhere, fried chow mein noodles, crushed up potato chips, or even hickory sticks would be viable crunchy alternatives.
Ingredients
- 1 cup polenta/corn meal (medium to coarse grind is fine, fine grind will cook faster)
- 4 cups water
- 1 tbsp mushroom broth granules (or other type of broth granules, although, you can replace the water with broth)
- 1 cup almond milk (or other milk alternative)
- 1 tsp garlic powder
- 1 tbsp toasted sesame oil
- 1 tbsp olive oil (or butter)
- (CARAMELIZED MUSHROOMS)
- 1 medium yellow onion, sliced
- 1 tbsp olive oil
- 2 cloves garlic, minced
- 2 cups sliced cremini mushrooms (one of the 227g/1 pint boxes, but that was only sufficient for two servings, double the amount of mushrooms for 4 servings and/or if you love mushrooms as much as I do)
- 1 tsp mushroom broth granules (or you can use a combination of approx. 1/2 tsp salt, 1 tbsp balsamic vinegar, and 1 tsp sugar sugar to caramelize the mushrooms)
- Optional but highly recommended garnish: a handful of veggie chips (I used TERRA Stix because they are the best thing ever)
Instructions
In a large pot, combine the polenta, garlic powder, sesame oil, water and mushroom broth (or other broth) over medium heat. Once boiling, bring down to a simmer, and gradually add the almond milk (1/4 cup at a time every 5 minutes or so). Stir occasionally to keep the bottom from burning.
After about 20-25 minutes of simmering, start to caramelize the onions.
In a shallow pan or pot, combine the onion, garlic, and olive oil, and cook over medium heat until fragrant and the onions are starting to be translucent.
Add the mushrooms and mushroom broth granules (or the salt, balsamic vinegar and sugar) and cook over medium low heat until the mushrooms have caramelized and onions have cooked down. This may take about 10 minutes with occasional stirring.
Continue to cook and stir the polenta until it starts to thicken and when you give it a taste, it is no longer gritty. By now, you should have incorporated all of the almond milk and the polenta should be fairly thick. It should have the texture of thick oatmeal, and will start to pull away from the sides of the pot.
To serve, place the mushrooms on a bed of polenta and garnish with veggie chips (TERRA Stix) for added texture.
Notes
The polenta is best served hot and immediately, because it will start to set as soon as you spoon it onto a plate (it'll stop from being smooth and creamy to being kind of creamy yet solidified).
If you have leftovers, store the polenta in an airtight container in the fridge. It'll solidify and you can cut them into blocks to grill or panfry. Delicious!