I actually made these soba noodles with sesame tahini sauce last week, but it is so unbelievably hot in Toronto, I need to make it again right meow. I was told to prepare for the city heat wave, but holy I was not prepared for this. Today it is 31 C, and it is 42 C with the humidex. I'm not fortunate enough to live in a well ventilated and A/C'd apartment, but luckily I have an A/C unit that tries so hard to keep my apartment cool. It only brings down the inside temperature by a few degrees (right now it reads as 30 C in the apartment and it's on blast and aiming for 24 C). I give it an A for effort.
But now is not the time to turn on the oven. Now is the time for these beautiful soba noodles with sesame tahini sauce. I barely want to turn on the stove, but the only things I have in my fridge are eggs, green onions, and carrots. In my freezer I've got edamame beans and peas. All these things require cooking. Well maybe not carrots. But I'm allergic to carrots when they're raw so nuts to that.
The sesame tahini sauce kind of has a sweet and savoury component to it. The sugar extends the flavour of the tahini (yes I realize that calling the sauce sesame tahini sauce is redundant, but not everyone knows that tahini is sesame seed paste). And besides, Legolas means Greenleaf in Elvish, so his name is actually Greenleaf Greenleaf. Redundancy can sometimes be good. Right?
Anyway, the sauce is sweet and gingery, but complemented by the umami flavour of the tahini and saltiness of the soy sauce. All of these flavours marinate into the noodles and if left overnight, all the flavours marry together and you get a delicious, cold salad that is great for miserable days like this today.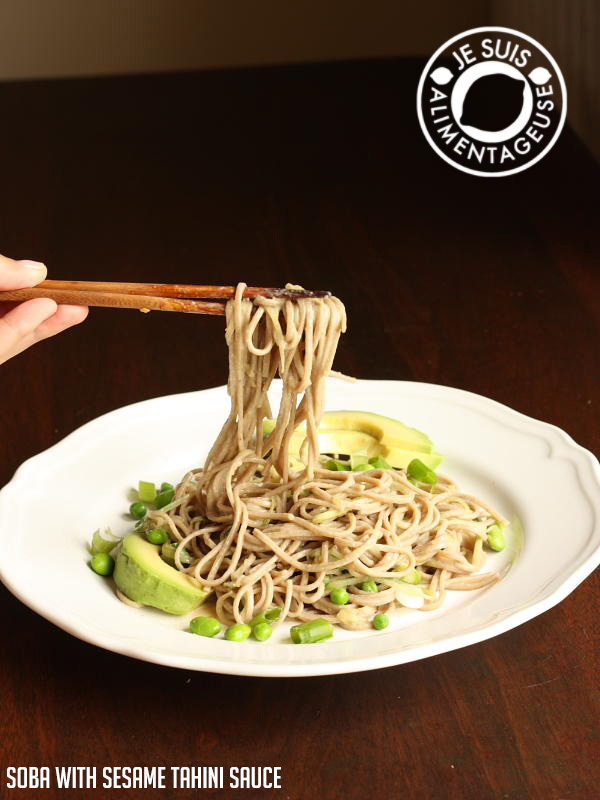 But if you didn't make this in preparation for a hot day, have no fear. It is still delicious fresh. Top it with beautiful greens, maybe even zucchini and cucumber spiralized noodles and a couple slices of avocado, and you have a wonderful summer dish. And if you are feeling adventurous, you could even top it with a fried egg. But it's up to you.
And the awesome part of this dish is that it's packed full of iron and protein. Iron from the sesame seed paste, and protein from the edamame beans with the buckwheat. What's not to love about these soba noodles?
What do you do to stay cool? What are your favourite summer dishes that are good for hot days?
Oh, and check out my Summer Recipe Roundup for days like this =)
Yield: 4 servings or 6-8 side servings
Soba with Sesame Tahini Sauce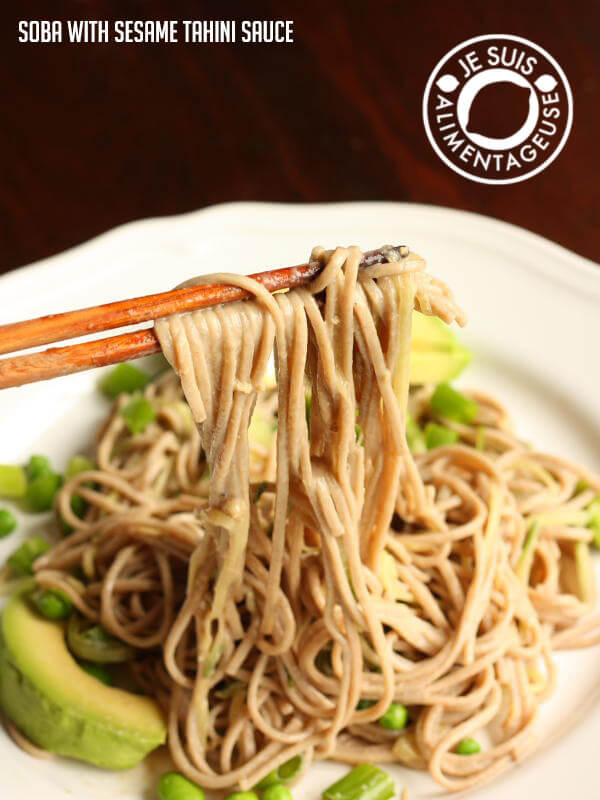 [Recipe adapted from Eat Live Run|http://www.eatliverun.com/quick-sesame-soba-noodles/]
Ingredients
- FOR THE SAUCE:
- 1/3 cup hot water
- 2 tbsp sugar
- 1/4 cup tahini
- 2 tbsp grapeseed oil
- 1/2 tsp dried red pepper flakes
- 2 tbsp rice vinegar
- 1/4 cup soy sauce (I used Golden Mountain brand)
- 1 cube (1 in x 1 in) of ginger, grated
- TO ASSEMBLE THE NOODLE SALAD
- 4 servings of soba noodles* (I estimated about 3/4 inch diameter circle per serving)
- at least 1/2 cup of the tahini sauce above (I used all, but there was excess sauce at the bottom of the bowl. However, the sauce gets soaked up when you let the noodles chill in the fridge and it becomes suuuuuper delicious)
- 2 sprigs green onions, chopped
- 1 cup edamame beans (frozen then boiled. I didn't have a full cup worth, so I added some sweet peas as well)
- 1/2 of one cucumber, julienned into long noodles
- avocado, sliced
Instructions
Dissolve the sugar and water together (either in a microwave or over the stove). Once dissolved, whisk in tahini, grapeseed oil, red pepper flakes, rice vinegar, soy sauce and grated ginger until smooth, and thick. You make want to add more water if you want the sauce to be thinner.
Cook the soba noodles according to the package. Drain and rinse noodles under cold water. Transfer to a large mixing bowl.
Add the tahini sauce, cucumber noodles, green onions, and edamame beans and mix well until coated in the sauce.
Serve with avocado slices. Best served chilled, but it's good hot as well.
Store in an airtight container in the fridge. Keeps well for 2-3 days, but I wouldn't recommend letting it sit in the fridge much longer.
Notes
*If you want to make this dish gluten-free, make sure that you use 100% buckwheat soba noodles (check the package for gluten-free because it may also be prepared in a facility that handles wheat or products with gluten)