Savoury breakfast are the superior breakfast!
Make this vegan everything bagel granola for a tasty twist on your morning fave.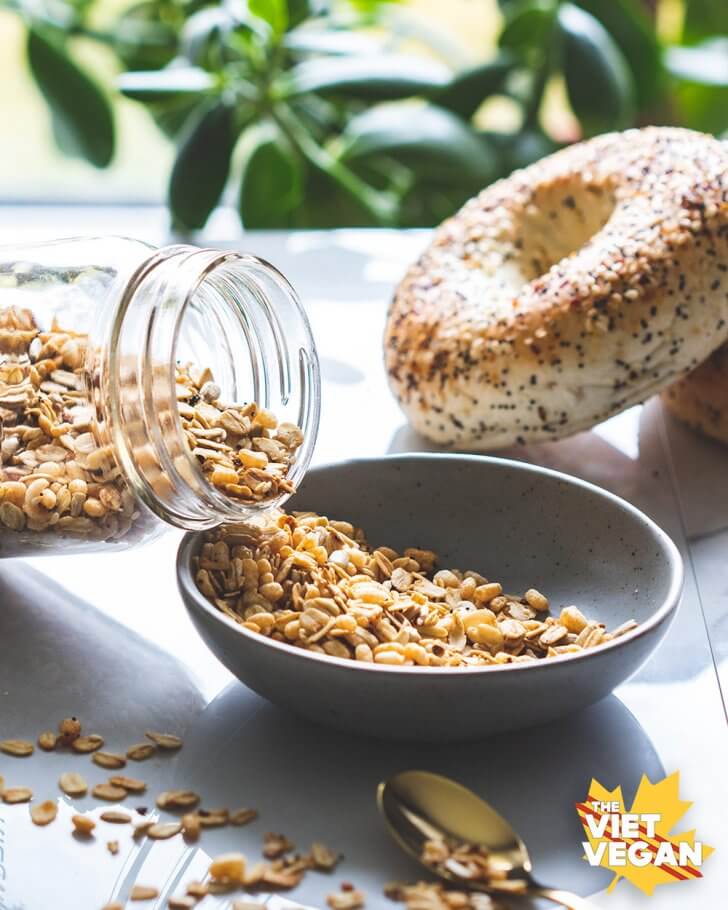 So we've moved and settled into our first home! This whole home buying, moving, unpacking, and settling process has been quite the journey, but it's probably the first time I ever really cared about how my house looks or flows. Eddie and I have been going to Home Depot, IKEA, and HomeSense on every single day he has off (much to his chagrin), but the hustle we've had moving in has paid off to having our main floor pretty much done, our basement is friendship-ready, the only things left to handle are some last shelves to go up in the kitchen and my office!
I've been turning my office into my walk-in closet as well, except I don't have that many clothes and the dresser I bought has smaller drawers than I expected, so I'm still sort of living out of a suitcase, but not really.
I have an excessive amount of not-my-favourite bras and bathing suits that I'm not really sure where to put, but I will eventually find some sort of basket or box to put them in so they're not just spilling out of my suitcase on the floor behind me as I write this.
We've had to make some adjustments to how we cook and eat because of all the upfront costs of furnishing your home: the fees that pop up here and there, and the spontaneous purchases of different house plants (that are ABSOLUTELY necessary…), etc. We've been trying to be more frugal and essentially just waste less food. I'm trying to eat all the food we have before we buy more, and I'm sort of reverting back to the way I used to shop, which was buy only the food I needed to make the meal I wanted today.
Because with my history, I know that when I buy things I plan on making tomorrow, or in the vague future, other stuff pops up and then food gets wasted because it goes off or I procrastinate cooking it for a while.
I'm working on it okay? The first step is being honest with myself XD
One of the things I have been liking lately are the various breakfasts I've been trying out. I've been making cheesy steel cut oats, savoury soups, and having simple toasts for breakfast. Using up more pantry items that I've hoarded because there's something about moving 20 boxes of food, appliances, and dishware that makes you acutely aware that you need to re-evaluate how you buy food vs how you actually eat it. I've been chipping away at the stash of noodles and pasta I've accumulated, and I have a Costco-sized bag of steel cut oats that I'm working slowly, but surely through.
As much as I love oats, they are hecking satiating, so you don't need to eat a lot to be satisfied. Which is GREAT as a breakfast, not great for someone who's trying to eat through a huge bag.
I also discovered that I had hidden bags of regular rolled oats here and there, and while I'm eating these steel cut oats, I needed a way to eat these rolled oats that didn't include oatmeal. Luckily, my friend Justin suggested we do a hike and that I should bring some sort of snack. Et voilà, an excuse to use up some oats! I have made a carrot cake granola and a peach pecan granola before, but I wanted a savoury version to try out. Lately I've been seeing Everything Bagel spice everywhere and hey, if this is the spice that takes over pumpkin spice, I am definitely not mad about it.
I wanted a subtly savoury but not absolutely bizarre everything bagel granola, so the saltiness comes from the melted vegan butter, but it still has a bit of a smoky sweetness to marry the granola with yogurt, because let's be real, plain yogurt tastes better with a touch of sweetness.
Puffed rice adds a bit of volume and extra crunch to this to keep it interesting, and adding this to vegan yogurt seriously just makes it taste like everything bagel in yogurt form. It's really good and surprising. I've been loving it so far! The only thing I don't love is that it's more like confetti-style granola, instead of a nice chunky granola, but I didn't want to add flax egg or apple sauce to bind stuff together. Plus I was conscious that baking the garlic and onion too long might make it bitter, so confetti-style granola it is.
I now have two jars of this left to eat so I need to get more plain vegan yogurt, but again, definitely not mad about it! I was tempted to give a jar to my neighbours but I thought that maybe a savoury granola was a little too avant-garde for a first impression. Maybe I'll just make some apple cinnamon scones or cookies instead.
Yield: 7 cups of granola (about 3 and a half pint-sized mason jars)
Vegan Everything Bagel Granola
Ingredients
4 cup (385 g) rolled oats
3 tbsp (28 g) poppy seeds
2 tbsp (13 g) dehydrated onion flakes
2 tbsp (21 g) dehydrated minced garlic
1/2 cup (75 g) raw, hulled sunflower seeds
1/4 cup (35 g) raw sesame seeds
2 cups (80 g) puffed rice cereal
1/4 cup (52) vegan butter, melted
2 tbsp (30 mL) maple syrup
Instructions
In a large bowl, combine rolled oats, poppy seeds, dehydrated onion and garlic, sunflower seeds, sesame seeds, and puffed rice cereal.
Drizzle melted vegan butter and maple syrup and stir to coat
On a thick baking sheet (ideally with a lip), spread out the mixture and bake for 30 min at 350F (180C), stirring and flipping the mixture halfway through baking.
Once baked, let cool completely on a wire rack, stirring just to let the heat release and so the bottom layer doesn't keep cooking.
Transfer to an airtight container and enjoy with yogurt, soy milk, or over chia seed pudding!
Notes
Use a gluten-free puffed rice cereal and gluten-free certfied oats to make sure this is GF friendly!