Disclaimer: This recipe for Vegan Pear Fennel Seitan Sausages is sponsored by California Pears!
If you haven't noticed by now, I really love fruits and veg,
so naturally it's amazing that I can work with amazing growers to promote what I love!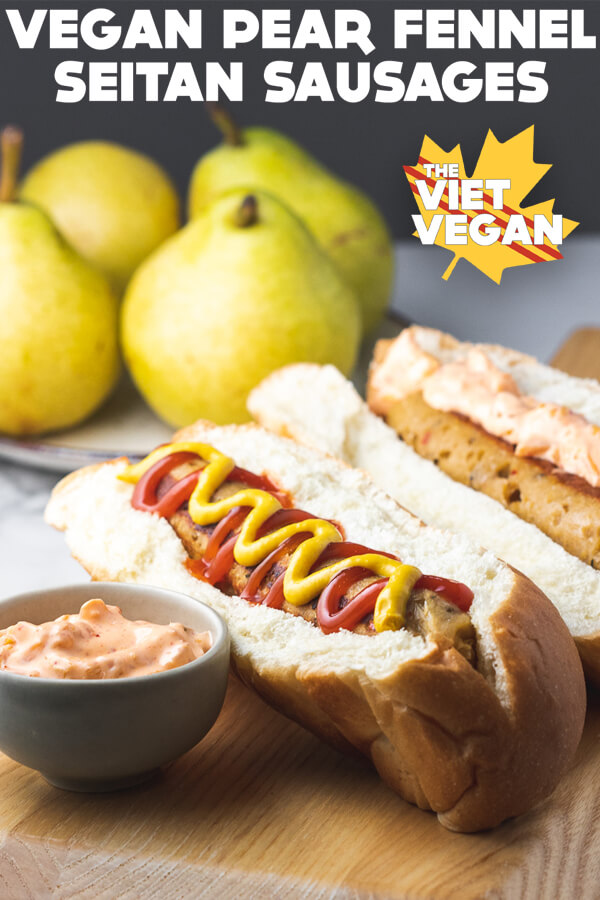 Summertime always means there's a lot of grilling and BBQs to go to, and often as vegans it's pretty hard to participate. With people fawning over grain-fed, organic, gourmet sausages, hand-formed beef burgers, or classic hot dogs for the kids, it's hard to feel comfortable surrounded by it all. Not only for the fact that they're eating animals, but also because even though you don't want to eat the meat, you want to participate and be included in the social aspect of it. So naturally I'm so excited to share with you these vegan pear fennel seitan sausages so you can be a part of the fun too.
This time of year I notice a lot more posts either on the vegan Facebook groups or in the YouTube comment section of people asking for more vegan BBQ things. I actually have a lot of BBQ friendly recipes (like coleslaw, this bean and grain salad, grilled portobello mushroom burgers, or even this Peach BBQ Tofu), but I haven't made a sausage recipe yet. A lot of you have been asking for one, so I'm really glad that California Pears gave me the opportunity to make some for you guys.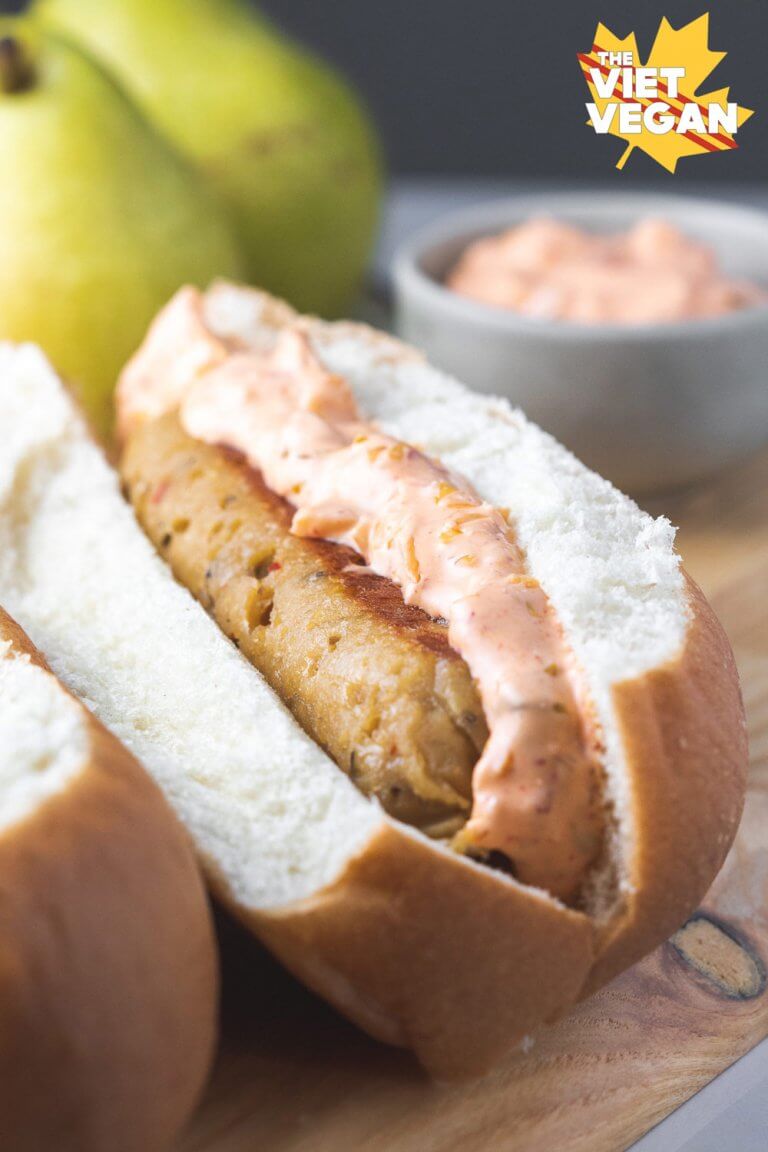 Some might think that pears in sausage is an odd choice, but these Bartlett pears add a very mellow sweetness to the sausage, while also adding some fibre, moisture, and structure to the seitan. It's not an overpowering pear flavour, it's simply enhancing the savoury juiciness of these seitan sausages. Like when I experimented with my last seitan recipe, I did not expect the sausages to be as easy and as good. They are much less complicated than my seitan, but they are super tender and meaty.
Top these sausages with your favourite fixin's, be it fresh onion, relish, mustard, or even some sauerkraut, or my recent obsession: kimchi mayo. I've been taking kimchi and finely dicing it and mixing with an equal amount of vegan mayo until you get this creamy, tangy, spicy goodness to slather on these pear fennel seitan sausages.
I've been putting it on anything I can lately: burgers, sandwiches, french fries, even my sushi bowls. It's been a tasty time, although some of the kimchi is getting a little over-fermented so I'll have to start cooking with it soon.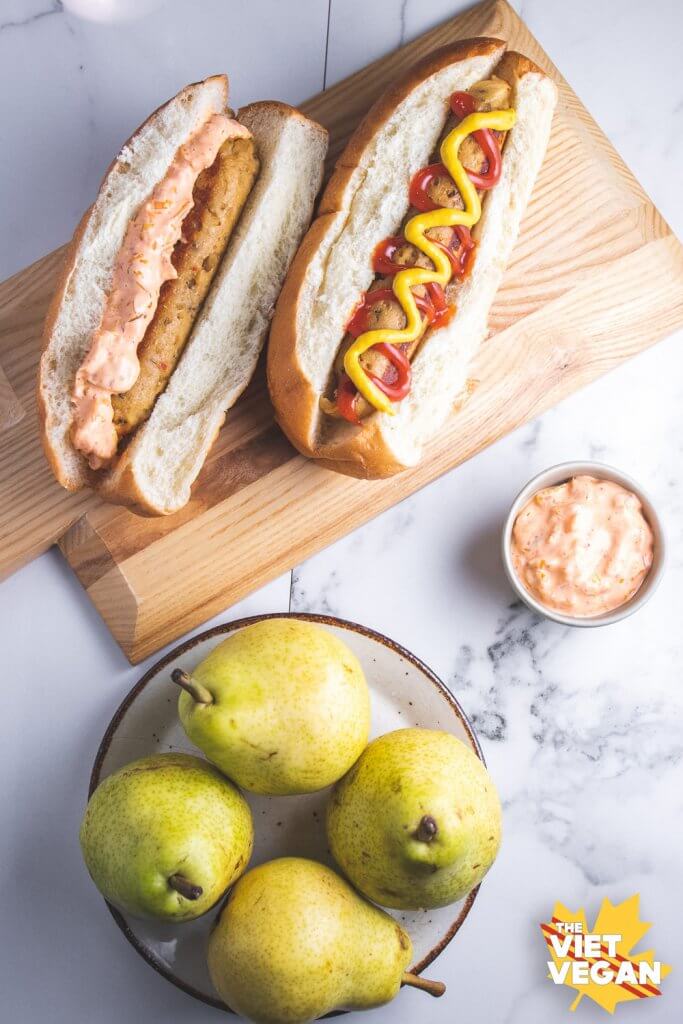 I'm getting back into the swing of recipe developing again and taking advantage of all the summer fresh produce. Fresh, in-season California pears have been some of my favourites, especially since I've been stocking up on them while recipe testing and having a little snack on the extra pear I've had afterwards. It also feels pretty good to support the some-odd 60 small family farms that make up the California pear growers.
They tell us that we need to support our farmers, but honestly, you don't know the half of it. It's hard enough growing the fruit, but dealing with the business side of being a grower on top of unpredictable weather—it's so hard to make it in the farming world. Take this year for example, since this summer has been so rainy, the pear season has been delayed a bit. Not just in California, it's even like that here in Canada as well.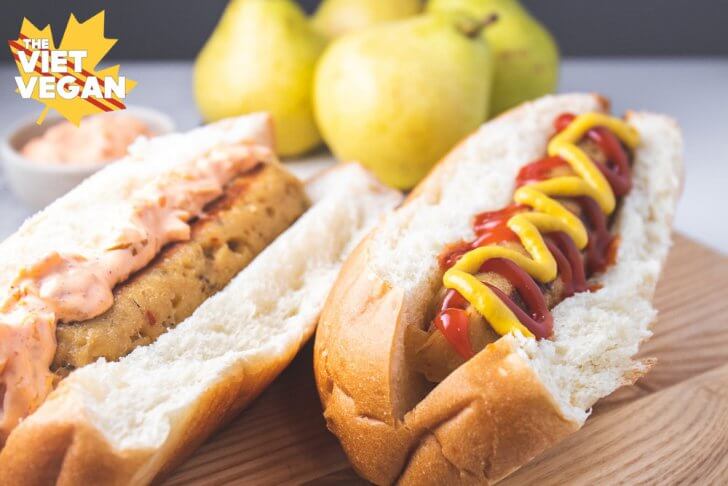 Anyway, take advantage of the summer fruit while you can. I've been enjoying lots of fresh pears on their own, but there are lots of recipe ideas you can get inspiration from as well. If you want to see how easy it is to make these sausages, check out the YouTube video I did for this recipe, and the taste test with Eddie as well! :)
Vegan Pear Fennel Seitan Sausages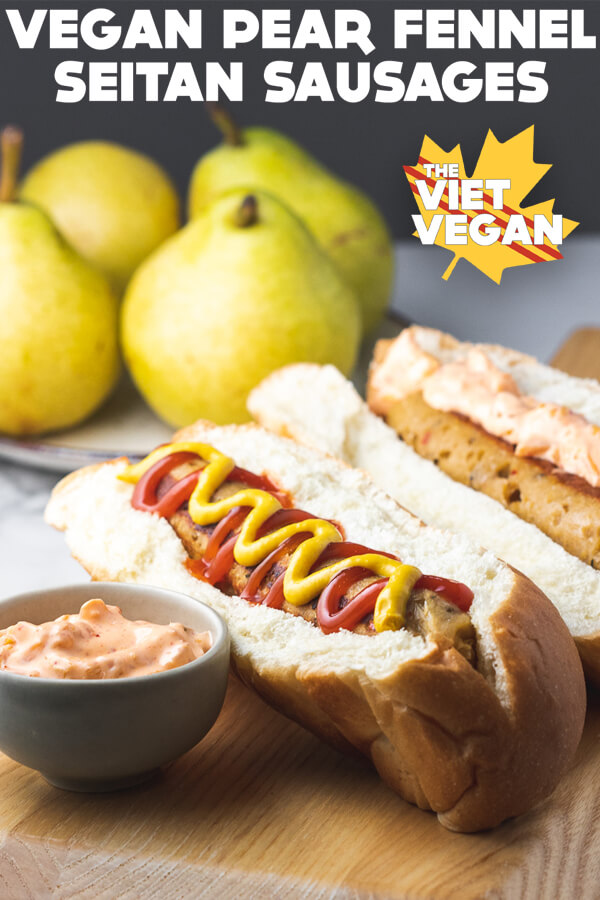 Ingredients
Dry Ingredients
1 1/2 cups vital wheat gluten
1/4 cup chickpea flour
1 tbsp nutritional yeast flakes
1 tsp kosher salt
1 tbsp onion powder
Wet Ingredients
1/2 cup California Barlett Pears
1/3 cup cooking onion, roughly diced
3-6 garlic cloves
1 tbsp vegetable oil
1 tsp Marmite (yeast extract)
1 tbsp vegan bouillon paste (or 1 cup of broth)
1 cup of water
1 tsp dried fennel seed
1 tsp dried rubbed thyme
1 tsp chili flakes
Instructions
In one bowl, combine the dry ingredients, and mix well to incorporate.
In a blender, combine all the wet ingredients and blend until uniform.
Combine both the wet and dry ingredients and mix until a wet dough forms. If you'd like the sausages to be more firm, knead the dough for about 2-3 minutes, otherwise let rest for 5-10 mins.
Portion out the sausage dough to about 90 g (approx 3 oz) amounts (doesn't have to be exact, but consistent size ensures even cooking). Roughly shape into a log form and wrap tightly with aluminum foil.
Steam sausages for about 45 minutes, and then remove from foil and brown before eating by either grilling or pan-searing. Serve with your favourite toppings (mine include kimchi mayo!)