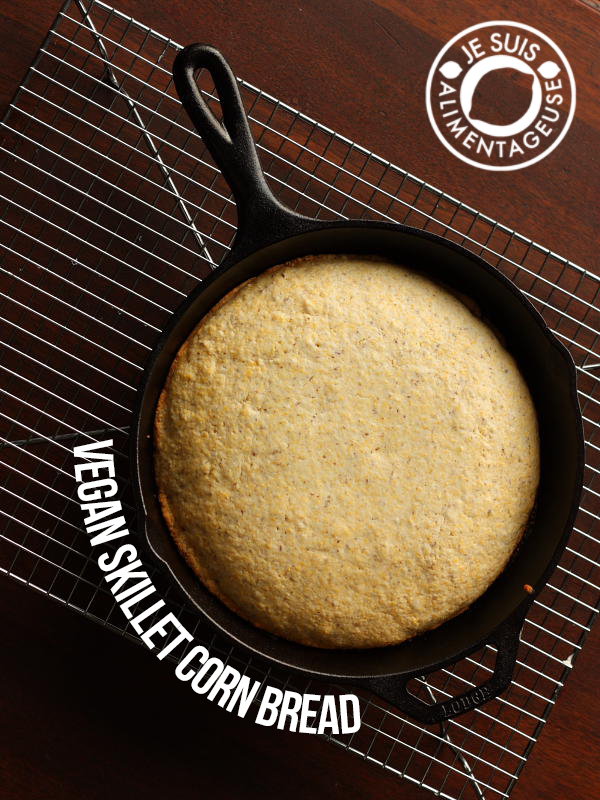 In June I bought a cast-iron skillet. I was ecstatic when I saw the $16 US price tag because in Canada, the same skillet by the same brand would have cost somewhere between $30-50. All this for an 8″ skillet. I started to dream of all the things I would make in it, and because it would just be me cooking, my skillet would totally be meat-free! I started dreaming of potato hash skillets, perfectly fried eggs, dutch baby pancakes, and then cornbread. VEGAN SKILLET CORNBREAD. You don't know how excited I am about this skillet unless you're a food blogger. Or an avid cook/chef. But I started to dream about cornbread.
Is that weird? Dreaming about food? Because I totally do it all the time. Heck, even during the day, all I think of is food. My friends tell me that every time they look at my laptop screen, they always see some sort of food there, be it Pinterest, Foodgawker, or my blog, there's usually some sort of food photography or recipe on screen. I live, breathe, eat, sleep, and obsess over food. I would say it's unhealthy but I make pretty healthy food so I guess that makes it…healthy? (#logic)
But you know what the advantage of vegan SKILLET cornbread is? The crispy crust. And it looks impressive and beautiful when you pull it out of the oven and set on the table. One of my readers told me that they preheat a well seasoned and greased skillet in the oven, and when you pour in the batter, you'll hear a beautiful sizzle and then pop it in the oven to bake. You'll have a wonderfully crispy crust when it comes out all thanks to the amazing cast iron skillet.
And this corn bread is a little bit on the sweeter side. It'd be perfect alongside chili, salad, or just plain with butter, but next Monday I'm going to share the amazing sauce that is absolutely delicious on top of this corn bread. Hint, the main ingredient's season is just about ending! (That's a huge hint. You should totally know what it is by now.)
But I am beyond excited to dream up other things to cook in my skillet. For those who are wondering how I seasoned my skillet after I bought it, here's what I did.
Wash it really well with soap. Strip it of any dirt, bacteria, or any other residue from people's fingers while handling it.
Use about 1/4 cup coconut oil (or other oil with a high smoke point) to grease the pan with a little extra in the bottom
Set oven to 350F, stick pan in and let sit in there for a good hour or so.
Take it out, let it cool on the stove or on a wire rack, let the oil just sit in there.
Once room temperature, pour out any remaining oil and discard.
Use skillet for cooking with a generous amount of oil, clean with hot water and steel wool and let air dry.
Once air dried, take about a tsp of coconut oil and just rub it in for good measure.
So far so good! Feel free to share any other cast-iron care tips!
Vegan Skillet Cornbread
Ingredients
- 1 tbsp flax meal + 3 tbsp warm water (mixed and set aside for 2 minutes)
- 1/2 cup sugar
- 1/2 cup coconut oil (or other veg oil)
- 1 tsp baking powder
- 1/2 tsp salt
- 1/2 cup corn meal
- 1 1/2 cup flour
- 1 cup rice milk (or other milk alternative)
Instructions
Preheat your oven to 350. Grease your cast-iron skillet really well, and pop it while the oven is still cold. This will preheat the pan and give your cornbread and extra crispy crust. =)
To make the cornbread, mix together the flax meal mixture, sugar, coconut oil together in a large mixing bowl.
In another bowl, whisk together the flour, corn meal, salt, and baking powder until they're all one mixture.
Alternate adding the flour mixture and the rice milk until you have a fairly dense corn bread batter. (If you find it's so thick that it's hard to mix, add a bit more milk).
Remove the preheated skillet from the oven and add the batter. It'll have a nice sizzle when it hits the pan. Spread the mixture evenly and pop it back in the oven. Bake for 30-35 minutes until the edges and the outer parts are a light, golden brown.
Remove from oven and let cool on a wire rack.
Enjoy with soup, chili, or covered in blueberry sauce