This Instant pot red curry potato & lentil stew is warming, delicious, and packed with starchy vegetables and protein! It's perfect for soup season!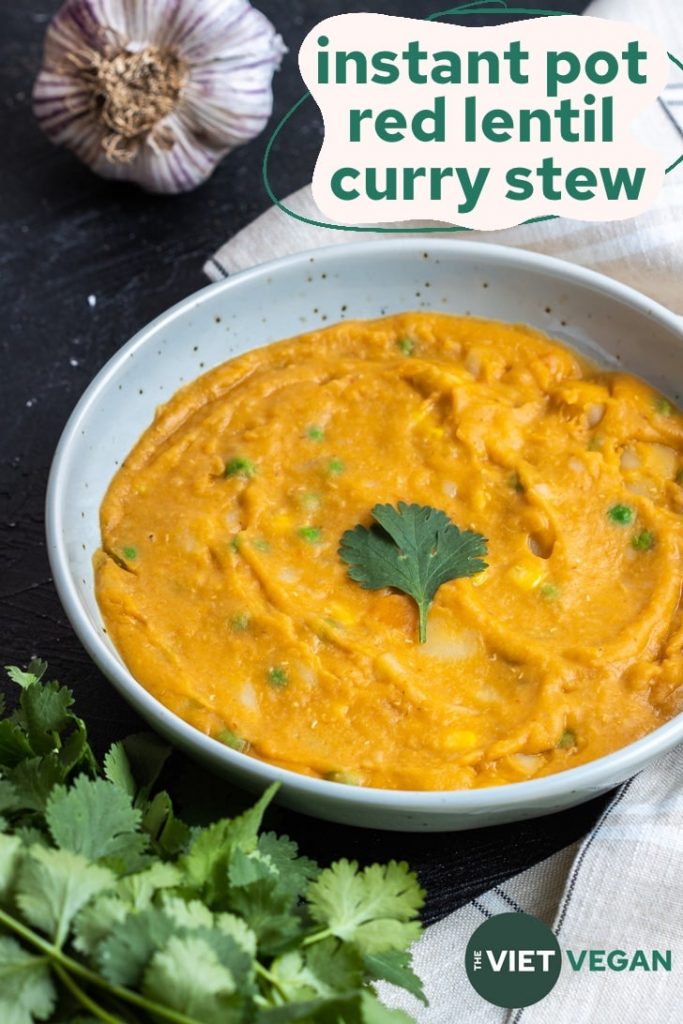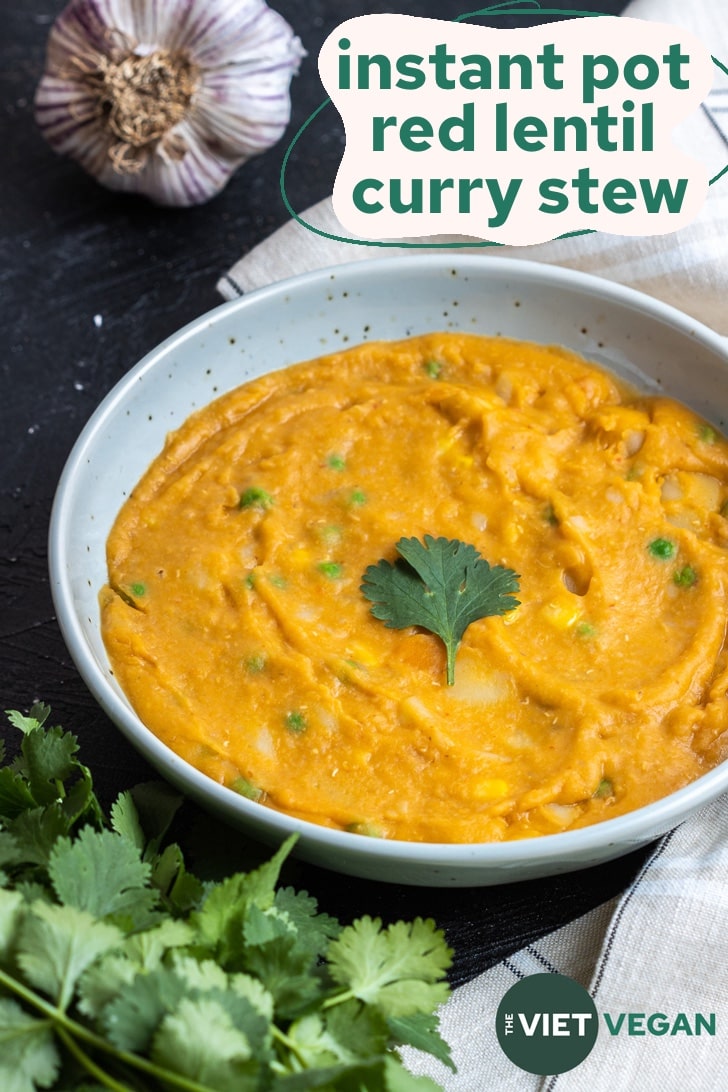 It's surprise to no one in my life that I love soup. This red lentil curry stew is perfect way to stretch your budget, and use up sad, wilty produce that has been lingering in your fridge and is no longer quite in its prime.
I know a lot of people will be trying to find cheaper dinners that are equally filling and comforting. The days have been getting shorter and I've been finding myself seeking comfort in food and my surroundings.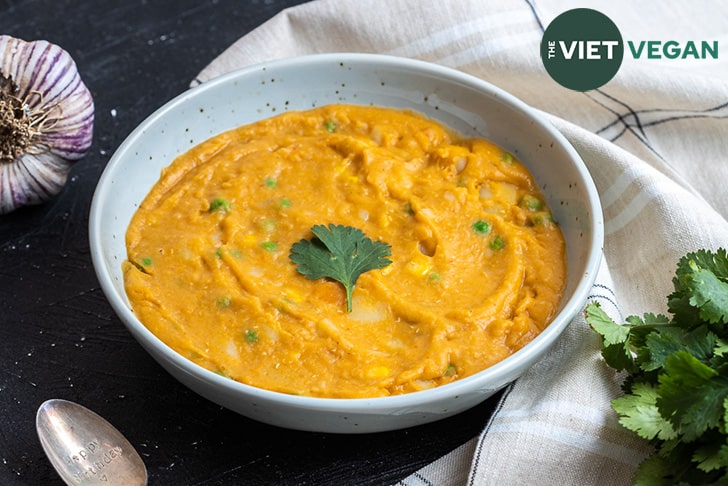 I made this Instant Pot red lentil curry stew for a cottage getaway with a couple of our friends (granted this was right before the numbers shot up) and it was with our "bubble" for the weekend. It was one of the first chilly weekends of the year and this soup was the perfect way to begin our weekend at the cottage.
The lentils melt into the stew and add a lush, creamy quality, while you have melt-in-your-mouth cubes of potato and carrot, with little bright pops of peas and corn. The lentils are the protein component of this dish, so you can enjoy this on its own! Or perhaps alongside a piece of homebaked sourdough bread.
In any case, if you're the type of person who has multiple courses to your meal (what luxury!), then you might enjoy it before your main meal. Heck, it would be a great option to bring to a potluck or Thanksgiving where there are few anticipated vegan options available.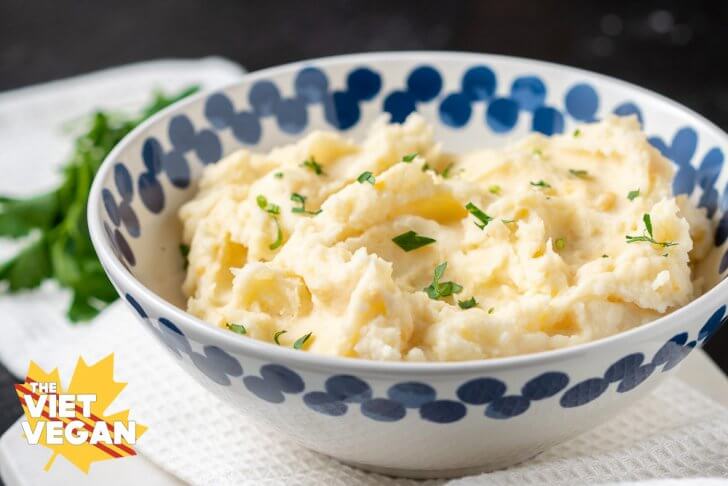 My Favourite Vegan Thanksgiving Dishes
For my US readers, I know Thanksgiving is coming up soon! I haven't really done much in terms of Thanksgiving content because Eddie and I don't do much with our families for the holidays, but I'd deign that Eddie's favourite food is Thanksgiving food.
I don't expect a lot of people to be doing Thanksgiving this year (at least I hope not), but if you are doing your own Thanksgiving, I have a bunch of recipes I am quite proud of and make year after year for me and Eddie!
Yield: 6-8 servings
Instant Pot Red Curry Potato & Lentil Stew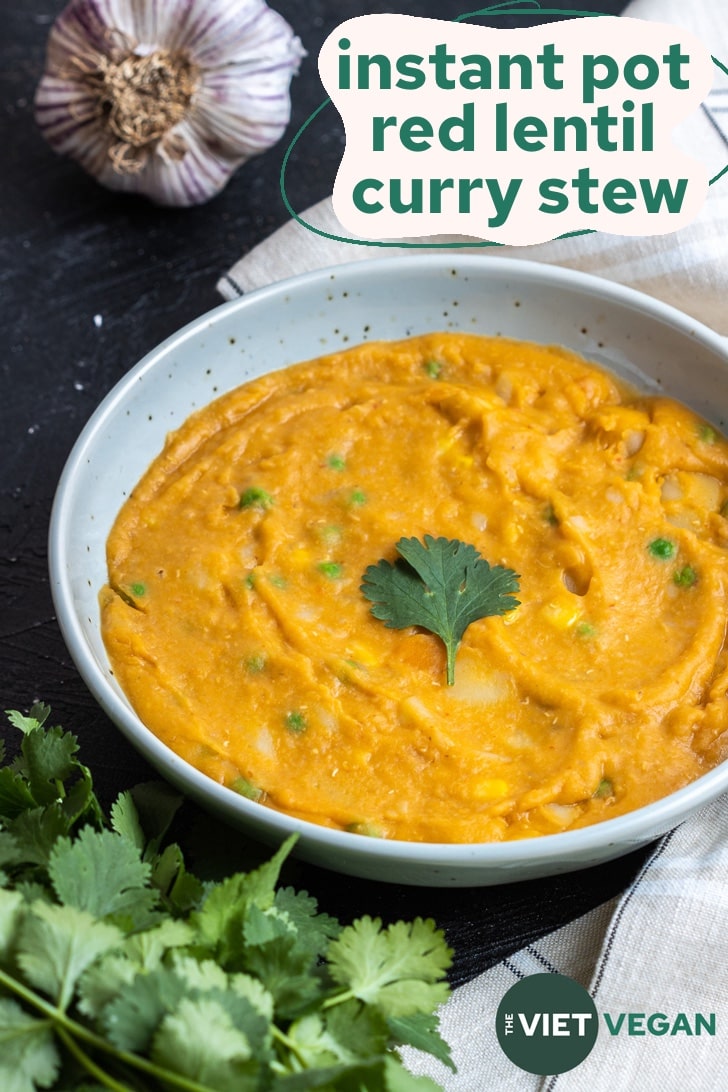 This Instant pot red curry potato & lentil stew is warming, delicious, and packed with starchy vegetables and protein! It's perfect for soup season.
Additional Time
30 minutes
Ingredients
1 tbsp vegetable oil
1 onion, diced
3 cloves garlic, minced
3 tbsp red curry paste (you can also use yellow, massaman, or green if you have that)
2 cups coconut milk
3 medium carrots, diced
6 medium white potatoes, diced
1 cup of red lentils, well rinsed and drained
2 cups vegetable broth (or water + mushroom broth powder)*
1/2 cup frozen peas
1/2 cup frozen corn
1/2 tsp salt (or to taste)
Instructions
On the Saute function (on high), cook the onions with oil and sauté until lightly browned and onions are translucent.
Add the curry paste and garlic, and cook, mashing the curry paste to heat through and wake up the flavours. You can add a splash of coconut milk here to help loosen the curry paste. Add the remaining coconut milk and stir through.
Add the diced carrots, potatoes, and rinsed and drained red lentils to the pot, then cover with water/vegetable broth. Stir to get the lentils distributed a bit better underneath the liquid, and pat the vegetables to settle under the liquid.
Cover with the lid, move the vent to "seal", and Pressure cook on high for 10 minutes. You can natural release or manual release, I tend to wait for 30 min then manually release the rest.
Add frozen peas and corn, and stir in to cook through and break up the lentilsv. Add salt to taste, and enjoy!
Notes
*Depending on the size of your vegetables, you might find you need a bit more liquid. I used about 2 cups for my soup, but you want to fill the Instant Pot until water JUST covers all the vegetables.