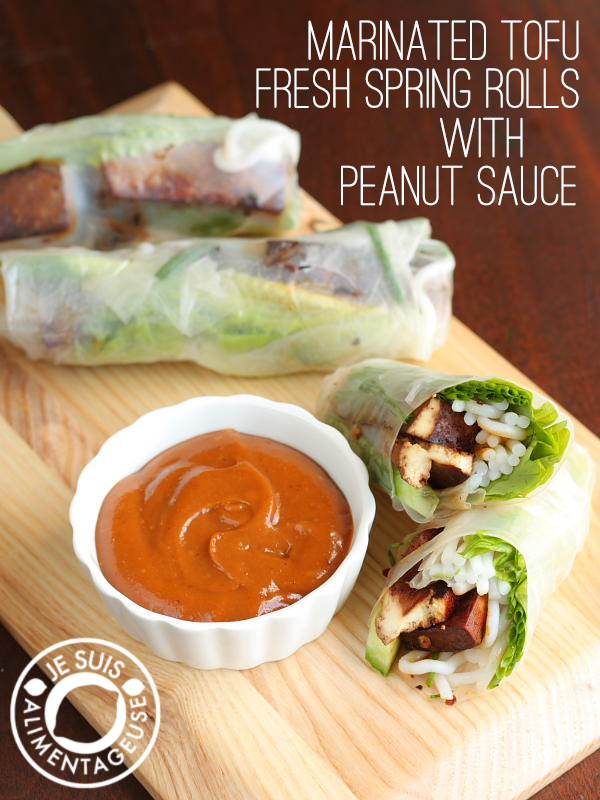 You may have realized that my most recent posts have been almost all vegan. These marinated tofu fresh spring rolls with peanut sauce are totally vegan and totally delicious.  This year I've discovered so much about myself, and as the academic year of 2012-2013 comes to a close (let's face it, as a student, January doesn't make a new year, September does), and veganism is one of the things I have to add to my list of realizations.
So here's the first realization: Being Vietnamese is a huge part of who I am. Even though I was born and raised in Canada, I was raised in a very small community within a small town. My weekends were filled with family gatherings, and family to the Vietnamese people is the first priority. Family is everything. You have nothing without family.
People give me flack for still valuing my mother's opinion. For those who were around during Mother's day this year, you read my post about how my mom is a super mom. I know she's always looking out for me and my future, and I totally respect her opinions. And I respect who she is. She is probably the smartest, most selfless, loving, and trustworthy person I know. I strive to be like her every day, even though sometimes she tells me my decisions are stupid. (To be fair, sometimes they are.)
But she's helped me grow, and helped me learn so much about myself. So thank you mom, thank you for teaching me what it means to be Vietnamese, and teaching me how to make all these delicious foods. She taught me how to make bánh cuốn, nÆ°á»›c mắm, canh chua, these fresh spring rolls, and so many more things, and they're always delicious and remind me of home.
So, that's the first thing I learned. I will forever be stuck in the identity crisis of whether or not I'm more Canadian or more Vietnamese, but this year I have really learned how much I value the Vietnamese in me.
Furthermore aside from eggs, Vietnamese diets and food (the vegetarian food anyway) is almost all vegan, so that's the other thing I've learned about myself.
I've learned that I really do believe in the vegan lifestyle and ethics. It's better for the environment, the world, the economy (especially if I buy more local veg), and my health (has anyone been scared by Fukushima radiation realities yet??). However, I have a huge problem letting go of dairy and eggs. I'm going to limit my consumption of those almost completely, but I have a feeling that I'm going to have a problem with fried eggs, eggs benedict, swiss cheese, and ice cream.
To make myself feel better about these decisions, I'm going to buy free-range eggs, and just limit my dairy intake haha. Besides, my body is not a happy camper whenever I have dairy so I have that incentive anyway.
Maybe by December I'll be able to let those go completely and just go vegan, but baby steps.
Lastly, the thing I learned about myself is that I have a true passion for food, food writing, and food photography. I truly believe that's what I want to do with my life, and maybe things will change later down the road, but I definitely believe that at this moment in time, taking my blog to the next level is truly how I want to move forward in this new academic year. As a result, I'll be taking creative writing classes at the University of Toronto and specializing in food writing.
So yeah! Happy New Academic Year, hope everyone who's going back to school, or has kids going back to school enjoys their September and best of luck to everyone in this new academic year! <3
Marinated Tofu Fresh Spring Rolls with Peanut Sauce
Ingredients
- 1 block extra-firm tofu, drained and pressed (wrap in paper towel for about 30 minutes to get out any extra moisture)
- 1/4 cup dark soy sauce or mushroom soy sauce
- 1 tsp sugar
- 1/2 tsp chili flakes
- 1/2 tsp garlic powder
- 1/4 tsp salt
- olive oil for the pan
- 1 package cooked rice noodles (I used vermicelli)
- 10-12 leaves of lettuce
- about 20 sprigs of chive
- about 20 mint leaves
- about 20 sprigs/stems of cilantro
- 1/2 a cucumber, cut into strips
- 10 rice paper wraps
- (FOR THE PEANUT SAUCE)
- 1/2 cup natural peanut butter (nothing but peanuts)
- 1/3 cup hoisin sauce
- 1 tsp sriracha sauce
- 1/3 cup water (+ more to thin if you like it a bit thinner)
Instructions
To make the tofu, cut the drained tofu and put into a bowl.
Whisk the dark soy sauce, sugar, chili flakes, garlic powder, salt, and a drizzle of olive oil together. Pour over tofu and let marinate for up to 1 hour.
In a lightly oiled pan, pan-fry the tofu until heated through, turning so that the tofu is cooked evenly.
To assemble, dip the rice paper into a bowl of warm/hot water to moisten. Place on a plate, it'll soften as you put in the ingredients.
Arrange lettuce, rice noodles, cooked marinated tofu, chive, mint leaves, cilantro, and cucumber and wrap, tucking in the sides then rolling up to make a sealed spring roll.
Repeat until all ingredients are used.
To make the peanut sauce, whisk the peanut butter, hoisin sauce, sriracha sauce and water together. Add water if you like it thinner. Garnish with crushed peanuts if that suits your fancy.
Best served immediately with the peanut sauce. To pack as a lunch or for a picnic, roll each spring roll individually in plastic film. Best served that day. Do not refrigerate or else the rice paper will lose moisture and become gross and chewy.