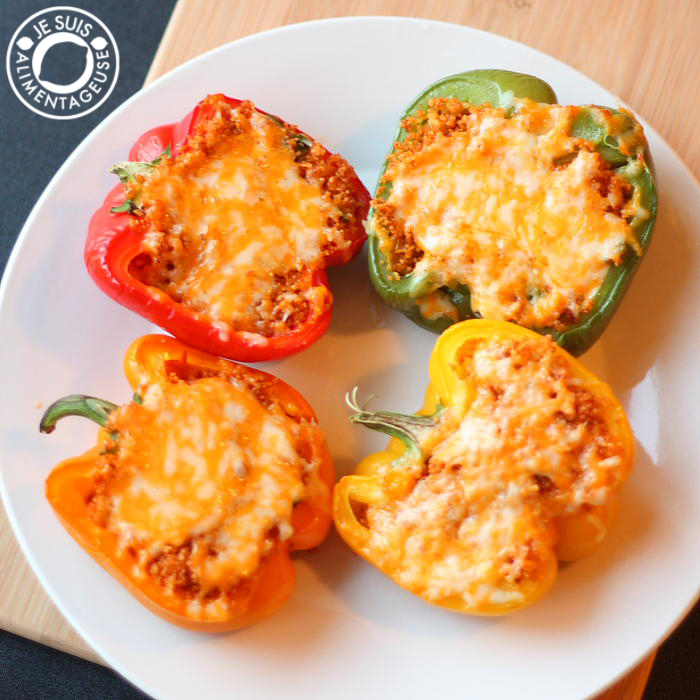 Hello, my lovely readers. This is going to be a little bit of a personal post today, so feel free to skip ahead to the recipe =P
Here I am in the big city. I'd like to say I'm not overwhelmed and that I'm adjusting well, but frankly, I'm not. I love my program so far, I love my courses and the content is so cool, but I just miss Ottawa. I miss the familiarity of everything; I miss knowing where all the great food is. I miss being able to walk or bus anywhere in the city in under an hour without sitting in traffic. I miss Ottawa's timid drivers who are super sweet and don't run over pedestrians. I miss the people! And I miss Chris. I think that's what I miss about Ottawa most of all. (On a side note, for those who know of Malcolm Williams' love for vertical lists, I was really tempted to turn that last paragraph into a vertical list. But let's be real, vertical lists don't flow as nicely in a food blog unless you're listing ingredients.)
I guess I'll just have to suck it up and learn about Toronto. I do like some things about it though. The boutiques here are really cool, you just don't see as many boutiques in downtown Ottawa. I mean, there are lots in the Byward Market, but Queen Street alone had soooo many cool ones. I like that I'm close to Chinatown. Stereotypically enough, growing up about 1-2 hours away form Toronto, I only ever knew Chinatown. It wasn't until I was about 17 did I start exploring other parts of the city. And I love that so many of my musician friends are here.
Speaking of which, I've been having games nights to motivate me to unpack and clean my apartment! My latest games night turned out to be a great success! I expected a small group like the first one (about 6 of us in total), but it got a little out of hand and 14 people showed up at my apartment last night. It was so fun, although I think my neighbours must think I'm a little wacky for having a 'party' on a Wednesday night. But we ended the noise around 10:30 pm, and everyone was gone by 11:30 pm, so worry not, I am not going to be lynched by my neighbours yet.
My musician friends are awesome and are probably the reason why I'm not having a miserable time in Toronto. It's funny because so many of them study music in university, and it always kind of made me self-conscious about my ability to play. I wasn't sure if I could consider myself a musician. Because what IS a musician? Is it someone who makes money by playing music? Is it someone who studies music?
It wasn't until last year that I realized that I don't need to be a concert pianist to be considered a musician. I realized that musicians are people who make music for the love of it. I lost my way a bit in terms of music. University does that sometimes, distracting me with exams and assignments, but I think I'm back to my old self. Finding a balance between music, life, and work. Oh look, this is how much it hurts my ears to play piccolo. (This is from my high school band at music festival)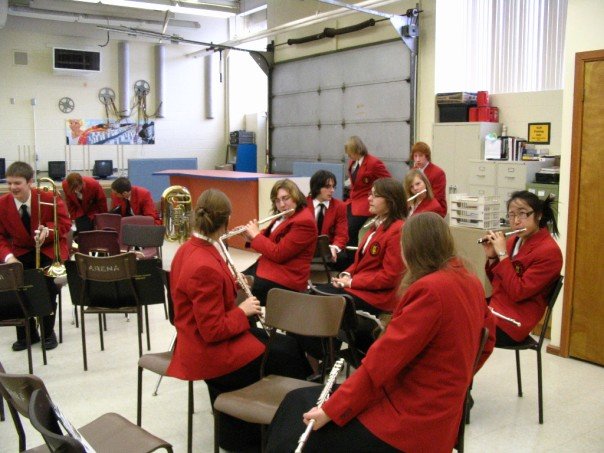 Music has always been a part of my life. I've been playing piano since I was six years old, and I've continued with lessons until the end of high school. By the end, I was playing grade 8 RCM level pieces, and if I actually practiced, I could probably play some grade 9 pieces. I've been playing flute since I was 11, and I was a super band geek in high school. I was actually band president in my last year of high school. I'm around a grade 8 RCM level for flute as well. I can noodle around on guitar and I played trumpet in Jazz Band in high school. I think it's safe to say I'm a musician. But anyway, that's enough about music.
So this recipe makes about 16 stuffed pepper halves (8 peppers), depending on how big your peppers are. If that seems like a lot of peppers to you, feel free to half the recipe or freeze some for later. I feel like these would bake up nicely from the freezer.
EDIT: This recipe was from before I went vegan, so the photos are actually vegetarian version with cheese. I've adapted the recipe with vegan cheese, but I've never gotten around to retesting/reshooting this because Eddie (my husband) does not like peppers.
Yield: 16 pepper halves
Vegetarian Couscous Stuffed Peppers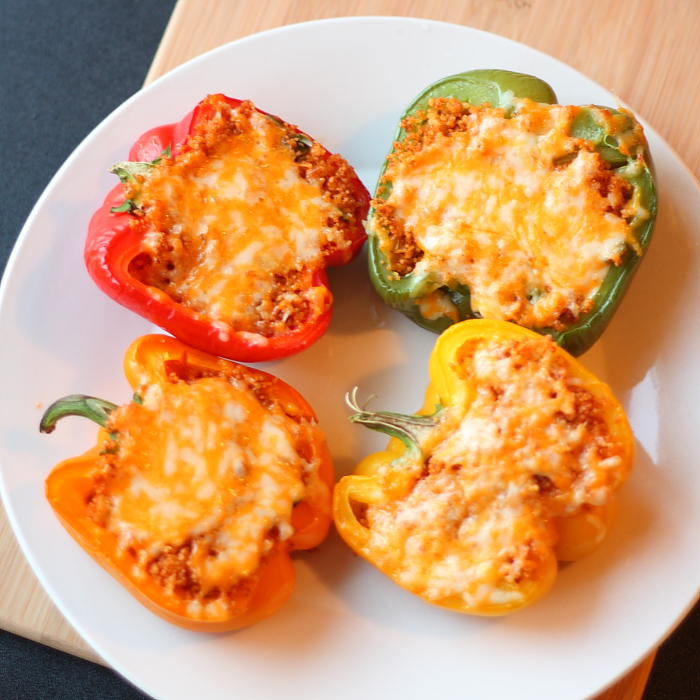 Total Time
1 hour
10 minutes
Ingredients
1 large onion, diced (almost minced, the smaller the better)
2 sprigs of green onion/shallots, chopped
3 cloves of garlic, minced
3 tbsp of oil + oil to coat the baking sheet (I used sunflower oil, but any neutral flavour will do. I think coconut oil would be delicious with these flavours)
1 box of couscous (about two cups, I think the package I used was 385 g)
2 cups of water (or whatever the couscous box says. Mine was a ratio of ½ cup couscous with ½ cup water)
2 tbsp soy sauce
¼ cup lime juice (I juiced 3 limes)
2 tbsp chili powder
1 tsp garam masala
½ tsp pepper
½ tsp sea salt (or to taste) You can also use table salt, I just didn't have any =P
8 medium/large sized peppers, halved from top to bottom, seeds removed
Water to blanch the peppers
About 3 cups of vegan cheddar shreds
Instructions
Boil 2 cups of water and set aside.
On medium low heat, in a large pan, cook the onions in the oil until translucent. Add garlic and stir until fragrant.
Add the two cups of boiling water and couscous. Stir to coat the couscous in water, cover, and turn off the heat but do not remove the pan from stove. Let it sit for about 5 minutes while you mix the spices together.
Meanwhile, mix together lime juice, chili powder, garam masala, pepper, sea salt, and soy sauce.
Once the couscous is ready, fluff with a fork to loosen the pasta, and then pour the lime juice mixture over the pasta and continue to fluff with the fork to incorporate the spices. Remove from heat and set aside.
Prepare the peppers by halving them top to bottom and removing the seeds. Leave the stems in because you need the peppers to be little bowls.
In a large pot, boil enough water to cover your peppers to blanch them. Once the water is at a rolling boil, quickly cook (blanching) the peppers in the water for about 2 minutes. Because these are vegetarian and therefore have no meat, you don't need to bake the peppers in the oven as long. You want the peppers to be slightly cooked and the skin to be soft prior to going in the oven.
Place the blanched peppers on a well-oiled baking pan. It's okay if there's a little water inside the peppers; the water will make the couscous extra moist. Fill the peppers with couscous and seal in the deliciousness with some cheese.
Bake for about 20 minutes, or until the cheese is lightly browned or melted.
Remove from oven and serve!