Bún chả giò chay is a noodle salad bowl that is refreshing, savoury, and full of flavour! It's easy to meal prep and one of my favourite things to eat!

So earlier this week I posted the soy-based Vietnamese vegetarian dipping sauce that I use on any Vietnamese dishes that traditionally call for nước chấm (fish-based dipping sauce). One of those dishes is typically bún thịt nướng chả giò (rice noodles with grilled pork and spring rolls). Since I don't always feel like cooking with mock meats, I decided to just go with vegetarian spring rolls.
This dish is typically a main course dish that is filling, yet light and bright with flavour. The spring rolls can be store-bought, but luckily for me, my grandma makes me special spring rolls that are vegetarian.
My family fills our spring rolls with taro, wood ear fungus, mung bean noodles, sometimes fried tofu, and seasoning. I finally got around to making it with my mom and grandma and measured the recipe for you!
The rice noodles are cold but freshly cooked and are served with greens, includuing lettuce, mint leaves, cucumber, and steamed or raw bean sprouts to add a bit of crunch. Sometimes places will also include pickled carrot and daikon, which is great with the dipping sauce I made last post.
Yield: 1 serving
Bún Chả Giò Chay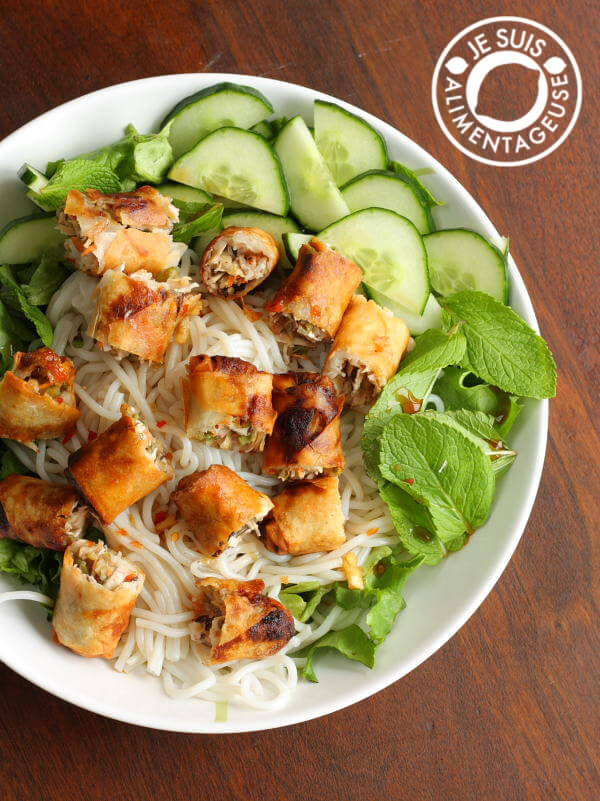 Ingredients
2 large leaves of green lettuce, chopped
2 cups cooked rice noodles
1/3 cup cucumber slices
1 sprig of mint leaves
Instructions
Layer the lettuce at bottom of dish, add rice noodles on top and arrange cucumber slices and mint leaves around the dish.
Add the chopped spring rolls on top and pour Vietnamese dipping sauce on top.
Enjoy!