So earlier this week I posted the Vietnamese vegetarian dipping sauce that I use on any Vietnamese dishes that traditionally call for nuoc mam (fish-based dipping sauce). One of those dishes is typically bun thit nuong cha gio (rice noodles with grilled pork and spring rolls), and since I don't really like eating fake meat, I decided to just go with vegetarian spring rolls.
This dish is typically a main course dish that is filling, yet light and bright with flavour. The spring rolls can be storebought, but luckily for me, my grandma makes me special spring rolls that are vegetarian. The filling comprises of taro, cloud ear fungus, mung bean noodles, peas, sometimes fried tofu, and flavouring (salt, pepper, mushroom broth granules). I don't have a recipe for those today, but at some point, I'll be making them with my grandma and I can show you guys how to make those later.
In the meantime, try this dish out at home or your local Vietnamese restaurant because it contains so many things that are typical in Vietnamese cuisine. The rice noodles are cold but freshly cooked, the greens are lettuce, mint leaves, cucumber, and for those who aren't allergic (aka not me) steamed or raw bean sprouts are perfect with this dish. Sometimes places will also include pickled carrot and daikon, which is great with the fish-based dipping sauce or with the vegetarian dipping sauce I made last post.
By the way, sorry I haven't been that active with posts lately. I've had some recent skin problems (this is the aftermath of me unknowingly eating something with meat) so I've been a little out of commission. I should be up and running after this weekend and stay tuned for my next post about vegetarian rice rolls (not the rice ones, these are made with rice crepes and a tofu filling).
I hope you all have a happy Friday and a great long weekend =) (for those in Canada)
Bun Cha Gio Chay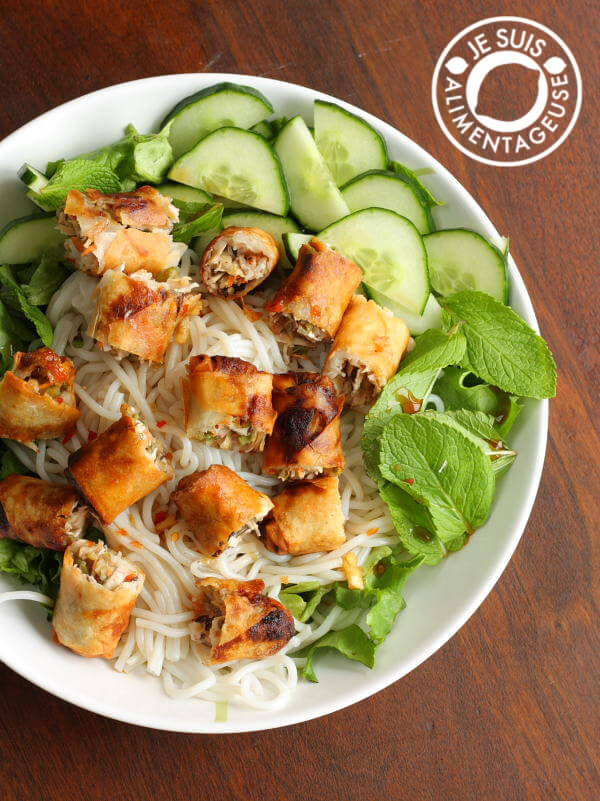 Ingredients
- 2 large leaves of green lettuce, chopped
- 2 cups cooked rice noodles
- 1/3 cup cucumber slices
- 1 sprig of mint leaves
- 6 vegetarian spring rolls, fried and chopped
- 1/3 cup vietnamese dipping sauce (https://thevietvegan.com/nuoc-cham-chay-vietnamese-vegetarian-dipping-sauce/)
Instructions
Layer the lettuce at bottom of dish, add rice noodles on top and arrange cucumber slices and mint leaves around the dish.
Add the chopped spring rolls on top and pour vietnamese dipping sauce on top.
Enjoy!